Image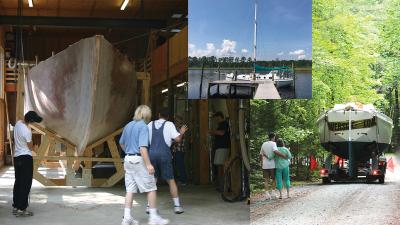 Alumni Notes
TWO DECADES - TWO PASSIONS 

When recruited to Duke Anesthesiology in 1993, Dr. Cecil Borel, a renowned anesthesiologist and critical care physician, was an avid sailor who found peace in the power of the wind. Looking back, he best describes his next two decades as a marriage between two disparate ideas that fulfilled two of his life's passions: building his own sailboat and building a world-class neurocritical care program and Neurosurgical ICU at Duke.
"Work can be stressful and building a boat requires exercise, so there was a balance between the two," says Borel. "My passion has always been building the boat, not particularly sailing the boat. So, I don't resent the time I spent on it, but I do wish I was smarter about it."
Within both passions, he found overlapping challenges and lessons learned. Borel poured significant resources into his sailboat: building a two-story boat shop in the backyard of his Chapel Hill home, learning certain trades (such as carpentry, wiring, engineering, and welding), and even training those he hired for additional help on the build. Much like turning a blueprint into an actual boat, Borel says there was no real guidance on how to establish a neurocritical care unit nor any certainty at the time that neurocritical care improved patient outcomes. "There was a development process for that too, thinking my way through things and figuring out the resources to use to get the job done. Training was probably the most important part of my role as chief of the Neuroanesthesiology Division. At Duke, we trained each other toward a common goal, much like the boat."
Borel's story last left off on July 19, 2017, as he and his wife watched their 32-foot, six-ton sailboat leave their home to be transported to a New Bern boat yard. After 18 years of sweat equity, he thought he had finally reached the finish line, looking forward to sailing the coasts of North Carolina and Maryland with his wife, as they had always dreamed. But the second part of his story was just beginning. He spent the next four years overcoming continual hurdles: ongoing maintenance due to exposure from the boat being docked outside; Borel traveled back and forth to the boat yard, fixing leaks around the port holes and storage compartment, rebuilding hatches and lights, refinishing the mast and boom from sun damage, replacing failed batteries; then, in September 2018, Hurricane Florence made landfall in New Bern, causing severe flooding and more setbacks. Borel recalls the water rose 2.5 feet under the boat's hull with parts of the boat yard practically swept out to sea, ending up on residents' front lawns. And, after finally celebrating the boat's launch in 2019, he underwent coronary artery bypass surgery from which he is now recovered.
"Many have asked how I kept going all these years. I've learned a lot from the boat, but mainly to persevere," says Borel. "You just come to a point where you don't think you can solve something, and then you start solving it. I've learned to just keep going, and if you can't solve it now, you can solve it later. Any mistakes can be undone and fixed again. It wasn't until I got the boat to the boat yard that I learned it wasn't so much fun to fix them!" Borel says jokingly. "Because I enjoyed boat building so much, I never got to the point where I didn't want to see the boat again. It's surprising how much time things take and life gets in the way, but perseverance is a desirable feature."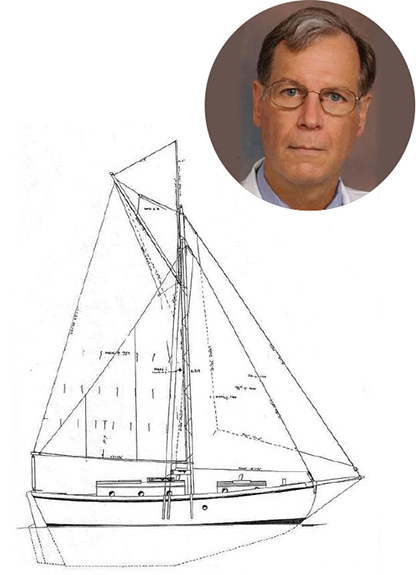 Throughout his passion project, he also discovered that in phrasing his questions, he found his own answers. "I learned that if you just stop and think about what you're doing, give it a rest for a couple of days, you'll figure it out without having to ask. That also works well in the context of being an anesthesiologist."
As with building, he was drawn to the anesthesiology specialty because he found it personally challenging. Originally set out to be a primary care doctor, Borel realized that he enjoyed taking care of very ill patients and that anesthesiology training brought many skills to critical care, which allowed him to better care for those patients. "Ultimately, I enjoyed anesthesiology for what it is itself, the ability to make very difficult procedures possible; anesthetizing patients and bringing them back safely – safely being the key."
Feeling lucky to have survived coronary artery disease, Borel continues to persevere and is looking forward to this summer when he'll once again travel to the boat yard – this year, to put on the sails and commission it for the very first time. "There's still work to do on the mast and the deck, which makes it hard to sail," laughs Borel, "but we'll get it sailing!" says the neurocritical care pioneer, who leaves his anesthesiology colleagues with this advice: "Duke is a special place and it has a strong reputation that is well deserved. I wouldn't advise everybody to start building a boat, but don't forget to take time to have personal interests; allow yourselves to recover, relax and take time for things that make life sweeter."
DR. BOREL' S LEGACY
Established the third Neuroscience Critical Care Unit in the world at Johns Hopkins University
Recruited and established an esteemed neuroanesthesiology program and a world-class Neurosurgical ICU at Duke – one of the top five in the world at the time
Among the first credited for developing the subspecialty of Neurosurgical ICU care
Early recognition of multidisciplinary nature/ collaboration of the subspecialty
Instrumental in the recruitment and training of internal medicine, neurology, anesthesiology, neurosurgery, neurointensive care positions to maintain the Neurosurgical ICU
Imperative to the successful care of the neurosurgical patient
Established (with Joanne Hickey, PhD, RN) one of the earliest Acute Care Nurse Practitioner programs in the country – if not the world – with a focus on neurocritical care
Created the nurse practitioner (NP) rounding model, where NPs are the cornerstone of the providers