Image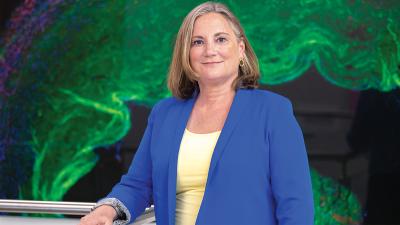 Alumni Notes: Q&A with Dr. Laura Niklason
Dr. Laura Niklason is an internationally-renowned physician-scientist whose groundbreaking research in vascular and lung tissue engineering led her to become a world leader in regenerative medicine. At Humacyte, she uses scalable platform technology to develop and manufacture universally-implantable bioengineered human tissues, intended to mimic key aspects of human physiology, to transform the practice of medicine and improve patients' lives. We asked her to reflect on her career and time at Duke.
Q: Why anesthesiology?
A: I felt this was the right clinical patient population for me and it allowed me to split my time between science and medicine.
Q: What were your biggest takeaways from your time at Duke Anesthesiology/Duke?
A: As a young physician trying to develop my career, I was living in two fairly independent worlds - teaching courses in biomedical engineering and rounding in the ICU in anesthesiology. It took me time, but I learned how to prioritize and how to say "no" to certain opportunities because otherwise you get pulled in too many directions. In science and medicine, we're all smart, hardworking people; so if you're going to work hard, you might as well focus on what you really enjoy and what you are uniquely qualified to do - I've used that thought process as a guide post early on.
Q: What is your fondest memory from your time at Duke?
A: My fondest memories are of working in the ICU. It was stimulating and exhilarating to take care of patients who were very ill, in collaboration with really smart colleagues, and sometimes make a difference in the trajectory of the patient.
Q: Key lessons from your leadership roles?
A: During my time in the ICU and the OR, in particular at Duke, the ability to make important decisions with almost always limited information is a skill that I learned and have carried forward ever since. A really important aspect of leadership is a tolerance to risk; being able to operate in a situation where you don't have perfect knowledge of everything, but you have to make a decision and be comfortable with it. I think that is one of the most critical things that I took away from my time at Duke and applied at both Yale and Humacyte.
Q: What was your drive to serve as a vice chair for research at Yale?
A: I was recruited to Yale to enhance the pipeline for physicians interested in research in anesthesia. I was passionate about creating a specialized research track that begins in the CA-1 year, similar to the ACES Program at Duke Anesthesiology. I had a running start in research when I joined Duke, but not everyone has that advantage, so I wanted to create a pathway where young investigators would be successful.
Q: Advice for young physician-scientists looking to navigate the research environment?
A: There can be pressure to work on what is fashionable or trendy, but I've always been an advocate for focusing on what you like and what is important. It is less important to, for example, stay narrowly within the purview of what is considered to be anesthesiology. I suggest to find mentors outside of your department and in different specialties – so long as there is some tie to that specialty and it is clinically relevant. Another critical step is to focus on the selection of your questions; ask questions that are both important and tractable.
Q: What are some critical steps in advancing science in general?
A: A willingness to cross boundaries between disciplines. Ensuring that young scientists are well trained in the basics and fundamentals of at least one discipline, so that they may fruitfully collaborate with other disciplines.
Q: What are key qualities of a good mentor?
A: Having someone who is willing to give you their honest, straightforward advice and wants to build you up, but is not intimidated by their trainees, are important traits in a mentor in any stage of your career. And, having more than one person to go to for advice is incredibly important. Mentorship is also partly about how the trainee approaches it; don't be afraid to "bother" those in senior roles - people love to be asked what they think and generally want to help other folks.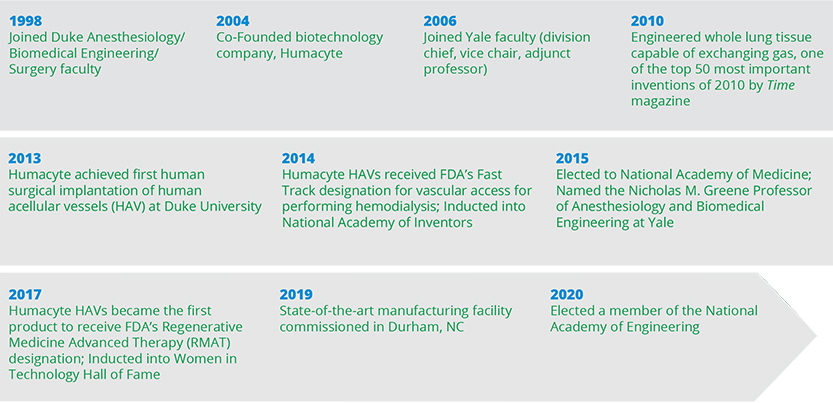 Q: Did you have mentorship through the Humacyte startup process?
A: My then chairman, Dr. Mark Newman, and other entrepreneurs gave me advice about how to balance my time; a lot of advice was along the lines of things will take longer than you think and cost more than you think. An important lesson for me was finding patient investors. Starting a company as an academic – there is not one single road and each route is different.
Q: How did you choose the industry vs. academic path?
A: I made a conscious decision to not start a company until I had tenure at Duke. By that time, I had been NIH-funded on this research for about 10 years. I could see the potential path of my vascular engineering work turning into a clinical product. But NIH's mission is to fund high-risk new research, not to develop products to be tested in patients. So, you have to make that jump in realizing this is no longer just a research project, but a product to develop for patients. At Humacyte, we had to spend $40 to $50 million just to get to our first patient. It is a completely different order of magnitude in terms of the number of people, the good manufacturing practices – all of the components that you need; the NIH just doesn't fund at that level.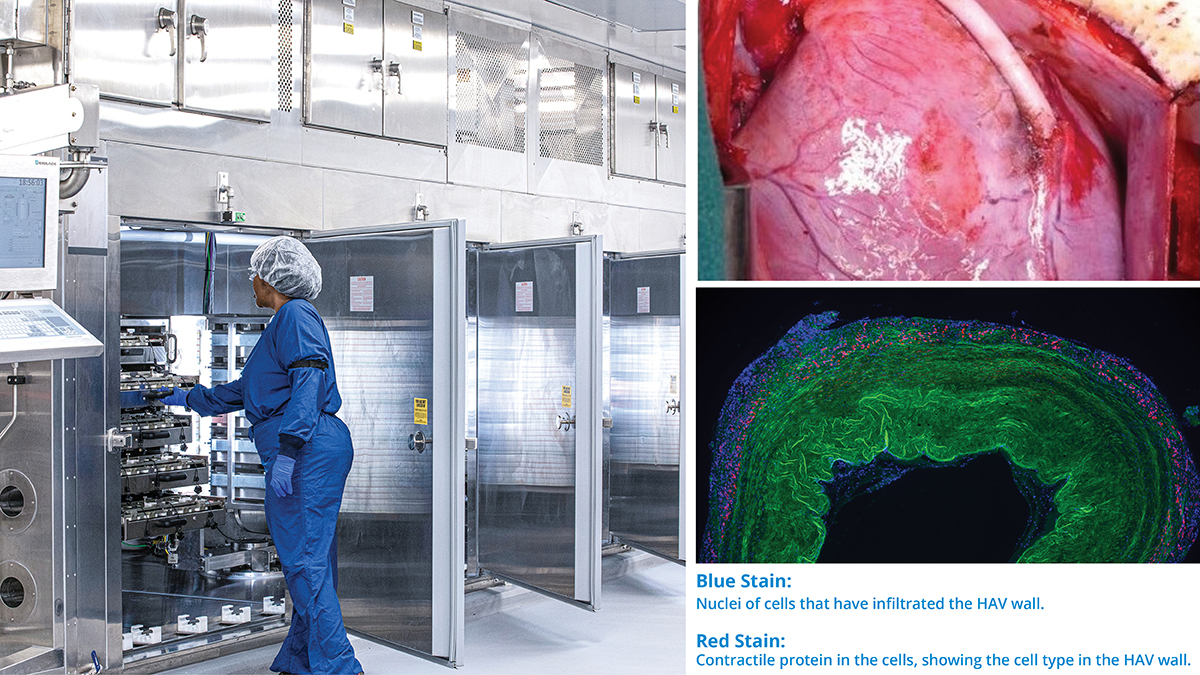 Q: How should one partner with industry to get a project up and going?
A: One of the common ways is to start your own company, which is what I did; I knew that we had to specifically do this ourselves. But there are many instances where companies are doing similar things to your research, so partnering with a company could be another route. But in that case, the academician would need a patent that is already filed. You need something in your hand that you can bring to the company that has value.
Q: What are the advantages and disadvantages of partnering with industry?
A: Industry offers a lot of resources, especially if they have products already on the market. The amount of money they can bring to bear on a problem can be impressive and if the speed for product development depends on how much rocket fuel (money) you have, than it can be incredibly accelerating. The downside is companies have their own motivations – they want to make products, sell them in the marketplace and make money. Researchers and investors may not see eyeto-eye on the importance of publishing results. And, when you partner with a company, you lose a large fraction of the control on how things move forward, so you just have to keep your eyes open about that. The bottom line, if you partner with a company, the chances are you make it to market and then you'll have a pie, but you won't have all of that pie, you'll have a quarter of that pie. But if you don't partner and you don't start your own company, than the chances are there will be no pie. So, it is just a matter of how you think about pie.
Q: What attracted you to regenerative medicine?
A: Regenerative medicine, even now but certainly in the 1990s, was a new field. It was not populated by a large number of scientists, so it was possible to make a big impact. This is still true.
Q: How is Humacyte achieving its mission of "transforming the practice of medicine?"
A: Humacyte is actively pursuing clinical trials in a range of applications: end-stage renal failure, vascular trauma, and peripheral vascular disease. By showing the utility of the human acellular vessel (HAV) in multiple settings, we hope to show that our technology has broad applicability.
Humacyte's Human Acellular Vessel (HAV)
A Breakthrough in Regenerative Medicine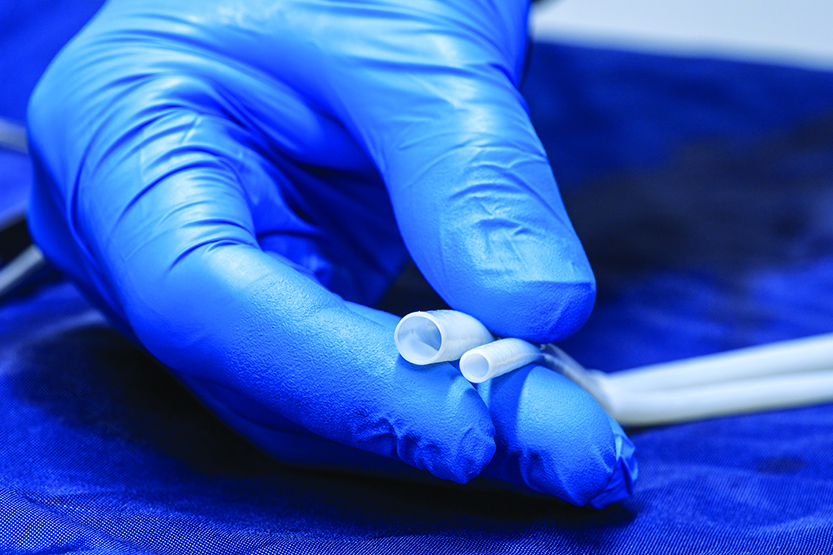 Off-the-shelf (immediately available) with an 18-month shelf life
Highly resistant to infection
No evidence of immunogenicity
Host cells repopulate the HAV
For ESRD patients, accessible for dialysis access within one month of implantation
Long-term durability is demonstrated in ongoing studies
Source: humacyte.com
Q: What are your greatest lessons in launching a start up?
A: Everything takes longer than you think it will. Paying attention to details is important. Getting the right people in the right roles is hugely important.
Q: What is the future of Humacyte and your research?
A: Humacyte is working on several pipeline products, including a vessel for coronary artery bypass grafting (CABG), and a vessel that can act as a delivery vehicle for pancreatic islets for the eventual treatment of type 1 diabetes.
Q: How did you decide to come back to Durham to run Humacyte full time?
A: At different points in a career, you can make a maximal impact doing different things. I felt that I could make the greatest impact by running Humacyte at this stage of my life.
Q: When people describe you as a "trailblazer," what does that mean to you?
A: I think that trailblazers are, by definition, people who are unperturbed by going off the trail. By trying something new and different – but not just for the sake of new and different – but because new and different might just be better. It has never bothered me to do things in a different way – so it is easy to leave the main trail and strike out in a new direction.
Q: What is your philosophy on work-life balance?
A: You can only have a short, finite number of things that are important to you. Making sure that your family knows that they are important, really important, matters. More than lip service, but really important. The same goes with colleagues at work.
Q: What is your best advice to those looking to enter the anesthesiology specialty?
A: Don't limit your potential areas of inquiry to the strict, narrow realm of anesthesiology. Since our specialty touches everything in the hospital, and touches all diseases, the world is our oyster.
Q: Last year, the key word in "Alumni Notes" was perseverance. What would you say is the key word of your journey?
A: Gosh, I might have said "Perseverance." Lacking that, I would say "Bravery."