Image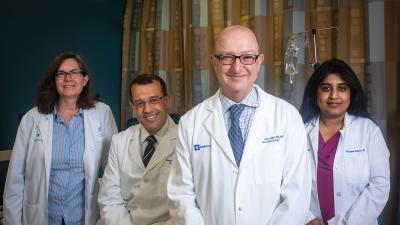 Anesthesiologists on the Front Lines of a Pandemic
Looking back, even though most would like to forget 2020, it will be the year etched permanently into collective memory.
---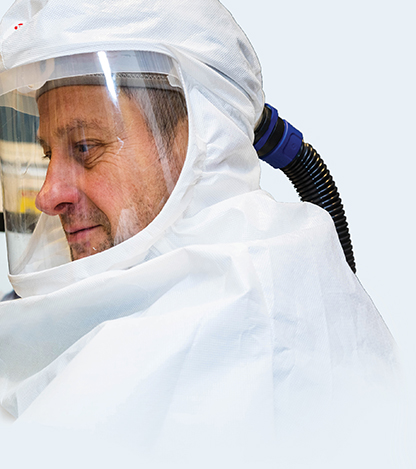 THE FIRST CONFIRMED SARS-COV-2 case in the United States was reported on January 21, 2020. Today, it's a sobering statistic of 33 million diagnosed cases and more than 599,000 people dead. Globally, more than 178 million have been infected and over three million have died.
Anesthesiologists unexpectedly found themselves at the forefront of a critical national response. Airway management along with expertise in critical care gave them a pivotal role in managing COVID-19. In February 2020, Duke anesthesiologists vigilantly watched the case numbers spiral in New York. The rate of spread was profound and local containment seemed impossible. They realized this health crisis would soon be on North Carolina's doorstep. The first positive case was confirmed in Wake County on March 3 and by March 30, the caseload had spiked, and the state went into lockdown.
In early March, Duke anesthesiologists began brainstorming with the perioperative nursing, surgery and infection prevention teams on coordinated steps to keep our patients and staff safe. They focused on airway management, critical care, and expansion of access to prepare their teams for battle against COVID-19. They worked hard to understand the contagion's nature, modify practice, adopt new protocols, and develop operational processes to minimize risk for patients and providers.
"Nobody really knew how the virus was transmittable; there was talk of aerosolization and droplets on surfaces," says Dr. Gavin Martin, vice chair for clinical operations, who led the department's COVID response. "The question of shutting down nonessential health services had started," recalls Dr. Padma Gulur, executive vice chair. "We had to understand the full extent of this outbreak. What is causing this spread and is there a certain patient type who is more prone to developing severe disease from it? How can it go from zero to sixty this fast? How can we respond to it?"
Critical Care Medicine chief, Dr. Raquel Bartz, said the absence of knowledge spurred crosstalk across institutions in Seattle and Stanford. What happened there earlier could soon happen here and any insight into patient management was welcome. Health systems across North Carolina collaborated twice weekly, and the Duke team would meet every day, informs Bartz.
Preparedness for patient admissions kicked into high gear as soon as the COVID positive search engine set up by Suresh Balu and Mark Sendak of the Duke Institute for Health Innovation first indicated an increased positive test rate at Duke.

With no time to waste, Duke Anesthesiology established an anesthesiology command center in mid-March, under Dr. Joseph Mathew's leadership. In collaboration with division chiefs and the chief nurse anesthetist, Adam Flowe, Martin and Gulur coordinated mitigation efforts. Ken Childs and Stephen White of the department's IT team facilitated uninterrupted connectivity giving the team bandwidth to upload every bit of information in real time. Environmental services installed hand sanitizing stations and sanitized surfaces making the fifth floor conference room a safe hub for interaction.
In conjunction with the Hospital Incident Command Center, the team identified best ways to establish safe care pathways in the perioperative environment and in the care for critically ill patients in ICUs across the health system. All Duke hospitals created structures to move critically ill patients into different areas, adds Bartz. At Duke University Hospital, patients were moved from the Neuro ICU to the newly-created Central Tower to generate more ICU beds for COVID patients. At Duke Regional Hospital, critically ill patients expanded into the Post-Anesthesia Care Unit.
Through this turbulent time, the departmental and hospital incident command center became a great "home" for people to interact with the leadership and engage with a supportive community, says Gulur. It gave providers a sense of purpose in the face of great unpredictability, she adds. Meals were provided for in-house teams. Transparency in communication was important. Regular communications providing updates where all perioperative teams from anesthesiology, nursing and surgery were invited, became the norm in place of Wednesday morning grand rounds. According to Martin, they were doing their best with the information they had and were quick to adapt as more knowledge came in. An example was when national mask wearing guidelines changed over a few weeks "from no one needed to wear a mask to everyone must wear masks," adds Gulur.
With surgery and nursing input, the command center drew up a plan to prioritize surgeries for an anticipated COVID surge. When Governor Roy Cooper directed hospitals and ambulatory centers to suspend elective surgeries and non-urgent procedures in May 2020, Duke's perioperative team was well prepared.
Elective surgery cases to be done within a week were prioritized, followed by those that could be done within a month and later. Surgical case volume dropped by 60-80 percent, allowing a ramp up in hospital and ICU bed capacity, informs Martin. Dedicated airway teams, comprising CRNAs and faculty, rotated every 12 hours for COVID patients from June 2020 to June 2021. In collaboration with pulmonologists and surgical critical care, recovery rooms and ORs were to serve as critical care space and anesthesia machines were prepped for use as ventilators.
The hospital ended up responding in a way to keep people maximally safe, adds Bartz. The focus soon shifted to presurgical COVID testing being pivotal to try and keep our patients and staff safe, especially since N95 mask supplies were running low, informs Martin. Patients testing positive were rescheduled according to a data-driven plan of quarantine and recovery. Emergency cases who were COVID positive went to dedicated ORs, with full personal protective equipment (PPE) protection.
The Women's Anesthesiology Division faced a unique challenge. Delivery cases, including COVID positive ones, couldn't obviously be canceled or postponed for women in labor. Division chief, Dr. Ashraf Habib, explains: "Unlike other clinical settings, emergencies can occur quickly and unexpectedly in the labor and delivery unit, meaning that anesthesia providers have to be trained to put on PPE quickly and efficiently to be able to deal with the emergency in a safe way." Furthermore, anesthesiologists in labor and delivery multitasked between labor rooms and operating rooms with the need for donning and doffing when caring for COVID patients, which took time. "We had to create an extra back up call team to manage COVID patients while the 'regular' on call team managed other women on the labor and delivery unit," informs Habib.
A departmental team comprising Drs. Kamrouz Ghadimi, Ankeet Udani, Ian Welsby, Jeffrey Gadsden, Dhanesh Gupta, and Tim Miller quickly developed critical care refresher courses, as well as safe intubations for non-critical care anesthesiologists and simulation training on power air-purifying respirator (PAPR) and airway management.
"We also ended up doing a rapid sequence intubation course for non-anesthesiologists," informs Bartz.
From May to July, along with nursing and surgery, anesthesiologists held regular grand rounds and two virtual town halls focused on COVID topics. Hotels were placed on standby for health care workers who feared taking COVID home to their families. Mattresses were kept ready for roll out in offices and non-perishable food supplies were stocked. Nonessential staff were asked to stay home.
ON THE PANDEMIC'S FRONT LINES: WHY ANESTHESIOLOGISTS?
Anesthesiologists are in the forefront of intubating COVID positive patients, a process that exposes them to potential infection
Intubation was always high-risk during the pandemic, particularly due to the aerosolization when caring for COVID patients and a five percent false-negative testing rate among asymptomatic patients
Anesthesiologists cover/run a large number of critical care units in most health systems, placing them at the forefront of caring for critically ill patients in the ICUs
Anesthesiologists are essential in caring for COVID positive obstetric patients, providing epidurals for pain relief during labor and anesthesia for C-sections
Anesthesiologists provide anesthesia to COVID positive patients requiring urgent surgery
Operating room protocols on emergent and urgent cases required extra protection for the providers, especially during intubations. N95 masks were rationed and preserved for reuse through an innovative sterilization method developed at Duke. With the help of the Department of Orthopaedic Surgery and the Duke University Pratt School of Engineering, Stryker® hoods were innovatively reengineered on 3D printers to serve as PAPRs. "The cross-departmental innovation and collaboration was outstanding. We never fell critically short on PPE and always had access to testing and that is a testament to Duke Health leadership and all the wonderful people from procurement to supply chain," says Gulur. "Our department members from Duke University Hospital, Regional, Raleigh and even as far out as Johnston Health, came together to selflessly contribute and ensure all patients had continued access to excellent care. During the worst months of the pandemic, when most were remote/from home for safety, our anesthesiology providers had to double their in-hospital night and weekend calls to provide expanded services."
"ONE OF THE BIGGEST LESSONS LEARNED IS THAT WE HAD TO BE ADAPTIVE. WE HAD MANY UNKNOWNS, BUT WE COULDN'T STAY STATIONARY. WE HAD TO DEVELOP PROCESSES, TRY THEM OUT, AND IF WE WERE WRONG, CHANGE COURSE - AND CHANGE QUICKLY!"
- DR. GAVIN MARTIN
The state fortunately ducked the anticipated surge in the summer of 2020. The next big question was how to reopen safely as community spread was pervasive. Gulur informs the availability of the point of care test in early April proved to be a game-changer. Habib agrees: "Shortly after the start of the pandemic we started to test all women who were admitted to the labor and delivery unit using a rapid COVID test. Many positive women were asymptomatic. We were able to conserve PPE and avoid unnecessary complex workflow when caring for COVID negative patients."
By the end of 2020 when COVID-19 numbers skyrocketed, health care professionals had learned a lot. They had expanded remote access to care for patients through telehealth, including video visits and telephone calls, informs Gulur. The pandemic has ushered in a "new normal" forcing changes, some permanent, like higher usage of PPE and sanitizers in everyday practice. The switchover to a hybrid model of conducting business, virtual learning, and flexible work-from-home models had also seen success.
However, reality has become achingly clear. More than a year after it arrived on the scene, the virus continues to stress test the public health system. For health care workers, being in an "always on" mode has led to stress, fatigue and burn out. "The sequela from this is going to be important to consider, we haven't even begun to touch it just yet," adds Gulur. The ability to be resilient should not be taken for granted and is something to be worked on, she says, adding, that "we have to get even more deliberate about personal wellness, including time away and time off." The department too is encouraging taking time to rest and rejuvenate, informs Gulur.
To be able to see a sick patient recover keeps Duke's health care warriors going as this reinforces their trust both in high-level science and in each other to provide timely delivery of care. "All patients and families emerged as heroes as did all staff who worked through the unknown high anxiety period to take care of the patients," says Martin, proudly. "Going forward, we have to recognize signals early, react quicker and move faster."
Looking ahead, until the pandemic is consigned to history, Duke's perioperative health care workers will continue to step in and step up to be the human face in a humanitarian crisis.
---
LESSONS LEARNED
LEAD WITH EMPATHY AND KINDNESS, ESPECIALLY IN HIGH-STRESS SITUATIONS
Take into account not just the science, but emotional factors
Acknowledge stressors and offer support
RECOGNIZE THE RISKS TO PROVIDERS AND DEVELOP ACTION PLANS TO ASSURE STAFF OF THEIR SAFETY
OFFER CONTINUOUS, INCLUSIVE AND TRANSPARENT COMMUNICATION, INCLUDING ESTABLISHING A CENTRAL COMMAND CENTER – BE HONEST ABOUT WHAT YOU DO AND DO NOT KNOW
PREPARE FOR POSSIBLE SURGES AND THE NEED FOR MORE INPATIENT BEDS FOR THE CRITICALLY ILL BY PROACTIVELY DEVELOPING A PLAN TO ONLY PRIORITIZE URGENT SURGERIES
LEARN TO SWIFTLY DEVELOP AND IMPLEMENT OPERATIONAL PROCESSES AND PROTOCOLS (THE TEAM SOMETIMES IMPLEMENTED THESE WITHIN DAYS) TO RESPOND TO RAPIDLY EVOLVING SITUATIONS
DON'T BE AFRAID OF THE RISK OF MAKING A MISTAKE DUE TO NUMEROUS UNKNOWNS
The only way not to make a mistake is to do nothing, which in itself is a critical mistake
LEARN MORE ABOUT SUPPLY CHAIN MANAGEMENT IN YOUR HEALTH SYSTEM
Identify the scarce resources (e.g. N95 masks) and develop alternatives to keep people safe - Duke was among the first in the country to have a presurgical COVID testing process in operation
PROVIDE IMPROMPTU TRAINING
Early on, the team utilized Duke's simulation labs to train all anesthesia and non-anesthesia critical care doctors on PAPR and airway management
Fill temporary gaps in health care by offering additional training (e.g. the team trained a large number of anesthesiologists, providing them with hands-on critical care skills so if needed, they could work in the Critical Care Unit)
STRATEGICALLY MANAGE SCHEDULES TO ENSURE ALL STAFF HAS EQUAL TIME OFF TO RELAX/RECOVER
Identify areas doing the "heavy lifting," such as critical care and obstetrics during COVID, and develop plans to not overwork those groups
ENCOURAGE CROSS-DEPARTMENTAL INNOVATION AND TEAMWORK
Utilizing 3D printing, the team worked with Duke Orthopaedic Surgery and Duke University Pratt School of Engineering to turn striker orthopaedic hoods into PAPR substitutes, equipment that was safe to use with COVID patients because it filtered the air and could be used as PAPRs that were in short supply
Duke shared the design publicly, offering a template for other hospitals