Image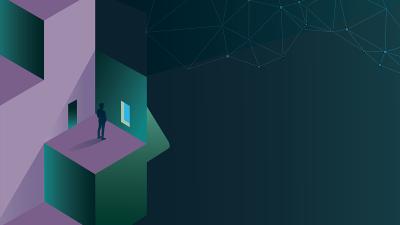 A Comprehensive Approach to Pain
ACROSS THE UNITED STATES, opioid addiction has reached a crisis level. In 2019, more than 70 percent of drug overdose deaths—nearly 50,000 people—were due to opioids, according to the Centers for Disease Control and Prevention. And among those deaths, 73 percent involved synthetic opioids.
Many of those cases are connected to chronic pain, often stemming from an injury or a surgical procedure.
"If you've heard about the prescription opioid epidemic, you've become aware of the extent of chronic pain in our population," says Dr. Padma Gulur, director of pain management strategy and opioid surveillance for the Duke University Health System. "It's a unique debility in that unlike other health conditions, it's not visible."
Gulur knows that well. As a pain medicine specialist at the Duke Integrated Pain and Wellness Clinic, as well as at the Duke Perioperative Pain Care Clinic, and principal investigator at Duke Anesthesiology's Pain Relief and Opioid Mitigation Innovation Science (PROMIS) Lab, she works closely with patients dealing with acute and chronic pain. Gulur is focused on helping those patients manage that pain, improving their quality of life through a balanced multimodal approach without becoming addicted to opioid medication.
She says to effectively treat pain, it's important to understand how it affects the patient. "Pain is a biological, psychological and social beast. There is no way to separate those components because your experience of pain is very personal and variable," says Gulur.
Because of that complexity, Gulur and her teams work to approach pain management from a population health perspective, addressing the gaps in the continuum of care that can lead to opioid abuse.
Duke Perioperative Pain Care Clinic
Duke Anesthesiology first took a population health value based care approach to patients who were undergoing surgery at Duke University Hospital. The Duke Perioperative Pain Care Clinic was established in March of 2017 to identify patients scheduled for surgery who may be at risk for poor outcomes from a pain perspective. Once identified, these patients were offered optimization services prior to their surgery to ensure they were in good condition so they could have the best possible outcomes after their surgery. The clinic was the first in the nation to allow patients to see the same pain specialist team before, during and after surgery.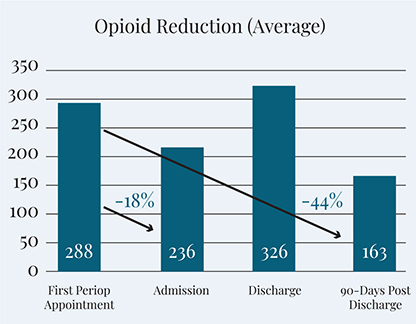 From decision to surgery, these patients are optimized using multiple approaches, including finding the most appropriate multimodal regimen to manage their pain - this includes the use of non-pharmacological strategies such as music therapy, all the way to their nutritional status, which is addressed with a focus on enhancing their diet to include primarily non-inflammatory foods. They are also provided with skill building, such as relaxation techniques, to help them better cope with pain.
"A lot of our patients, when they come to us, their house is on fire, and I'm teaching them preventative strategies," Gulur says of the traditional approach of offering pain management after a patient is already experiencing problems. "It's extremely apparent we're a little late in that game." By addressing this prior to surgery (as it is anticipated their pain will be higher afterward), we ensure they are best equipped to manage their postsurgical pain without relying solely on opioid medications.
Setting appropriate goals and expectations is also important. "It's not all or none," says Gulur. "With prehabilitation, it's about moving and getting your body ready for surgery—if you've not been moving, it's going to hurt more. We work with your pain, using coping techniques, like music therapy. Even if you walk just five more minutes each day, your outcomes are better."
Doing the work before surgery is only one part of Duke Anesthesiology's comprehensive approach to pain management. Continuing that care during and after procedures is critical to preventing patients from becoming dependent on opioid medications.
"With chronic pain, if you talk to patients, you'll often find it started with an injury or surgery," Gulur says. "So we thought the surgical episode is a wonderful time to address pain. We need to do something better for them before they go into surgery. Then, there are other patients who will not do well and the surgery will be the tipping point, so we give them the skill sets now - not when they are hurting. And the third group is when the surgery tends to be painful – this is where anyone borderline for addiction risk can get into trouble."
Gulur says that once a patient is discharged, they are in the subacute phase for pain, a time when patients are vulnerable to becoming dependent on pain medication. With this phase lasting 90 days before a patient is considered to have chronic pain, many of these patients fall into a limbo between treatment for acute postsurgery/ injury pain and care for chronic pain.
"We identified this as a gap in health care," says Gulur. "So we introduced the perioperative clinic—when they have subacute pain, these patients have a home now."
"One of the areas where opioid addiction springs from is accidental development of overuse in the time around surgery, and that's one of the common places where people develop access to pain medication," says Dr. Brian Starr, interventional spine specialist and pain medicine specialist at the Duke Perioperative Pain Care Clinic. "So by having a much more regimented approach to coming down on those medications, we're able to reduce the situation of someone saying, 'I had some pills leftover from a surgery, and I've been taking those.' It's a snowball effect when that happens."
Through the perioperative clinic, pain medicine specialists can better monitor patients, offering continuous care rather than simply writing a prescription and letting them go. And that care includes treatments outside the use of pain medication.
"We see patients at very short intervals with frequent small prescriptions with the goal of tapering every time, meeting them where they're at with the goal of bringing them down," says Starr. "And then we incorporate interventional treatments such as physical therapy, and our social worker provides some of the psychosocial support."
"A lot of times people may take the pain medicine not necessarily just because they're hurting, but because they're panicked by their hurting— that mental state can cause them to use medicine more than prescribed."
Because of those different aspects of pain— the biological, psychological and social—it's important to provide patients a personalized plan that draws on multiple treatments throughout the process to address their specific needs. It's that mix of approaches to treating pain, coupled with the scope of care before, during and after surgery, that gives patients the best possible chance to find relief without dependency on opioids. For Gulur, that's the goal—not only reducing opioid dependency, but also helping her patients find long-term relief for their pain.
"The key element is because it's a multimodal multidimensional approach, it doesn't rely on opioids as the primary means of pain treatment," she says. "That allows for safe opioid prescribing, but at the same time, we're not just reducing opioid prescribing—we're addressing the pain."
Population Based Approach to Integrated Pain Management and Wellness
Our goal is to identify new patients presenting to Duke Health who may be at risk of developing poor pain outcomes that impact their overall health and wellbeing.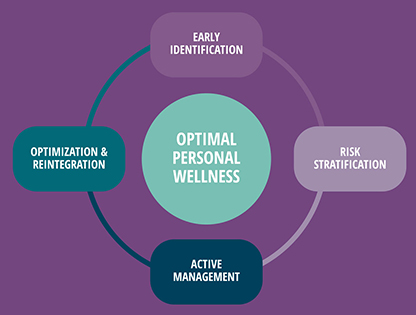 This will allow for comprehensive management of these patients with a multidisciplinary specialist team that will help modify risk factors to promote wellness and optimal pain care.
Duke Integrated Pain and Wellness Clinic
With the evident success in improved outcomes in Duke's surgical population, utilizing a population health approach that focused on identifying patients at risk early on and providing them with the support to prevent poor outcomes, Duke Anesthesiology led a Private Diagnostic Clinic and Duke Health initiative with a goal to apply this to all patients who presented for care at Duke Health.
A pilot clinic was established, which is linked to some of the primary care and specialty care clinics at Duke Health where a large number of patients with pain-related comorbidities receive care.
That's where the PROMIS Lab's work comes in. Gulur and her team developed a set of questions that can be easily integrated into any clinical setting to assess whether the patient needs further screening to identify the risk of poor pain-related outcomes.
"Does everyone who has an ankle injury end up with chronic pain? No, so what is the difference?" she says. "They may have had biological, social or cultural influences that have changed their threshold and made them more prone to developing chronic pain."
Once a patient is identified as at-risk, they are referred to the Duke Integrated Pain and Wellness Clinic for further screening.
"They meet with us and undergo a risk stratification, which is a comprehensive set of questions that are assessable," says Dr. Nathan Christie, anesthesiologist, interventional spine specialist and pain medicine specialist at the Duke Integrated Pain and Wellness Clinic. "They meet with a social worker to do a risk assessment, then they meet with us and a nurse practitioner."
"We are working to bend the curve here at Duke - trying to reach patients before they are exposed to opioids and other substances in order to prevent them from going down a pathway that leads to poorer outcomes and is nearly impossible to change." 
- Dr. Nathan Christie
That comprehensive assessment allows the clinic to determine a formula of pain management based on risk, with options that include traditional pain medication, epidurals, physical therapy, and cognitive behavioral therapy.
This clinic offers a range of services to address pain from physical therapy and nutrition, to medications and injections, to the latest advanced procedures. "We are most excited about procedures involving neurostimulation," says Christie. "There are certain types of pain that are very difficult to treat with medicine, such as abdominal or pelvic pain, and there aren't great procedures as far as single-shot injections. But dorsal root ganglion stimulation, which actually targets it, tries to short circuit the pain before it can reach the spinal cord and be transmitted to the brain."
Early outcomes from this approach are very promising – an approach that Gulur and her team are looking forward to implementing not only across Duke Health, but at large institutions across the country; some of which have already expressed significant interest and where Gulur and her team are consulting to assist those health care systems in launching perioperative pain clinics and soon, integrated pain and wellness centers – ultimately achieving population health.

Current State
Currently, pain in our population is managed in various outpatient settings such as family medicine, primary care, surgical clinics, etc.
Often, supportive resources for optimal multimodal pain management are scarce in these locations resulting in a small population utilizing significant resources in each clinic or using acute care in the hospital.
Proposed State
Predictive analytics and biogenetic can be utilized to identify patients at risk for early optimization/ intervention.
Provide optimization pathway through integrated pain for all outpatients and for all post discharge high resource utilizers.
An active management plan will be set in place before they are returned to standard care.