Image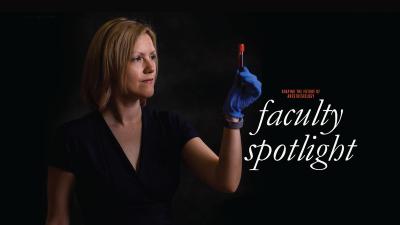 Faculty Spotlight - Nicole R. Guinn, MD
Growing up in Alaska, DR. NICOLE GUINN, director of the DUKE CENTER FOR BLOOD CONSERVATION and ASSOCIATE PROFESSOR OF ANESTHESIOLOGY, never imagined she'd work in the anesthesiology profession.
---
Our field is one that a lot of people don't have exposure to early on, so you often find people who go into anesthesiology had a family member in the field," she says. "I am not one of those people—I'm the first physician in my family."
During med school at Icahn School of Medicine at Mount Sinai Hospital in New York City, Guinn says she was impressed by the calm, in-control demeanor of the anesthesiologists she encountered. So, she decided to learn more about the profession.
"I did some shadowing, and I loved it," she says. "It's so hands-on, and you have one patient at a time that you get to focus on and care for."
As Guinn gained more experience in anesthesiology, she discovered how much she also loved the opportunities for growth and specialization that the field offers.
"I'm someone who constantly wants to be moving and learning and doing," she says. "I like that you're always learning, and every patient is different and presents unique challenges."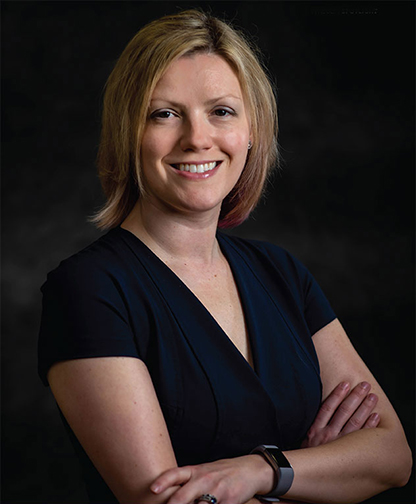 Guinn says she enjoys the immediacy of anesthesiology, and the challenge of responding to the effects of medications in real time.
"In the operating room environment, we are giving medications and performing interventions, such as taking over ventilation, and watching their effects in real time," she says, "as opposed to a primary care physician, who will prescribe a drug and follow-up weeks or months later to see the change (with an antihypertensive, for example)."
As Guinn began exploring options for specialization, she felt drawn to blood management and transfusion, piqued by both the prevalence and complexity of the procedure.
"I was always interested in transfusion," she says. "Somebody once described a blood transfusion as a blood transplant, and when you think of it, blood is an organ. Blood transfusion is a common procedure—one of the most common performed in hospitals every day."
At Duke, physicians transfuse approximately 5,000 blood products per month, (about 3,000 of which are packed red blood cells, about 1,000 platelets, and the remainder being plasma and cryoprecipitate).
Guinn graduated from medical school in 2003, and after an internship at Columbia's St. Luke's Roosevelt Hospital, she came to Duke to continue her anesthesiology residency along with a cardiothoracic anesthesiology fellowship in 2012. As a fellow, she worked with Dr. Steven Hill, then director of Duke's Center for Blood Conservation, who nurtured her interest in blood conservation. Guinn was particularly interested in the juxtaposition of challenges blood conservation and transfusion present.
"I find the extremes on either end fascinating," she says. "The patients for whom blood transfusion is not an option because of religious or moral beliefs—you have to figure out how to perform this complicated heart procedure without transfusions. You have to think outside the box on how to minimize blood loss—everything from changing the surgery to decrease blood loss (minimally invasive or robot techniques), to techniques to save or recycle the patient's own blood (cell salvage or autologous normovolemic hemodilution), to medications to help prevent and treat coagulopathy (anti-fibrinolytics, commercially available clotting factors)."
And those extremes include also being able to recognize when a blood transfusion is not necessary.
"On the other side, a needed blood transfusion can save a life, but an unneeded one has risks of morbidity and mortality without benefit," Guinn says.
For her clinical practice, Guinn decided to pursue two subspecialties—cardiothoracic anesthesiology and neuroanesthesiology. While these two focused subspecialties may not seem to have much in common, Guinn says they play directly into her focus on blood conservation.
BLOOD CONSERVATION STRATEGIES BY PERIOPERATIVE PHASE OF CARE:
PREOPERATIVE:
Diagnosis and treatment of anemia
Discontinuation of anticoagulants and herbal supplements that interfere with coagulation
Consent and documentation of accepted blood products and procedures
INTRAOPERATIVE:
Autologous cell salvage
Acute normovolemic hemodilution
Antifibrinolytics
Viscoelastic testing for early identification of coagulopathy
Avoidance of hypothermia and large volume crystalloid
Topical sealants and hemostatic agents
Minimally invasive techniques
POSTOPERATIVE:
Minimizing laboratory testing
Low volume tubes for phlebotomy
Tolerance of lower hemoglobin levels
"Those two specialties dovetail well into my interests since there's a potential for blood loss in both," she says. "They both have elements of those large blood loss cases and also coagulopathy—in cardiac, the coagulation issues are related to cardiopulmonary bypass, whereas in neuroanesthesiology, it's different, more from large blood loss and large-volume transfusion."
In 2013, Guinn was appointed as director of the Duke Center for Blood Conservation. When she took on the role, Guinn says the center's mission was a bit different from the work it does today.
"At that time it was focused on managing patients who would refuse a transfusion, identifying them and going over the consent process of what they would or would not accept," she says. "Many of these patients were Jehovah's Witnesses, and within their faith, they refuse what they consider to be the major fractions of blood—red blood cells, platelets, and plasma. But many will accept albumin, clotting factor concentrates, and cell salvage."
Under Guinn's leadership, the center has shifted to a more proactive approach with a broader group of patients, assessing their level of risk for a blood transfusion and optimizing their blood counts prior to surgery to produce the most successful outcome.
"Since then, we expanded to the preoperative anemia clinic," she says. "There are lots of other patients undergoing surgery that have potential for blood loss and transfusion, so we're trying to identify them ahead of time, and instead of just treating anemia with a blood transfusion, we're determining the cause of their anemia and treating it to increase the patient's hemoglobin before surgery."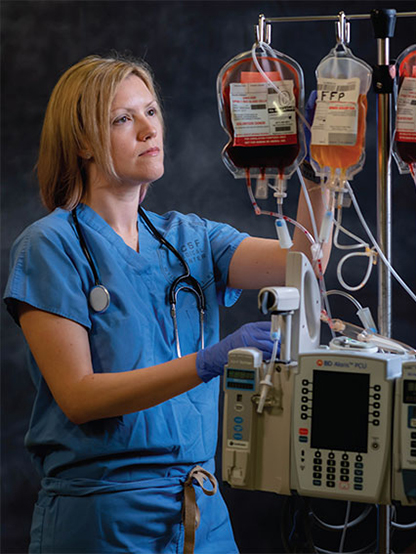 Guinn also works to decrease perioperative transfusion rates as vice chair of Duke's transfusion committee. A recent initiative, the "Why Give 2 When 1 Will Do?" educational campaign encouraged physicians to order single units of red blood cells.
"This campaign significantly reduced the number of two-unit orders of red blood cells across the hospital," she says.
And Guinn says the mindset of preoperative care can help improve the patient experience across the anesthesiology field, not just in blood transfusion.
"One of the newer things as anesthesiologists, we're learning to step outside the OR, thinking about not just how to care for patients during surgery, but preparing them ahead of time so they're fit and able to have better outcomes," she says.
Guinn has applied that perspective beyond her work at Duke, as well. For more than five years, she has served as a physician volunteer with the American Board of Anesthesiology, contributing to the board's work in a number of ways, including writing questions for certification examinations.
That led to a position on the board's Objective Structured Clinical Exam (OSCE) Committee, where she and her fellow committee members were tasked with creating a complementary test to the structured oral exam. The OSCE, in conjunction with the structured oral exam, is designed to test not only a candidate's knowledge base, but also how and why they apply and adapt that knowledge.
"We were the first medical specialty to develop an OSCE in addition to an oral exam and implement it," she says. "I joined the committee before the new exam started, and I actually got to be part of deciding how we would create this exam, writing and administering it."
The OSCE examination assesses whether candidates have not only the technical skills to be a successful anesthesiologist, but also the interpersonal and communication tools to effectively handle a variety of scenarios such as informed consent, peri-procedural complications, and ethical issues.
"Being a part of the creation of this exam has been one of the most rewarding things I've done in my career," Guinn says. "It's not just about making another test—it's about driving how the residents are trained. There are important skills anesthesiologists need, such as disclosing a complication and discussing the need to cancel a case with a surgeon, and by testing on them we're making sure the residents are being taught those skills. That really drives the specialty forward."
Guinn says she feels fortunate to have the opportunity to help shape the future of the anesthesiology profession. But as her career continues to evolve, she admits she sometimes struggles with a common issue among physicians—striking a balance between a demanding profession and maintaining a healthy home life.
"The biggest challenge I continue to struggle with, as we all do, is finding balance," she says. "I am a mother to three children—I have a two-year-old, a five-year-old, and a seven-year-old. It's challenging to try to be a mom and wife and daughter and sister in addition to being a doctor and teacher and administrator."
But Guinn says her community at Duke has helped make it possible to pursue her passion for the anesthesiology profession without her home life suffering.
"I've been very fortunate that I've had support not only from my husband and parents, but also support from my colleagues and bosses," she says. "I was able to take my maternity leave and breastfeed and pump until each of my younger children was more than a year, and that's because I have colleagues who helped make that possible."