Image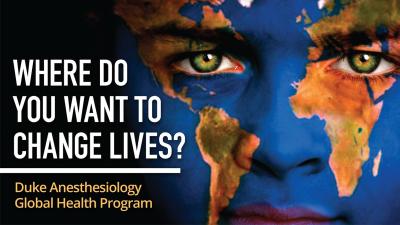 GLOBAL HEALTH: Blogs from Abroad
GHANA: Making a Difference 5,365 Miles from Durham.
Savion Johnson, MD | RESIDENCY CLASS OF 2022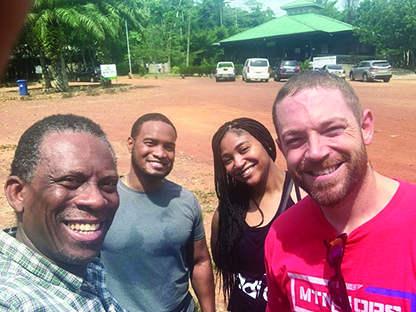 If there is one word to describe my experience, it would be perspective; in just one month in Ghana, I have seen a change in my perspective. The thing about perspective though, is that it normally does not change without encountering a difference of opinion or experience. As someone who had never stepped foot outside of the United States, my trip to Ghana as part of Duke Anesthesiology's global health rotation allowed me to not only practice anesthesia 5,000 miles away, but also experience a new country for the first time, and it was truly eye-opening. In the United States, the first thing people notice is my skin tone, and race seemingly impacts every conversation moving forward. Whereas in Ghana, I am just a man, which makes me think back to the Civil Rights movement where my uncles held up "I am a Man" signs to signify their equality. Because of this dynamic, it has challenged me to think, when race is no longer at the forefront, what is it that defines you? What do you wrap your identity in? Is it faith? Your family? Your career? All questions I hope to continue to explore far beyond my time in Ghana.
CLINICAL IMPACT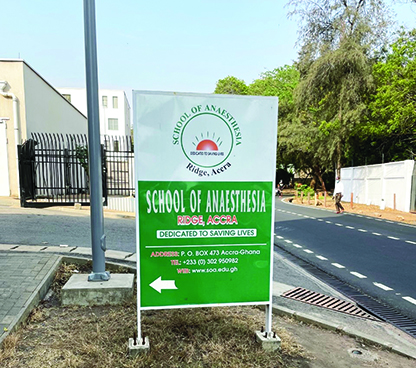 I spent my time clinically at the Greater Accra Regional Hospital, a tertiary care center in Ghana, and I also taught anesthesia at the neighboring Ridge Hospital Nurse Anesthesia School. During our first week at Greater Accra, we found ourselves in the middle of a nurse anesthetist strike across the country, so we aided the nurse anesthetist on duty with cases in the obstetrics theater. One day when we came into the hospital, he let us know he had been at the hospital for four days straight, because there was no other anesthetist. When I asked him why he continued to show up, he said because there is no one else and he wanted to ensure nothing happened to the OB anesthesia program at Ridge and to ensure women received adequate care. This scenario made me think of our 80-hour maximum work week and taught me about true duty to your institution, your patients, and your community. It was inspiring.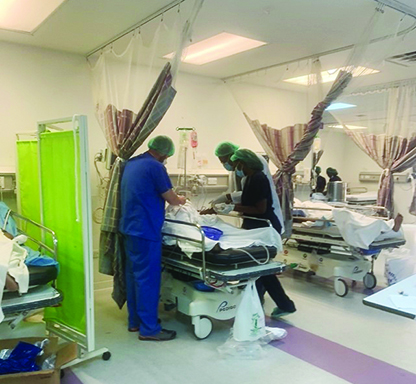 When not in the operating room, I and my co-resident, Lori Jones, taught the first-year nurse anesthesia students on the basics of anesthesia, in preparation for their upcoming midterm exams. Some of these topics included physics, monitoring, capnography, and airway management. The opportunity to teach the nurse anesthesia students was incredibly rewarding as they were always very eager to learn, often skipping the opportunity to leave school early if that meant we could stay and teach after their other scheduled lectures were done for the day.
This experience highlighted so many things we take for granted in regards to our educational experience. One thing that stood out was access to the internet, as the school did not have WiFi. Another thing was lack of seating when all students were present, as there was one lecture we gave where two students shared a desk, which is a stark contrast to our large lecture halls here in the United States. Despite these challenges, the students were always very prepared and enthused about learning about anesthesia.
When not teaching in the classroom, or assisting and teaching in the OR, we had the opportunity to interact with the CEO of the Greater Accra Hospital and the chair of the anesthesia department and discuss perioperative outcomes and what could be implemented to improve them, especially in the critical care setting. It was intriguing to see things at a systems level, to see the challenges faced by the hospital, which included supply issues, blood product allocation and lack of welltrained staff. Despite these challenges, I left very impressed with the ingenuity of the anesthesiologist and nurse anesthetist in that they often utilized creative ways to facilitate good anesthesia care. My greatest takeaway from my time in Ghana was the people of Ghana and their spirit, one of resiliency and making a way when there seems like there is no way. My first global health experience was definitely a successful one and it has sparked my interest in continuing to be involved in global health efforts.

PERSONAL IMPACT
As I walked through the slave dungeons of Elmina Castle in Cape Coast, the first thing that came to mind were the screams of my ancestors, most who never even made it to the slave ships. The next thought was of all the events that had to take place for me to be standing here. Throughout my life, one word that many people have branded me with is resilience. I've demonstrated resilience in navigating housing insecurity, growing up in a home plagued by alcohol abuse and violence, and being a first-generation college graduate in order to become an anesthesiologist. But as I looked at the shackles and the "point of no return," where slaves exited the dungeons before getting on the ships, there was a realization that what I experienced pales in comparison to anything my ancestors survived. It challenges me to want to do more, to be better, and to strive for greater than whatever I can currently imagine.
Lori Jones, MD | RESIDENCY CLASS OF 2022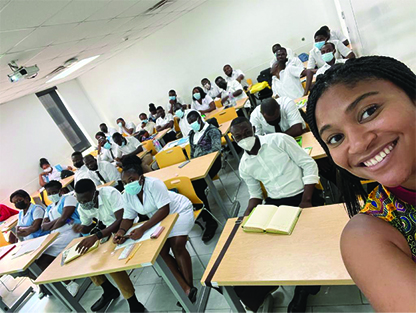 Traveling to Ghana for the first time with the dual purposes of (1) the provision of medical and educational services and (2) cultural, personal and spiritual exploration has been one of the most deeply impactful contributions to my personal and professional development to date.
Our days consisted of teaching first and second-year anesthetist students at the Ridge School of Anesthesia various topics in anesthesiology, followed by clinical time in the operating rooms at the nearby Greater Accra Regional Hospital (or, Ridge Hospital—a major tertiary referral center). Currently in Ghana, there is a staggering shortage of qualified anesthesia care providers; for example, there were only two anesthesiologists practicing at Ridge Hospital at the time of our visit. This care gap is currently filled by nurse anesthetists, for now anyway, as Dr. Adeyemi Olufolabi and Kybele Inc. actively work to fill this by recruiting medical students for an anesthesiology residency program at Ridge Hospital. Thus, the education of nurse anesthetist students is vital to the safe practice of anesthesia care.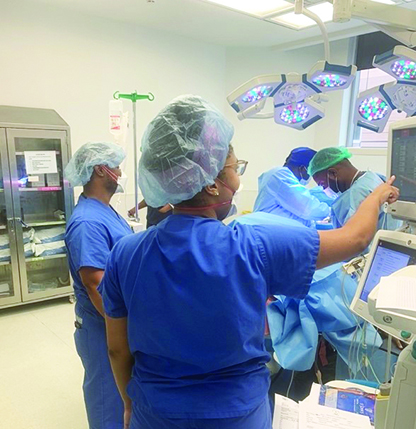 Co-resident Dr. Savion Johnson and I tailored our lectures to the fundamentals of providing safe anesthesia care, with particular attention paid to "Standards of Monitoring in Anesthesia"—oftentimes devoting an entire lecture period to each of the monitoring standards (pulse oximetry, ECG, end-tidal capnography interpretation, etc.). Our goal was to instill into our students that timely recognition and management of any change in the patient's condition can truly be lifesaving, and to empower them with the basic knowledge necessary to be able to do so.
To be able to utilize the skills and knowledge that I have gained as a Duke Anesthesiology resident to teach the students and those in current practice (and, thereby to impact the care of patients in real-time and in the future) was deeply humbling. The knowledge that I can walk into a hospital on another continent and respond to emergency situations reflexively while having my expertise be deferred to by those around me has deepened my trust in my training.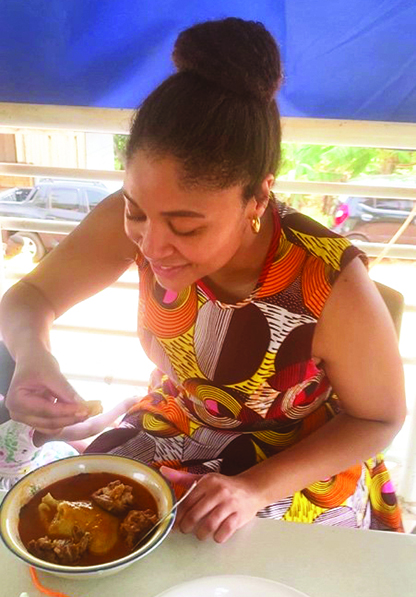 When we were not in the classroom or operating rooms, we explored the incredible art, food, landscape, and history that surrounded us—traveling to art galleries and markets, exploring the rainforest at Kakum National Park, visiting Elmina Castle (the last stop for many enslaved Africans before being brought to the colonies), and sipping fresh coconut water (and I mean, machete-the-top-off-a-coconut-and-popa- straw-in-it fresh) while lounging on the beach next to the crystal clear waters of the Atlantic coast.
The profoundness of the entire experience to me as an African American woman physician descended from enslaved peoples who may very well have been held at Elmina, cannot be understated. I will forever be grateful to the department, my program director, and the global health rotation director for the opportunity to include this experience in my training.
Cameron R. Taylor, MD | FACULTY
"Thank you" simply is not enough for me to say to Dr. Adeyemi Olufolabi for allowing me to share this incredible experience—my first encounter with global health!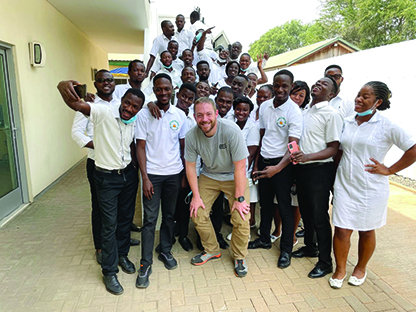 I had the opportunity to teach the anesthesia students at Ridge Hospital in Accra about various topics in obstetric anesthesia. They were eager, curious and anxious to receive instruction. I also was able to spend some time working in their operating theaters observing both obstetric and general surgeries with relatively limited resources. At one point, we had to use a hot water bath from a thermos to thaw two units of FFP to be given to a mother during a hemorrhage, while the patient's husband went to try and convince family members to donate their blood to her. Overall, the staff were interested in our techniques and the clinical management of patients, and everyone was polite and receptive to our presence.
During the trip, we also visited local art museums, markets and historic sites, including Kakum National Park and Elmina Castle. We squeezed so much into a relatively short time window, providing an efficient overview of this west African nation.
It is difficult to describe how impactful traveling to Ghana was for me. It certainly provided me a new framework to approach my day-to-day and understand what can be done even when the most modern equipment is not readily available. It was a beautiful culture made of beautiful people. Any faculty who have ever considered a trip like this should seize the opportunity—you won't regret it.