Image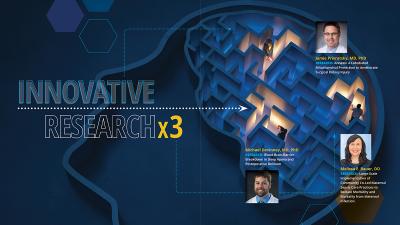 Innovative Research X3
Providing state-of-the-art methodology for clinical, basic science and translational research empowers Duke Anesthesiology to explore revolutionary clinical inquiries by using innovative investigation methods.
Through significant research in neuroscience, molecular biology, molecular and human pharmacology endeavors, our team is making crucial advancements for patients worldwide.
Annexin A1-Mediated Mitochondrial Protection to Ameliorate Surgical Kidney Injury
JAMIE PRIVRATSKY, MD, PHD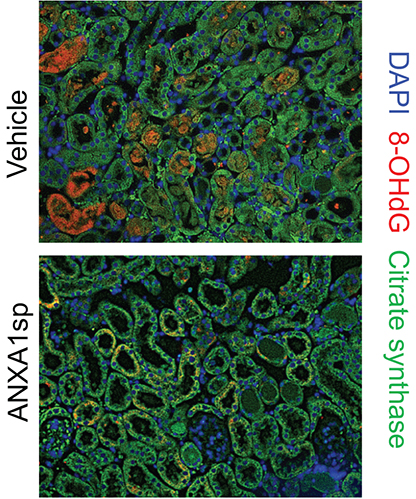 Acute kidney injury (AKI) is one of the most common forms of perioperative organ injury occurring in up to 30 percent of postsurgical patients, and it significantly increases morbidity and mortality. A number of vascular and transplant surgeries require interruption of blood flow to the kidney, rendering the kidney ischemic and causing significant metabolic stress. The timing of this kidney insult is known; thus, the possibility exists to intervene to protect the kidney. However, no treatment options exist to prevent or treat postsurgical AKI. The development of kidney protective therapeutics has the potential to greatly improve outcomes in the millions of people who undergo surgical operations and kidney transplants each year.
The long-term goal of Dr. Jamie Privratsky's laboratory is to develop kidney protective therapeutics to limit postoperative and critical illness AKI. One such therapy could be to limit mitochondrial stress as the kidney is particularly susceptible to mitochondrial stress due to its high metabolic demands. In fact, the kidney has the second highest mitochondrial content of all organs and mitochondrial dysfunction has been highly implicated in the pathogenesis of AKI. As such, the development of mitochondrial protectants that could limit postsurgical and transplant AKI holds considerable promise.
SPECIFIC AIM 1: To determine the role of SIRT3 in ANXA1sp-mediated kidney tubule ATP production.
HYPOTHESIS: AnxA1 binds FPR2 in kidney tubular cells to upregulate SIRT3 through peroxisome proliferator-activated receptor gamma coactivator (PGC)1a, which allows for continued oxidative phosphorylation and ATP production.
---
SPECIFIC AIM 2: To determine the role of mitochondrial necrosis in ANXA1sp-mediated kidney protection.
HYPOTHESIS: ANXA1sp upregulates SIRT3 to deacetylate CypD and limit mitochondrial necrosis to ameliorate kidney injury.
Collaborators and previous Duke Anesthesiology Center for Perioperative Organ Protection (CPOP) investigators Zhiquan Zhang, PhD, and Qing Ma, PhD, developed a tripeptide fragment of the human annexin A1 molecule (AnxA1), termed ANXA1sp, which they showed had augmented protective properties against inflammation compared to other AnxA1 mimetics. In collaboration with CPOP investigator Hagir Suliman, DVM, PhD, Privratsky's new results reveal that unlike previous research that has shown anti-inflammatory properties of AnxA1 peptide mimetics, ANXA1sp ameliorates ischemic kidney injury in mice by limiting kidney tubular cell death and oxidative stress (Figure 1) and upregulates the mitochondrial protectant sirtuin-3 (SIRT3) (1). Despite the promise of ANXA1sp to limit ischemic kidney injury, the novel mechanism by which ANXA1sp could selectively augment SIRT3 expression and mitochondrial metabolism, and limit kidney cell death are not known. Thus, the objectives of Privratsky's newly-funded R01 grant are to determine the mechanism through which ANXA1sp augments mitochondrial function and metabolism and limits kidney tubular necrosis. Privratsky will pursue the specific aims with the help of fellow Duke collaborators, Suliman, Sudarshan Rajogopal, MD, PhD, and Matthew Hirschey, PhD.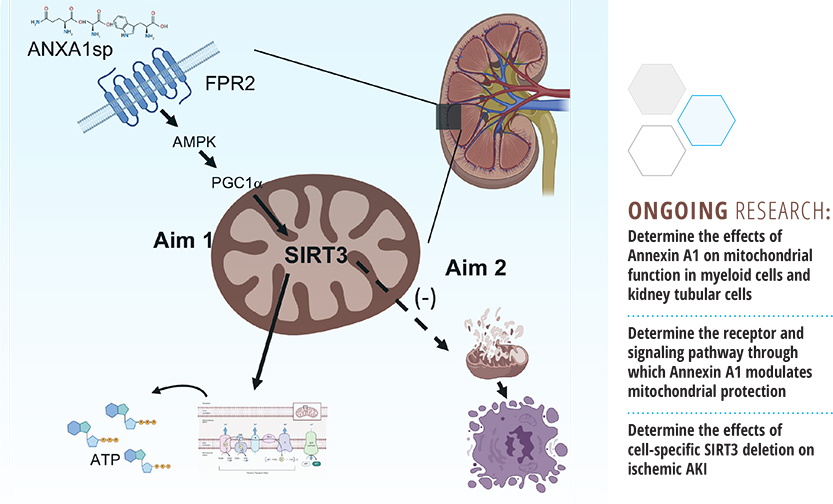 Once the work is completed, Privratsky will have defined the novel mechanisms through which ANXA1sp can augment mitochondrial function to limit postsurgical AKI, setting the stage for development of a novel line of mitochondrial protectants. The identification of mitochondrial protectants would not only limit postoperative and transplant AKI but also have broad implications for protection of other organs following surgery and transplantation.

REFERENCES: 1. Suliman H, Ma Q, Zhang Z, Ren J, Morris BT, Crowley SD, Ulloa L, Privratsky JR. Annexin A1 Tripeptide Mimetic Increases Sirtuin-3 and Augments Mitochondrial Function to Limit Ischemic Kidney Injury. Front Physiol. 2021;12:683098. Epub 2021/07/20. doi: 10.3389/ fphys.2021.683098. PubMed PMID: 34276404; PMCID: PMC8281307.
Large-Scale Implementation of Community Co-Led Maternal Sepsis Care Practices to Reduce Morbidity and Mortality from Maternal Infection
MELISSA E. BAUER, DO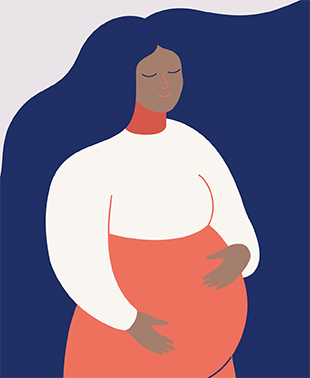 The United States has the highest rate of maternal mortality of all developed nations. Maternal sepsis is one of the leading causes of maternal death in the United States. Most of these deaths are preventable and occur due to delays in recognition, treatment and escalation of care. Since 1987 when the Centers for Disease Control and Prevention started monitoring the causes of maternal deaths, there has been no noticeable improvement in the proportion of patients who died from sepsis. This is especially concerning since there have been overall advancements in sepsis care that have not transferred to care of pregnant patients. Additionally, there are stark disparities in race and ethnicity of pregnant patients most affected by maternal sepsis.
This project partners community members with scientists each step of the way. First, the investigators composed a Maternal Sepsis Community Leadership Board of maternal sepsis survivors, sepsis advocates, birth equity advocates, and community members heavily invested in improving the health and equity of pregnant patients in their community, guided by Dr. Kendra Smith, community engagement expert. This community leadership board has an equal seat at the table providing input on the qualitative work, quantitative analysis and implementation of the maternal sepsis safety care bundle.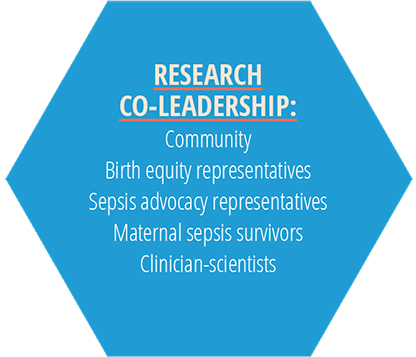 Community engagement is crucial to advancing the science forward by having those most affected by sepsis and inequity provide input and guidance on what is best to improve care. Community involvement has been key in the past few decades to improve the care for patients with Human Immunodeficiency Virus (HIV), provide outreach, and provide input on preventative feasible strategies that would be accepted in their own communities. This partnership between scientists and community members provides an invaluable opportunity to conduct science with feedback at each step from those with lived experience from sepsis, advocates for patients with sepsis, advocates to improve equity in care, and those living in the communities where we are working to improve care.
GRANT CO-AWARDEES:
Dr. Melissa E. Bauer (contact PI)
Experience: 10+ years studying maternal sepsis
Credentials: Fellowships in both critical care and obstetric anesthesiology
Dr. Elliott Main (multiple PI)
Experience: Director for the California Maternal Quality Care Collaborative, a multidisciplinary team that has reduced maternal mortality by 50 percent in California with the implementation of safety care bundles
Credentials: Maternalfetal medicine specialist at Stanford University and chair for the California Maternal Mortality Committee
Initially, investigators will conduct qualitative interviews and focus groups to determine patient barriers to care and provider barriers to implementation. Their community partners will co-create the interview guides with their qualitative experts and receive feedback from implementation science experts and their Clinical Advisory Board. The themes obtained from the focus groups/interviews will allow the multidisciplinary team to determine how best to modify the sepsis safety care bundle to address these barriers. Next, investigators will validate the sepsis screening for maternal sepsis and explore diagnostic criteria for sepsis in pregnancy. The Community Leadership Board will provide input on the thresholds chosen. Investigators will negotiate a balance between not missing patients, but not having a high percentage of false positives. The goal is to not miss any patients, but also strike the balance between not having so many false positives that hospitals refuse to use the screening due to overuse of resources. Once investigators have identified themes from the qualitative work, the community leadership team and scientists will work with the implementation scientists to apply implementation strategies to address the barriers and modify the sepsis safety bundle for racial/ethnic disparities and rural/urban hospital differences. Screening thresholds will be adjusted based on optimized sensitivity and specificity.
The next phase of the grant is implementation across the states of California and Michigan. The modified bundle will be implemented and have modifications for community, rural, academic, and urban hospital settings. The barriers due to race/ethnicity, setting, socioeconomic status, will also have specific care plans for the bundle. Each hospital will be assigned a team of champions (doctors, nurses, community partners) to help with implementation barriers and provide expertise specifically for reducing disparities. Data flows from each state will be provided monthly for each region with specific data on outcomes stratified by race/ethnicity. This data will be evaluated and direct feedback provided with access to the team champions to provide strategies to improve care.
By treating community partners as equal members of the scientific team, investigators are making sure that equity is at the forefront of this work, with the end goal that this model serves as an example for other types of interventions to reduce maternal morbidity and mortality.

Characterizing Blood-Brain Barrier Breakdown in Sleep Apnea and Postoperative Delirium
MICHAEL DEVINNEY, MD, PHD
Up to 40 percent of the more than 19 million older Americans who undergo surgery each year will develop postoperative delirium, a fluctuating disturbance in attention and consciousness associated with increased one-year postoperative mortality, decreased quality of life, and increased long-term risk for Alzheimer's disease (AD) and related dementias. Despite this substantial morbidity and mortality associated with postoperative delirium, there are few if any FDA-approved drugs to prevent it, largely because we still know very little about the underlying pathophysiology of delirium.

Postoperative delirium may be caused in part by blood brain barrier (BBB) breakdown since 1) anesthesia/surgery are associated with BBB breakdown and 2) BBB breakdown has been associated with neuroinflammation, which has been linked to delirium after hip fracture and may underlie postoperative delirium. The BBB normally restricts diffusion of peripheral toxins and inflammatory mediators into the brain and cerebrospinal fluid (CSF). Postoperative BBB breakdown could allow these peripheral mediators to enter the brain, which could disrupt the neural connectivity necessary for normal cognitive function and thereby contribute to delirium risk. Indeed, BBB breakdown occurs more often in patients with increased AD risk and is associated with increased AD neuropathology and accelerated cognitive decline. BBB permeability can be assessed by determining the CSF-to-serum ratio of large molecules like albumin (Qalbumin) that normally cannot cross the BBB and enter the brain. No prior study has determined whether postoperative BBB breakdown (i.e., increased Qalbumin) is associated with postoperative delirium.
AIM 1: Determine the extent to which OSA severity is associated with preoperative BBB breakdown.
HYPOTHESIS: Higher preoperative AHI values are associated with increased preoperative Qalbumin.
---
AIM 2: Determine the extent to which BBB breakdown is associated with postoperative delirium severity.
HYPOTHESIS: Increased 24-hour postoperative Qalbumin is associated with higher delirium severity scores.
BBB breakdown in older surgical patients (who are at risk of postoperative delirium) could also occur secondary to obstructive sleep apnea (OSA), a frequently undiagnosed disorder of repeated breathing interruptions (apneas and hypopneas) during sleep. OSA prevalence sharply increases with age, occurring in about 50 percent of older adults. OSA can be diagnosed with home sleep apnea tests, which determine the apnea-hypopnea index (AHI), a measure of OSA severity. OSA may contribute to postoperative delirium via BBB breakdown because 1) animal and in vitro models of OSA show BBB breakdown, and 2) patients with OSA have increased systemic inflammation, which can disrupt the capillary endothelial tight junctions necessary to maintain BBB integrity. Further, older OSA patients exhibit increased brain parenchymal water, which could be caused by BBB breakdown. OSA has also been associated with increased risk of mild cognitive impairment, dementia due to AD and accelerated AD neuropathologic progression. These findings suggest that OSA-related BBB breakdown before and/or after surgery could play a role in causing delirium. However, no prior studies have determined whether patients with OSA actually have BBB breakdown (i.e., increased Qalbumin).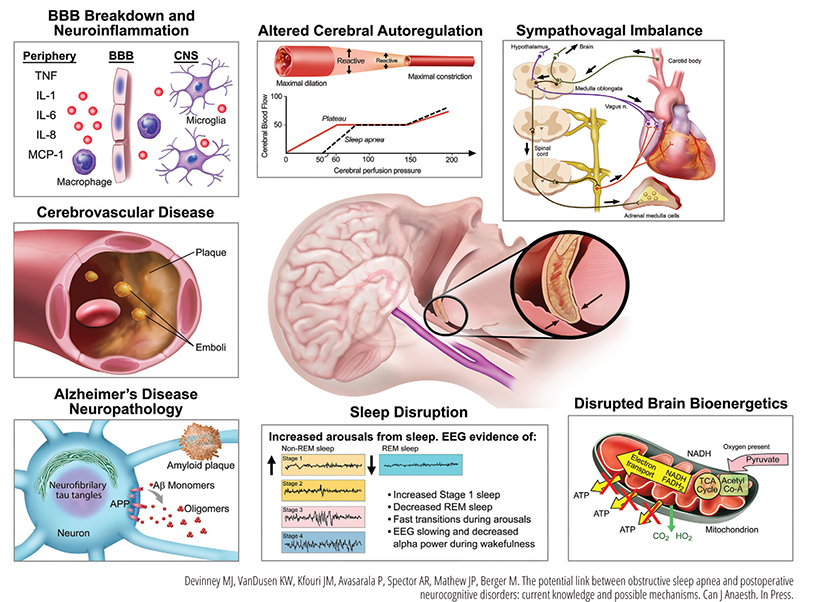 To test whether OSA patients exhibit BBB breakdown, and whether BBB breakdown is associated with postoperative delirium severity, Dr. Michael Devinney will measure Qalbumin in 201 non-cardiac surgery patients age ≥60 that completed an NIAfunded study, "Investigating NeuroinflammaTion Underlying postoperative brain connectIviTy changes (INTUIT)." These patients have already undergone pre- and postoperative blood/CSF sampling, cognitive testing and delirium severity assessments. Additionally, 101 patients completed home sleep apnea testing in Devinney's FAER-funded sub-study, "Sleep Apnea, Neuroinflammation, & cognitive Dysfunction Manifesting After Non-cardiac surgery (SANDMAN)," which aims to determine the extent that OSA is associated with neuroinflammation and postoperative cognitive dysfunction.
The completion of these studies will advance the understanding of the role of BBB breakdown (as measured by Qalbumin) in postoperative delirium. Further, Devinney will determine the extent that BBB breakdown occurs in OSA patients, which has implications for OSA-related cognitive dysfunction such as mild cognitive impairment and Alzheimer's disease outside of surgery, and perioperatively for delirium and postoperative cognitive dysfunction. These findings could clarify overall mechanisms of OSA-related neurocognitive dysfunction and could help lead to the development of therapies to promote BBB integrity and prevent cognitive dysfunction and delirium in patients with OSA.