Image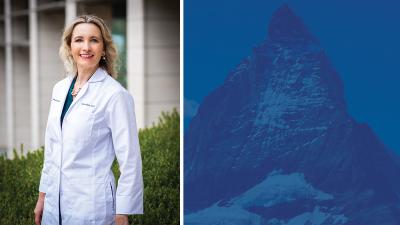 PERIOPERATIVE MEDICINE: Forging the Path to Surgery and Recovery
PASS and POET's Comprehensive Approach to Patient Preparation and Population Health
The weeks and months leading to surgery or an invasive procedure can be a pivotal time for many patients. Facing a new diagnosis and navigating multiple health appointments can create additional demands upon a patient's lifestyle that can feel overwhelming. Yet, achieving the best possible outcome often requires preparation that begins long before the day of surgery, and continues after it ends. Similar to the training required to succeed climbing a mountain, recovering from surgery requires physical and mental resilience and resource planning.
Understanding the preoperative preparation each patient needs is the first step—and that's the mission of the Duke Preoperative Anesthesia and Surgical Screening (PASS) clinic and its PeriOperative Enhancement Team (POET). Together, they form a unique perioperative and population health program, serving as a model for value-based, high-quality care both at Duke and on a national scale. The PASS-POET model, founded by Dr. Solomon Aronson, Duke Anesthesiology professor emeritus, has expanded the role of the anesthesiologist, fostering their increased involvement in care outside of the operating room.
"We take a holistic approach—we consider more than just the patients' chronic conditions," says Dr. Jeanna Blitz, medical director of the Duke PASS clinic. "We look to ensure each patient is ready for what they're about to undertake—not just medically, but physically and psychologically, and we consider the impact that socioeconomic factors have upon patients' outcomes."
Led by a team of anesthesiologists, the Duke PASS clinic is the foundation for this comprehensive patient preparation program. The approach to chronic conditions within the perioperative period differs from the approach used in other clinical settings due to anticipated physiologic changes induced by surgery and anesthesia, the need for stricter therapeutic targets for glucose control, anemia, etc., and the accelerated timeframe between initiation of the intervention and surgery. While other preoperative optimization clinics exist, they serve far fewer patients each year than are served by the PASS and POET programs, and often lack a population health-focused approach.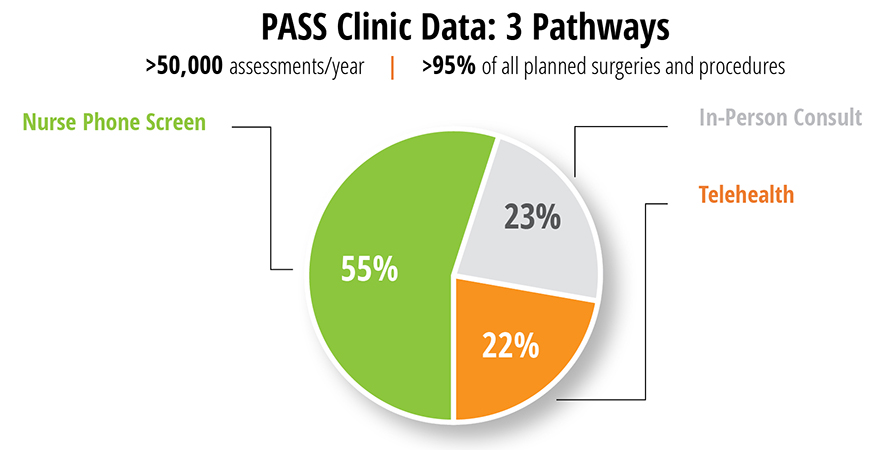 "When we're thinking about this from the perioperative perspective, it's often through a different lens that's informed by our best specialists, but overlaid with our experience as the anesthesiologist within the perioperative world," says Blitz. Established in 2018, the PASS clinic evaluates patients scheduled for surgery—both elective and time-sensitive procedures— to determine readiness for procedures that require anesthesia and pain management. In a typical hospital setting, patients undergo a brief pre-admission testing (PAT) screening and are then advised to see a primary care doctor for medical "clearance" if a concern is identified. It's a fragmented process in which delays may arise with either seeing the primary care provider, or the PAT clinic receiving the results of the consult. In this classic PAT model, once the patient receives "clearance" for their medical conditions, they're sent to surgery; thus, care coordination and post-discharge planning may be lacking or siloed. By contrast, the PASS and POET teams take a systems-based, collaborative and coordinated approach. Instead of viewing a medical clearance to proceed with surgery as the endpoint, they address and plan for the entire continuum of perioperative care from diagnosis to recovery, all within one patient-centered framework.
"You haven't climbed the mountain until you've come back down," says Blitz. "At Duke, our perioperative goals are different—it's not enough to simply get the patient safely through surgery. Instead, we aim to achieve the best perioperative outcomes possible and to impact patients' long-term health trajectories."
PASS patients receive assessments via three channels, depending upon their perioperative needs: nurse phone screens, telehealth visits and inperson consultations. For more than half of the clinic's patients—the healthiest individuals having low- to moderate risk procedures—the phone consultation is often the only step needed in the preoperative assessment process. But some patients, due to risk factors that can increase vulnerability to perioperative stress, require a more hands-on approach through an in-person consultation, which can include screening for frailty syndrome, cognitive assessment, lab work, and physical examination.
The PASS team also engages patients in shared decision-making conversations to explore the patient's primary health goals for surgery and beyond. Given the increasing number of older adults and frail, medically complex patients undergoing surgery each year, these conversations are particularly important. This past year alone, the PASS clinic evaluated more than 20,000 patients age 65 years and older, performing cognitive screening on more than 8,500 of these older adults. Brain health is an important aspect of the anesthetic plan, which can impact risk of postoperative delirium and the development of neurocognitive disorders.

Of the more than 50,000 patients served by the PASS clinic each year, a subset of patients meet criteria for additional optimization programs, known as POET, designed to address at least one chronic medical condition prior to surgery. These interventions are provided by Duke's multidisciplinary POET teams who, when combined, form a comprehensive preoperative optimization and population health program.
The Duke POET teams are condition-specific programs, tailored to support patients with achieving specific health goals to improve recovery and long-term health. These include quitting smoking, managing diabetes, and optimizing nutritional intake before surgery, among others. POET's mission is to provide rapid access to Duke clinicians who are able to provide medical interventions within the accelerated timeframe of the preoperative period to achieve the best possible surgical outcomes—an approach requiring a distinct set of therapeutic goals and a specialized skillset.
"The overall model is a hub and spoke, where the hub is PASS, and the spokes are these optimization entities that branch off from it," says Dr. Annemarie Thompson, professor of anesthesiology.
"The POET concept differentiates the preoperative care that we provide from most other top hospitals in the country," says Blitz.
Since POET's inception in 2015, Duke Anesthesiology has been the pioneer of population health interventions in the perioperative space. The first optimization clinic launch focused on anemia, with clinics supporting patients with diabetes, malnutrition, smoking cessation, allergy testing, pain, and sleep apnea soon following, and mental health and pre-habilitation clinics planned for 2022.
The POET program has experienced growth year over year with regard to the number of distinct patients served, program expansion and the advent of new programs. To date, more than 11,000 distinct patients have been referred to at least one POET optimization team. While therapeutic goals differ by POET service, increasing the optimization window is a goal that's shared program-wide.
Despite COVID-related changes to surgical workflows, the lead time between POET interventions and surgery has increased. Most patients are now receiving optimization interventions more than two weeks before surgery—an improvement due in part to a new approach by the POET nurse navigator, who proactively identifies potential POET candidates earlier in the preoperative process and follows patients through their care plans. POET services also allow for a more expedited process for surgical patients to receive preoperative care.
"It's not your typical referral, because if you try to schedule a neurology appointment, you might have to wait three months, and that's not keeping with the surgical timeline," says Dr. Padma Gulur, director of pain management strategy and opioid surveillance at Duke University Health System. "So what we've created through these optimization clinics is more immediate access to care."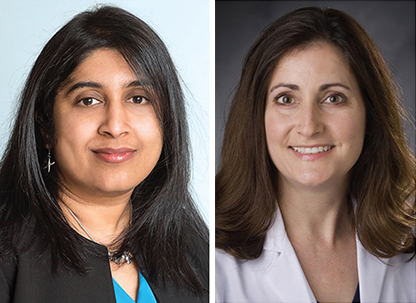 Another way Duke takes a different approach to preoperative patient preparation is with regard to scale. At Duke, the PASS clinic is the primary pipeline to all of the operating rooms and procedural suites, and provides the majority of all patient assessment and optimization services, serving more than 50,000 patients each year. There are many benefits of this approach to preoperative assessment, including the ability to streamline the patient preparation process to get patients from diagnosis to surgery date as efficiently as possible. It also allows for a standardized, equitable, and evidence-based approach to how medical conditions are managed preoperatively. Each day, the clinic provides around 250 assessments to patients from a variety of locations and backgrounds. Eighty-eight percent of PASS patients come from across the state of North Carolina— and 12 percent of patients come from out of state. Patients of all ages, genders, races, ethnicities, and socioeconomic backgrounds are represented in the PASS and POET populations (see graphic).
Since the onset of the COVID-19 pandemic, the PASS clinic's telehealth option has become more popular among patients. Telehealth consultations make up 22 percent of PASS assessments—offering a virtual look at factors such as physical and mental preparation for procedures, patient expectations and health goals, and support at home.
"There were a lot of opportunities in response to the pandemic that allowed us to greatly expand our telehealth option," says Thompson. "The virtual visits are done as a consultation visit meant to address the same type of vulnerabilities within the perioperative period that we do face-to-face." Thompson says the added benefit with expanded telehealth availability is the ability to reach patients sooner while also sometimes providing the bonus of affording a look into their home environment.
"Because we have a wide service radius of patients who come from far away to have their care specifically at Duke, telehealth allows us to reach them sooner than we would if they had to make the trip," she says. "And when we see them on video, we get a sense of how they live, giving us a better snapshot into the environment they're going home to after surgery, which can be very valuable."
Telehealth, which has become more popular in general since the onset of the pandemic, has made a significant impact on appointment attendance for the PASS clinic. Since the addition of the telehealth track, the clinic's no-show rate has dropped from 9.47 percent to 5.76 percent.
Telehealth has also helped the PASS team reach patients sooner—patients are scheduled for their PASS assessment within 24 hours of surgical case posting, compared to 3.5 days in 2019. The wait time for an appointment has dropped significantly, from 21 days in 2019 to six days in 2022. In spite of the addition of more elements of risk assessment to the evaluation, clinic efficiency has also improved— most patients complete their consultation in under an hour.
Additionally, telehealth has helped streamline the POET optimization process for some patients. With the accelerated expansion of telehealth, completed appointments increased from 1,736 in 2019 to 3,913 in 2021 with 60 percent of visits conducted via telemedicine platforms. Smoking cessation, nutrition, and diabetes programs saw the greatest telehealth-related growth.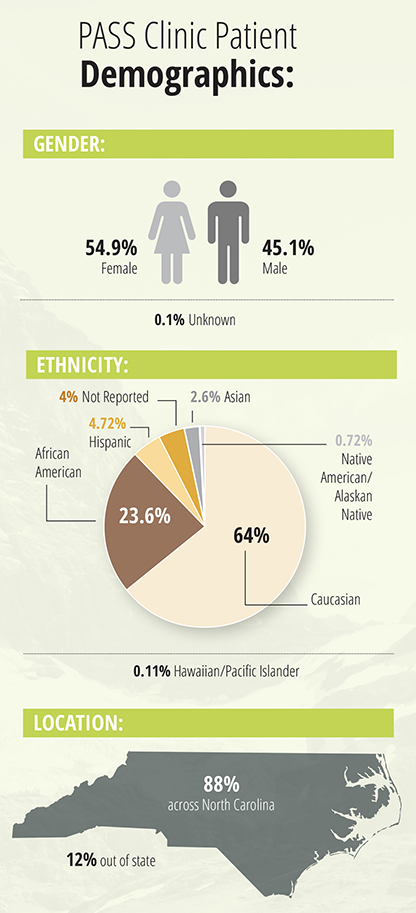 According to Thompson, the penicillin allergy clinic has become an important part of POET's mission to approach patient care from a population health perspective. She cites the prevalence of patients who believe they have penicillin allergies learning they actually can tolerate the drug once they go through the allergy testing process prior to surgery. That can make a powerful tool in fighting infection suddenly available for that patient, which can reduce the risk of postoperative infection and avoid the use of other antibiotics during and after surgery.
"The more you use an antibiotic, the more likely you are to have community resistance when these organisms emerge," she says. "So there's a compelling reason to know whether someone has a penicillin allergy for instance, because it's a matter of using antibiotics wisely, and not using antibiotics that might generally be reserved for resistant infections. It's about good antibiotic stewardship."
The work of PASS and POET contributes to Duke's overall population health-focused mission in the cost arena as well. Because preoperative care can reduce the amount of acute care and recovery time needed for many patients, it reduces both personal costs and the costs to the health system.
"The hospital is looking to move cases away from the use of acute care resources," says Gulur. "That gets patients to recovery faster, leading to better outcomes and also reducing health care costs overall for both the patient and society as a whole."
Over the years, PASS and POET have become a collaborative effort within the Duke Health system, with buy-in from not only anesthesia, but from surgery and nursing as well. Gulur says that willingness to work together across departments will allow the programs to continue to grow.
"There's just so much potential to innovate in this space, to offer patients a chance to be their best before and after surgery, which is going to support better outcomes," she says.
And looking back at how far they've come over the past seven years, Thompson says the team is not only excited for what's to come, but also seeing the level of positive change they've achieved thus far.
"None of us ever want to go back to the time where you'd see a patient for the first time the night before or morning of surgery," she says. "Being so rushed, you don't get the whole picture or all the information you need that could potentially endanger the patient, or lead to a less than desirable outcome. So it's important that people really understand the critical role that a highly functioning perioperative system plays in patient care."