Image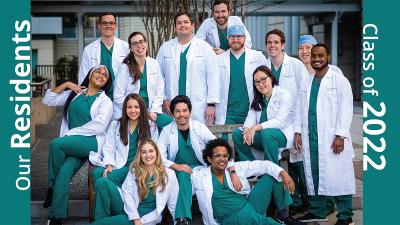 RESIDENCY RECAP
Resident Spotlight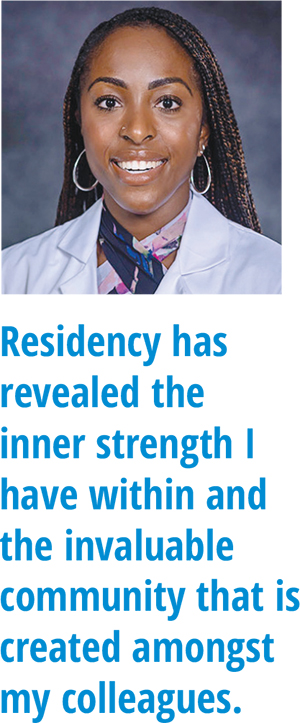 Daisy Ogede, MD | CA-1
I was born in Nigeria and raised in Chicago, Illinois. I studied neuroscience and anthropology at Washington University in St. Louis. In addition to my pre-medical coursework, my undergraduate career largely consisted of being a track and field athlete. I was fortunate to have a very successful track and field career that I attribute to my stellar teammates and coaches. The lesson I learned as an athlete is "iron sharpens iron." It is valuable in the life-long journey of learning to surround yourself with people with diverse backgrounds and skillsets.
What led me to anesthesiology was how the field affords me the opportunity to engage with the sickest of patients whose medical illnesses require operative treatment. I appreciate the wide breadth and complexity of cases. I am drawn to the brief, but intense connections made with patients and their loved ones. Additionally, I enjoy the close collaboration with surgical teams, nursing, and other ancillary staff, thus requiring excellent teamwork.
I chose Duke Anesthesiology because Duke provides well-rounded training not only in general anesthesiology, but also its subspecialties. Additionally, I believed that the residents not only enjoyed working together, but also bonding and building friendships with each other. I felt that my unique background and talents would be welcomed at Duke.
Despite the long hours spent in the hospital, I believe residency has been a deeply rewarding journey so far. Entering residency, I expected to sharpen and broaden my clinical knowledge and skills. However, what surprised me the most was how I have grown as an individual. Residency has revealed the inner strength I have within and the invaluable community that is created amongst my colleagues. The biggest lesson I have learned thus far is how important it is to lean into a community inside and outside of the hospital. Finding ways to keep in touch with the hobbies and passions that do not involve being a resident physician. In conclusion, I look forward to seeing how the next several years will shape the woman and physician I will become.
---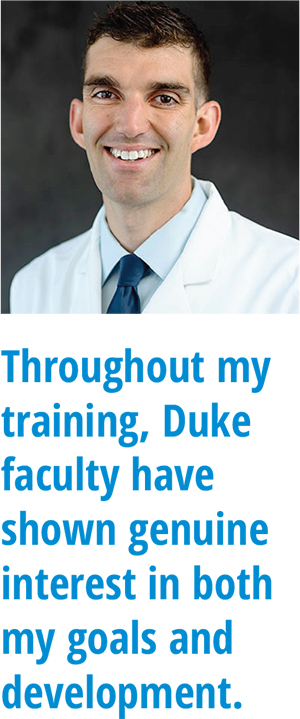 George "Bert" Cortina, MD, PhD | CA-2
During my undergraduate education, I realized I was interested in medicine and engineering. My dual interest led to a computer science major with an eventual goal of using these skills as a physician-scientist. My MD-PhD training allowed me to develop my basic science and medical skills as well as my engineering and applied science skills. In graduate school, I integrated these interests by developing a biophysical model that can predict antibiotic resistance. For a while, I struggled to identify which specialty I might be best able to apply my dual interest. It was during my medical school rotation in anesthesiology that it all clicked. More than any other medical specialty, anesthesiology uses engineering approaches in the care of patients. Throughout my training, Duke faculty have shown genuine interest in both my goals and development. Their passion, along with that of my fellow residents, has further motivated me to work hard and learn. Now in my CA-2 year, I am even more convinced of having made the right choice to train at Duke Anesthesiology.
I am an outdoor enthusiast. My favorite activities are running, swimming, mountain biking, and going on hikes along North Carolina's beautiful Blue Ridge Mountains. Durham is the ideal location, offering easy access to numerous nearby biking and running trails. Additionally, lakes, mountains and ocean beaches are only a short drive away.
There is so much to learn in the field of anesthesiology. This is both remarkably exciting and humbling. The most exciting part of residency is learning something new with a senior resident or faculty mentor and then working to improve my technique in subsequent cases. I have witnessed the importance of communication and the teamwork involved with every procedure. My favorite cases have required both the surgery and anesthesiology teams to be in sync. These experiences, along with my relationships with my fellow residents and mentors at Duke, are motivating and encouraging.
Alumni Shoutout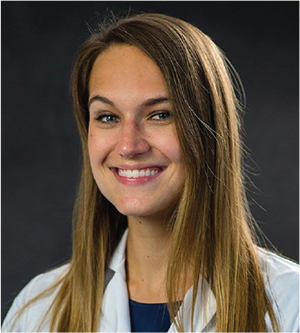 Sarah Cotter, MD '19
Where are you now?
After residency, I completed an adult cardiothoracic anesthesiology fellowship at Brigham & Women's Hospital and am now an assistant professor of anesthesia at University of California, San Francisco.
How has your training at Duke Anesthesiology accelerated your practice of anesthesiology?
I loved being at Duke, and that feeling has only solidified since leaving. I learned from the very best and have felt well-prepared for the challenges of fellowship and new attendinghood. Best of all, the Duke community is global, and I've been able to feel at home even in new places.
How did your training prepare you for being an anesthesiologist in a pandemic?
There was simply no preparing for what COVID meant for our specialty, but I do think the attitude of "all hands on deck," which is fostered during residency at Duke Anesthesiology as classmates grow very close, allowed my colleagues and I to mobilize and offer all we could to help in the midst of an incredibly difficult (and ongoing) crisis.
What is your greatest takeaway over the past few years?
It is an absolute privilege to do the work we do. And, it is also important to rest.
What are the greatest lessons that you took with you from the Duke Anesthesiology Residency Program and Duke in general?
Having now worked closely with residents (and as a trainee) at a couple of different institutions, I can say without a doubt that Duke offers a combination of rigorous clinical training and protected time to enjoy life outside of the hospital that is unmatched. This is on purpose, and has been carefully cultivated by the residency program leadership. There is a lot going on behind the scenes that you can't appreciate until you graduate, but I remain so thankful to Annemarie and the rest of the educational folks for an experience that encouraged growth not just as a physician, but as a person - a friend, a colleague, a family member.
What do you miss the most about Duke/Duke Anesthesiology?
The people! And, Friday morning Elmo's trips after a week of night float.
Advice for residents graduating from our program?
Carve out time to remain connected with your Duke family. Wherever you want to go, there will be someone there who is a former Dukie. These relationships will be incredibly important in crafting your career.
Why did you choose anesthesiology as your specialty?
I picked cardiac because many of my mentors were cardiac anesthesiologists, and I wanted (still want) to be like them when I grow up. I have a strong sense of pride in feeling like I can take care of the sickest patients on any given day. Overnight transplants don't get easier (and it's a lot harder to catch up on sleep with a one-year-old), but there is a deep feeling of gratitude when you're the one who gets to care for a patient getting a second chance at life. This is a sacred part of what we do.
---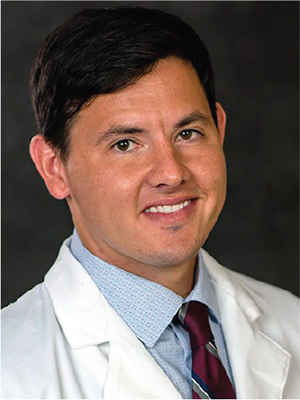 Delbert Lamb, MD '20
Where are you now?
After residency, I completed a pediatric anesthesiology fellowship at Boston Children's Hospital, where I'm doing additional training in a pediatric cardiac anesthesiology fellowship and will stay on as faculty to care for cardiac/non-cardiac pediatric patients perioperatively.
How has your training at Duke Anesthesiology accelerated your practice of anesthesiology?
Duke Anesthesiology really prepares you for the transition to excel in fellowship or to go straight into clinical practice. The large case volume allows residents the ability to care for the bread-and-butter cases to complex/ASA4 cases. CA-3s gain a lot of leadership experience (running the board/OR on senior night call, supervising junior residents and CRNAs, etc.), which allows Duke Anesthesiology residents to be more than prepared for whatever route they take after residency.
What are the greatest lessons that you took with you from the Duke Anesthesiology Residency Program and Duke in general?
Remember what matters – know, listen and understand your patients, and remember that your duty is to take excellent care of the patient. Build your community. Establish friendships, trust and a sense of community with your colleagues. Be an advocate and a leader - for your patients, yourself, your colleagues, and your profession. Do your best.
What do you miss the most about Duke/Duke Anesthesiology?
Easiest question I've had to answer so far – the people. I came to Durham not knowing anybody, but I left with lasting friendships and family for the rest of my life. Starting from leadership, you have Dr. Joseph Mathew and Dr. Annemarie Thompson (AMT) who support, advocate and allow you to grow. AMT is the most passionate resident advocate I can think of and has remained a close friend and mentor. The faculty are always available for questions, support and mentorship, even after you have graduated from residency. And lastly, my co-residents are some of my favorite people I have ever met and those relationships will last a lifetime.
Advice for residents graduating from our program?
Stay true to yourself. Be kind, keep learning and continue to do good in this world.
Why did you choose anesthesiology as your specialty?
I enjoyed almost every medical specialty during medical school, but when I rotated with anesthesiologists, I was very quick to realize that they are exactly the type of physician I wanted to be like. They were calm, intelligent and remained so even under times of incredible pressure/stress. Now, I couldn't imagine doing anything else.
We are quite spoiled at Duke Anesthesiology with excellent clinicians in every subspecialty of anesthesia, but I truly felt with 'my people' when I rotated on pediatric anesthesiology. Being able to take care of the tiniest babies to complex congenital cardiac patients is quite fulfilling, but also being able to calm and gain the trust from families is a huge responsibility. I love going to work each day, not only taking care of complex pediatric patients, but also learning and teaching with learners.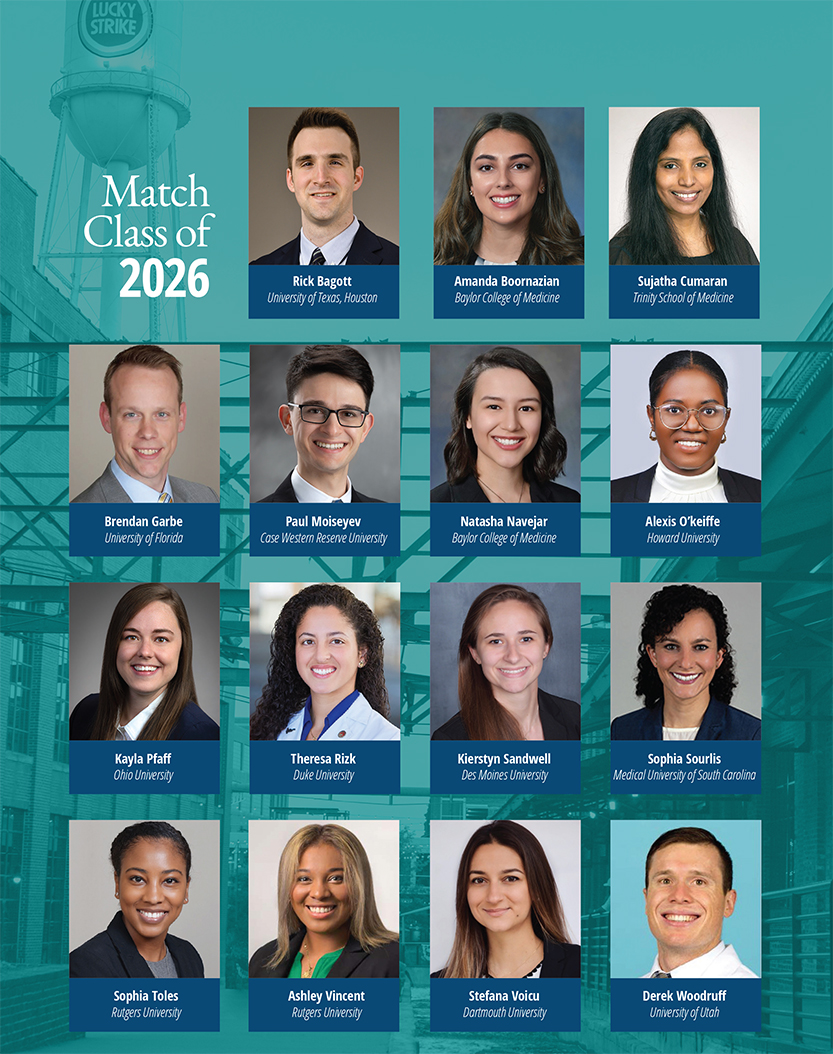 New & Noteworthy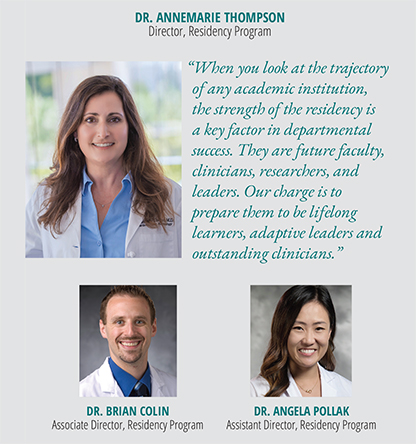 Find us on Twitter!
Follow the new Duke Anesthesiology Residency-Run Twitter Page
Doximity Rankings
For 2021-2022: 
#1 in the South 
#1 in North Carolina 
#5 National Reputation
Keep in Touch!