Image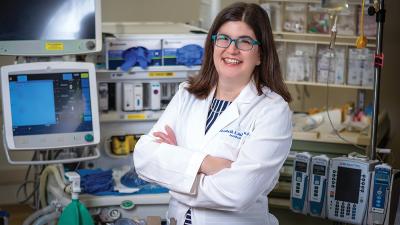 SHAPING THE FUTURE OF ANESTHESIOLOGY: Faculty Spotlight
Whenever opportunity knocks, she says "yes" and opens the door. Elizabeth B. Malinzak, MD, says opportunity is everywhere, one just needs the vision to recognize it and the courage to go after it.
Her first recollection of aspiring to be a doctor goes back to age 3. Born and raised in Greensboro, NC, Malinzak grew up in an unconditionally supportive family, including a cardiac surgeon dad as a role model, a homemaker mom and two older brothers. They presented her with opportunities and hard work was not optional. After graduating in bioengineering magna cum laude at Rice University in Houston, Texas, she joined medical school at Duke University.
Her second-year anesthesiology rotation clinched her decision to work in an acute care setting. She found the specialty very procedural and hands-on, and loved the physiology and pharmacology aspects of it. She felt anesthesiologists were the "coolest and smartest doctors who knew the most about medicine and surgery." After acquiring her MD in 2009, a residency in anesthesiology followed at Duke and pediatrics became Malinzak's favorite subspecialty.
"It's always a privilege to look after someone else's child," says Malinzak. She completed a pediatric anesthesiology fellowship at the University of North Carolina and returned to Duke in 2014 as an assistant professor in the Division of General, Vascular, and Transplant Anesthesiology, and joined the Division of Pediatric Anesthesiology in 2019.
Her passionate advocacy in the diversity, equity and inclusion (DEI) sphere emerged from personal circumstance. When she became a mother during her CA-2 year, Malinzak realized that young physician mothers faced unique challenges as they sought to balance their professional and personal lives. Health care systems were structured in a manner that did not readily accommodate issues that young mothers faced. These challenges, she felt, either limited career advancement for some women, or placed a disproportionate burden on them for equivalent opportunities.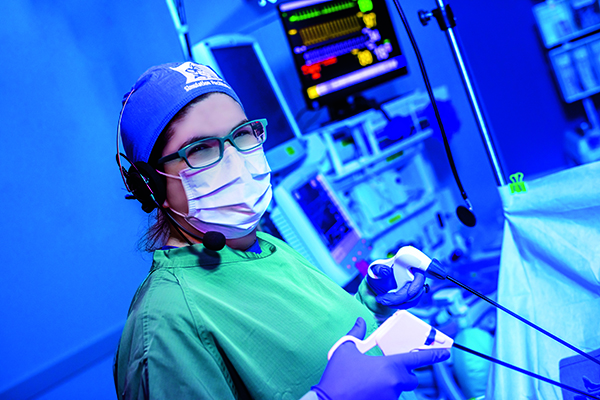 "In order to make our specialty engaging, we need to be a specialty that is inclusive and open to new ideas. We need to change the job description of the traditional anesthesiologist to capture the interest of the new generations in medicine."
This dissonance in her orbit compelled her to educate herself on principles of gender equity and inclusion. Through networking with other anesthesiology moms across the country with similar experiences, Malinzak started advocacy efforts to address systemic biases and promote gender equity in professional organizations. She joined national societies, attended conferences, and developed several mentorship relationships nationally, in order to explore topics such as microaggressions and imposter syndromes.
There is something to be said about being in the right place at the right time. As part of the American Society of Anesthesiologists' (ASA) Committee on Women Anesthesiologists, Malinzak took on some high-profile steps to study pay parity. She was part of a workgroup that designed and deployed an extensive survey to assess racial and gender differences in compensation among anesthesiologists. The group's findings of an 8% gender pay gap were published in Anesthesia and Analgesia in 2021.
Malinzak feels that people may have trouble understanding this difference in compensation. "A lot of biases start early on, such as pushing women into lower compensated subspecialties, differential levels of compensation in starting positions, differentials in advancement criteria, and how cases are assigned in private practice."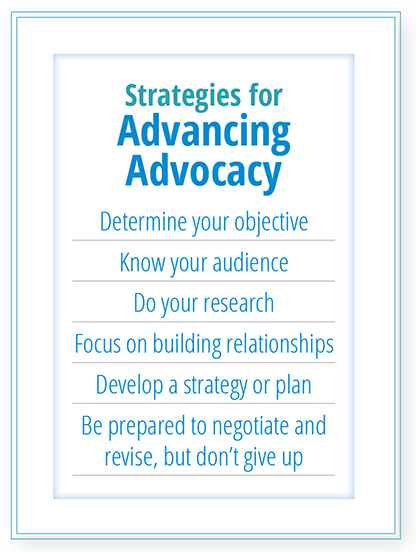 She also feels that Duke has an inspiring history of promoting women to leadership roles. At one point, seven of ten of the university's deans were women. Furthermore, Malinzak takes pride in belonging to a department that has consistently recruited and supported women in medicine. "In the last five years, Drs. Joseph Mathew and Madhav Swaminathan have encouraged individual women in the department to seek out leadership development, apply for leadership positions and promotions, nominate for awards, and overall encourage them to their full potential. It's great to see our leadership investing in women," says Malinzak.
"If you can see it, you can be it," she explains how visibility in leadership is important to motivate junior and mid-career women. "Our department has women in leadership positions, including Cathy Kuhn as a designated institutional official, Nancy Knudsen as associate dean in the School of Medicine, Padma Gulur as executive vice chair, Annemarie Thompson as residency program director, Allison Ross as director of program development (and previous division chief), Miriam Treggiari as the vice chair for research, and several women as fellowship program directors (Brandi Bottiger, Jennifer Dominquez, Colleen Naglee)."
Malinzak has her finger firmly on the pulse of the younger generation of physicians and advocates for work-life equilibrium. "I think this generation really values work and life equally." This is quite in contrast to mid to senior career anesthesiologists who had an "I work in order to live" philosophy, she observes. "It's more about promoting wellness to have a more motivated workforce and not have them burn out," she adds. "My message to get a good work-life balance is to recognize its fluidity and set priorities."
Opportunely, in 2018 as vice chair of the Committee of Young Physicians, Malinzak co-authored the ASA "Statement on Personal Leave." "Up until then, the ASA was the only medical specialty society without a statement on parental leave," she informs.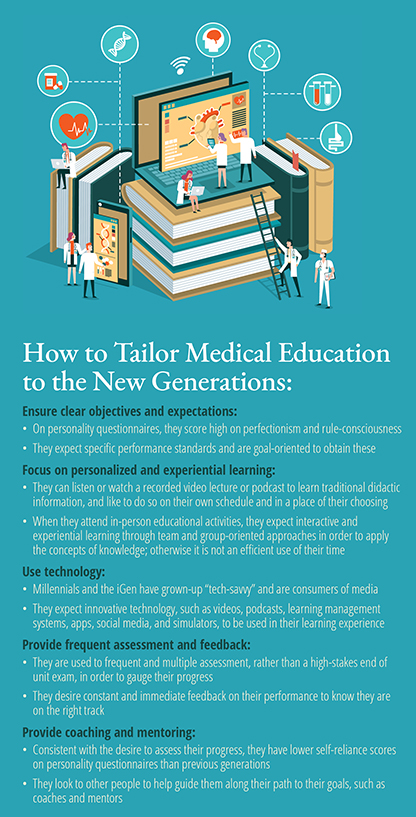 The ASA-endorsed statement now supports six weeks of paid parental leave and recommends leave for medical and family issues to promote health and well-being of both women and men anesthesiologists at their workplaces and homes.
In 2020, Malinzak found herself fortuitously placed as chair of the Committee of Young Physicians to address another issue that had social media buzzing. It was a Facebook post about an anesthesiologist assistant whose job was threatened because she was pumping in the operating room. Then ASA president, Mary Dale Peterson, sought clarity on this important women's issue and Malinzak and her team volunteered to gather evidence and develop an official statement on lactation.
"It was a tough road, some even thought it was gross to discuss lactation, but ultimately it was awesome when the ASA passed the 'Statement on Lactation' in 2021, making it the first medical society to have an official statement supporting lactation-related needs of women, including physicians, in the perioperative environment," adds Malinzak.
Meanwhile, her efforts to extend outreach to promote a culture of inclusivity and diversity have gained national traction. "I am big on social media, especially Twitter, and have been able to make connections and collaborate," says Malinzak.
Malinzak is the current president of Women in Anesthesiology (WIA), a national volunteer organization banding together to promote the professional and personal development of women anesthesiologists since 2015. "We can accomplish things through grassroots efforts in terms of advocacy," informs Malinzak. In 2021, the ASA invited her to speak on the impact of COVID-19 on women anesthesiologists in North America at the World Congress of Anesthesiologists, in which she addressed how the pandemic has exposed a flawed work-life dynamic that they experience.
At Duke, Malinzak brings her expertise and DEI message home to a diverse generation of medical students, residents and fellows. There is a push to encourage medical students, especially those underrepresented in medicine, to become more involved in anesthesiology, says Malinzak. "As a department, we hold skills workshops, promote shadowing by medical students and have a scholarship for visiting students." Students shadowing or on a rotation are matched with advisors with whom they can identify and form a mentoring relationship. Malinzak spearheads a diversity initiative for the North Carolina Society of Anesthesiologists and is part of the American Board of Anesthesiology task force to examine the content outlines of exams to insure DEI principles are included.
As the director of Medical Student Education, Malinzak notes that the younger generation really likes interactive, experiential learning through actual case scenarios, clinical experiences, and with technology incorporated for attention. She says, "When they go to a lecture, they don't want to be lectured to but want a discussion. I like teaching them in a way that they feel engaged and motivated. I want to give them the building blocks and then I want to see them make the skyscraper."
Interestingly, Malinzak is known to have taken 'hands on' teaching to another level when she offered her own hand for a medical student to practice inserting an IV. Until recently, she was the course director of Maintenance of Certification in Anesthesiology, a simulation training course in anesthesia crisis management offered to physician anesthesiologists nationwide; she continues to teach medical students and residents principles of anesthesiology and crisis resource management through regular simulation using state-of-the-art technologies at the Duke Human Simulation and Patient Safety Center. "It's a really good way of experiential learning in medical education and I believe exposure to it is very important for the progression of our trainees."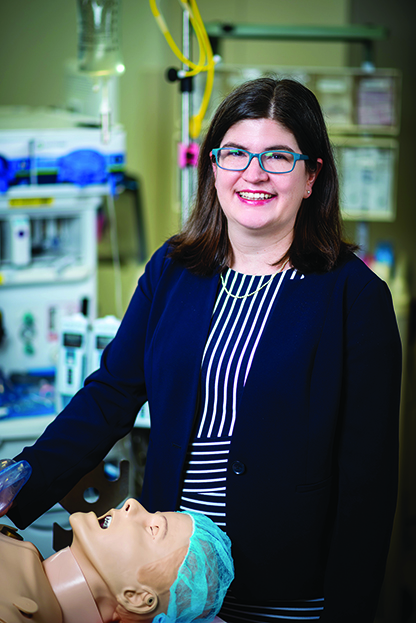 Malinzak feels strongly about giving forward what she has abundantly received, namely mentorship from advisors, including Drs. Nancy Knudsen, Mark Stafford-Smith, Annemarie Thompson, Madhav Swaminathan, Edmund Jooste, Allison Ross, Padma Gulur and Joseph Mathew. "So, having someone who makes you believe you can do more is really big. And if you fail, they're the ones who can recognize that it wasn't such a big deal."
But it's not all work and no play for Malinzak as she makes time for downtime with family. This spin-cycling neo-convert enjoys a good workout as much as she likes to regale her children, Patrick, 10, and Annette, 6, with stories about her being Sammy the Owl, mascot of Rice University. "They are my life, and I love shopping with them, going to their games, playing Nintendo Switch, or watching Star Wars together." But come Saturday afternoon, it's her tradition to dedicate two hours to nap time during which even their cute Cavachon puppy, Remy (short for remifentanil), lies low!
It's true. Malinzak always say "yes" to opportunity, even if it means catching a few winks to refresh and recharge. It enables her to awaken to new possibilities. "There is always something exciting that can happen, so why not get up and enjoy that. Even when failure happens, I try to use that to make something better," she says optimistically.