"As the equity, diversity and inclusion leader for Duke Anesthesiology, I am honored and humbled to lead such a diverse, passionate and dedicated group of faculty, residents, and fellows united by a shared vision." - Dr. Jennifer Dominguez
Vision
To eliminate health disparities in perioperative and pain medicine.
Whether you are considering joining our community, or have been a member of it for many years, we invite you to learn more about our department's efforts to promote equity, diversity and inclusion, and about how members of our department and the School of Medicine have responded to the health disparities highlighted by the COVID-19 pandemic and pledged to eliminate racism by turning Moments into Movement.
The following core operating values influence the culture of the Equity, Diversity and Inclusion program within Duke Anesthesiology, and support and align with the departmental and institutional core values. In addition to the values of the greater organization, we will embody the following core values:
Inclusion, Empathy, Humility, Holistic, Collaboration
Our Mission
The mission of the Duke Anesthesiology EDI program is to cultivate a just and inclusive culture in which individuals thrive and are dedicated to alleviating suffering, improving health and well-being, and promoting social justice for all through excellence in innovation, education, research, service, and professional growth.
Our Strategic Pillars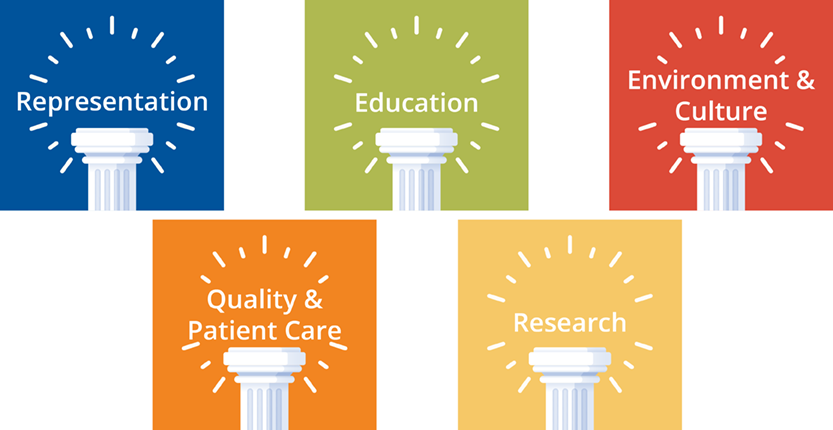 Representation
We provide mentorship and support to students and trainees and foster an educational environment that is equitable and inclusive.
We examine and dismantle systemic barriers that have limited the advancement of marginalized groups.
Education
Provide educational resources, programming, outreach, and learning opportunities that promote access and equity to all members of our department, including within the curricula of our graduate medical education programs.
Environment & Culture
We avail ourselves of opportunities to listen to stakeholders, and foster a departmental culture that empowers the physical, mental, emotional, and spiritual well-being of learners, faculty, and staff.
We encourage the participation of faculty, trainees, and staff in community outreach/service programs to foster community within the department and strengthen relationships with the community.
Quality and Patient Care
We uphold the highest quality in our clinical endeavors including identifying and eliminating health disparities where they exist and advancing compassionate and equitable care for our patients.
We align our mission and actions through meaningful accountability measures and data to ensure progress on goals related to equity, diversity, and inclusion.
Research
We champion equity, diversity, and inclusion in scholarly and research activities by cultivating opportunities for collaboration and community across the department, institution, and community.
EDI Leadership Team
The members of the Duke Anesthesiology EDI Leadership Team are a diverse group of faculty, residents, fellows and staff that represents the efforts and voices of a broad spectrum of the department.
Interim Associate Vice Chair, Equity, Diversity and Inclusion
Education Champions
Medical Student Education Champion
Trainee Recruitment Champion
Faculty Champion
Fellow Champions
Resident Champions
Quality and Safety Champion
Research Equity Champion
Global Health Equity Champion
Administrative Support
Equity, Diversity and Inclusion Resources