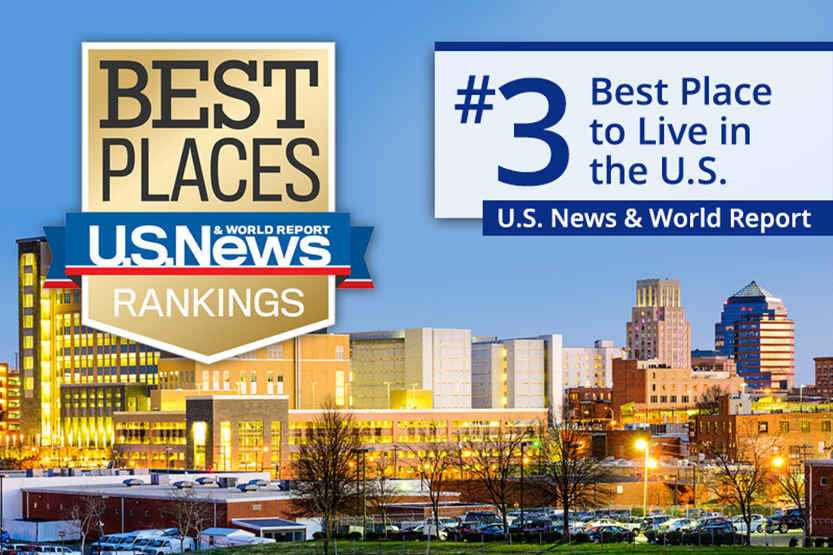 Duke University is located in Durham, North Carolina, one of three cities—Durham, Chapel Hill, and Raleigh—that form North Carolina's famed Research Triangle. Durham is a wonderful place to live, learn and train. Life here is often described as "easy living," and its numerous accolades are a testament to this. It is commonly recognized for its availability of jobs, reasonable cost of living, a strong sense of community, kid-friendly environment, mild weather, eclectic restaurants, diverse culture, and recreation. In 2023, U.S. News & World Report ranked the Triangle the third "Best Place to Live in the United States" and Vogue magazine named Durham "North Carolina's Hippest City."
Durham, the "City of Medicine," is a vibrant, welcoming, and affordable community. Located halfway between the Great Smoky Mountains and the beaches of the Atlantic, Durham is home to all sorts of creative types and a myriad of cultural attractions that rival those in much larger (and more crowded and expensive) cities.
Known as not only an intellectual center but also a funky town with lots of personality, it's not hard to see why Durham receives more than 5.2 million visitors annually. The city includes more than 300 restaurants and 40 annual festivals, Duke and North Carolina Central universities, Durham Bulls Triple-A baseball, art and science museums, world-class medical facilities, and more.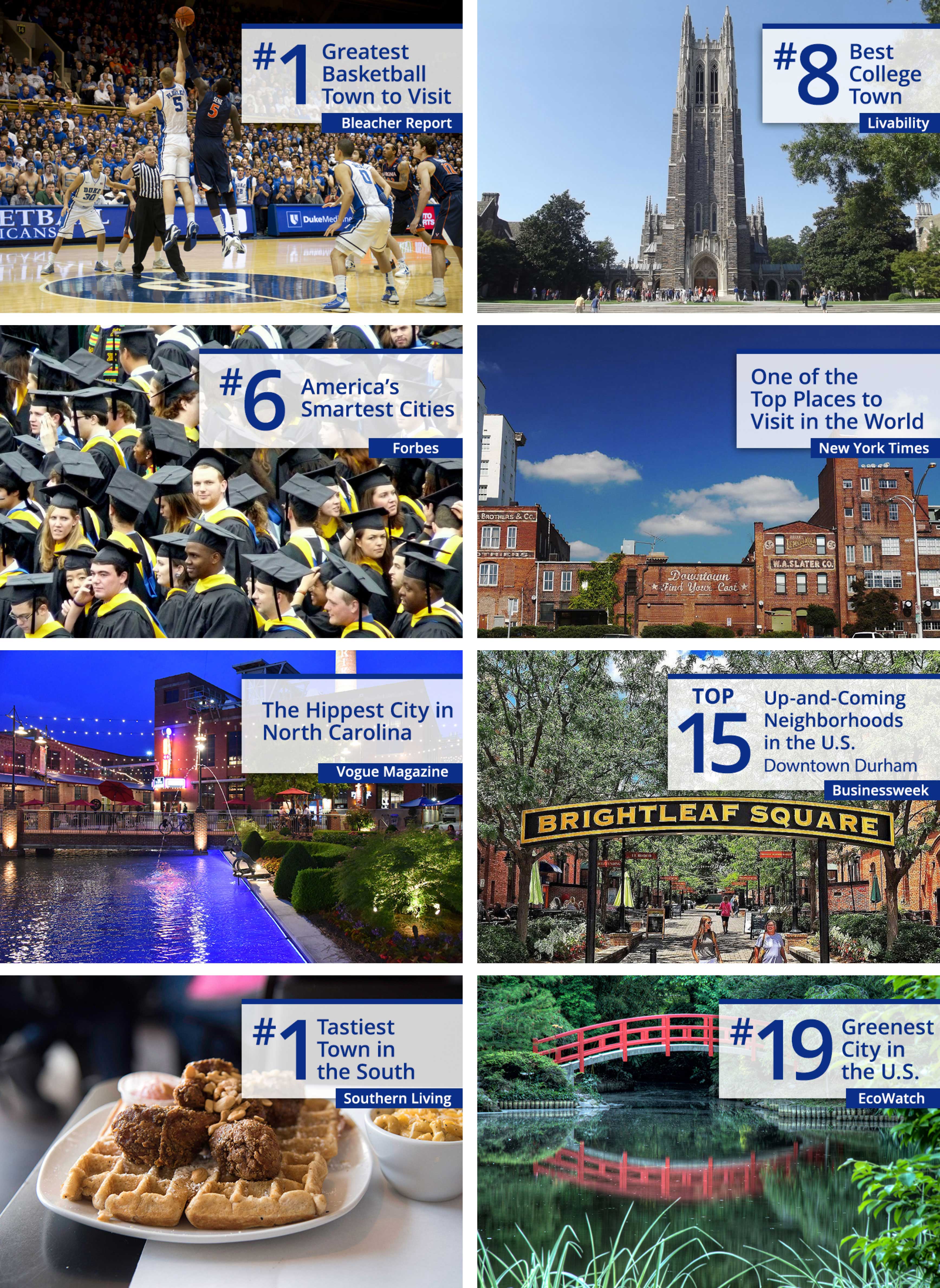 Living in Durham
Housing options are plentiful and affordable — new apartment complexes, renovated mill-village houses, wonderful old houses in turn-of-the-twentieth-century neighborhoods, modern condominiums, and suburban choices. Downtown Durham has undergone major renovation, and many people—especially young professionals and retired individuals—are making homes in loft apartments, old cotton and tobacco warehouses, revamped commercial buildings, and new condominiums.
Entertainment
Durham Performing Arts Center (DPAC) attracts national touring artists and Broadway shows. The annual Full Frame Documentary Film Festival brings together people from all over the world to showcase the work of new and established filmmakers. And Duke Performances brings in world-class musicians every season.
Food and Dining
Durham has become a national trendsetter for its food scene. Restaurants are popping up and making a lively nighttime scene throughout the downtown area, which has prompted Livability to continuously rank Durham in the "top 100 places to live."
Numerous local restaurants have been featured in many notable gourmet food magazines for their locally produced food, traditional Southern cooking, and food trucks. Durham was recently ranked as The South's Tastiest Town by Southern Living and America's Foodiest Small Town by Bon Appétit. Gourmet Magazine.
There are multiple different farmers markets open during the summer months—Raleigh farmers market is open year-round.
Sports
College basketball season is always an exciting time at Duke. Sports fans will revel in the achievements of our Blue Devils in basketball, lacrosse and more.
It wouldn't be summer without a Durham Bulls baseball game. Made famous by the Hollywood movie, Bull Durham, this minor league baseball team offers family-friendly baseball experiences throughout the summer.
Outdoor Enthusiasts and Weekend Explorers
With more than 60 parks, an extensive network of running and biking trails, and several major waterways, the city offers an abundance of activities for outdoor enthusiasts.
Duke Forest and the American Tobacco Trail are great places to run and bike. Eno River offers a scenic place for canoeing, fishing, camping and hiking. Jordan Lake and Falls Lake are nearby and are convenient settings for boating and swimming.
For a quick weekend getaway, choose from a variety of popular destinations within a 3-hour drive, including the North Carolina beaches as well as Asheville, NC, home to the famous Biltmore Estate. Additionally, Charlotte and Washington, DC are within easy driving distance of Durham.
Durham has countless outstanding opportunities for shopping, entertainment and eating great food in and around Duke's campus. Learn more about what this area has to offer, plan a day here, read about its history, and more! Here are some locations and websites that our faculty, staff and trainees recommend checking out:
Duke University Points of Interest:
Local Attractions:
Durham, NC Websites
Outdoors
Shopping, Entertainment and Dining
Sports
"I think one of the best things about Durham is the location. You're three hours from the ocean, three hours from the mountains, and there's a lot of stuff to do in the area. When I used to travel places, I used to think I always wanted to live in those locations, but now that I live in Durham, I can honestly say I don't want to live anywhere else … I'm happy to come home."
Jamie Privratsky
Critical Care Medicine Fellow
What Duke Medical Students and Residents Say About Living in Durham
The Raleigh-Durham-Chapel Hill area of North Carolina is known as the Research Triangle because of its proximity to three major research universities—Duke University, North Carolina State University(located 20 miles from Duke in Raleigh), and the University of North Carolina at Chapel Hill (located 11 miles from Duke in Chapel Hill) —as well as being a hub for technology and biotech companies. From Forbes to U.S. News and World Report, the Raleigh-Durham area consistently lands on the major top 10 lists of best places in the country to visit, live, and do business.
With a combined population of more than a million, the triangle area boasts a robust intellectual climate, world-class restaurants, spectacular entertainment, and broad cultural diversity. At the same time, the Triangle maintains a reasonable cost of living compared to other cities.
In the heart of the triangle, the Research Triangle Park covers 6,500 acres of rolling woodland dotted with some of the most sophisticated research facilities to be found anywhere. Access to and from Durham is convenient, as the RDU airport is located just 12 miles outside of the city.
Buzz About the Triangle