Welcome to the Duke Anesthesiology Residency Program! As the program's director, I have the privilege to lead, support, and mentor outstanding young physicians in our residency program. I am equally honored to work with the Duke Anesthesiology faculty, internationally known for its peerless clinicians, unparalleled education, and groundbreaking research. The Triangle (Durham-Raleigh-Chapel Hill area) is well known for its major universities, Research Triangle Park, baseball, barbecue, and of course, basketball. But you might be pleasantly surprised by the less well-known advantages of living and working in the area when you visit Duke. For medical students seeking world-class training in a challenging but supportive environment, I cannot imagine a better place to begin your journey. – Annemarie Thompson, MD
Duke Anesthesiology boasts some of the finest faculty in the country, including worldwide-recognized leaders in anesthesiology practice and research. Our faculty are not only dedicated to recruiting the best and the brightest minds in medicine, they are extremely engaged with resident education and career development. They are a vital component of our nationally-acclaimed Duke Anesthesiology Residency Program which equips our residents with the skills to work with a variety of patient cases and change the world around them, as described by some of our department's leaders and trainees in the program highlight video (above).
Interns rotate on a variety of services, including Acute Pain Service and Perioperative Medicine, and are able take advantage of the expertise of other Duke departments while developing fundamental clinical skills. CA-1 residents begin building their basic anesthesiology knowledge and start subspecialty training that develops through their CA-2 year. CA-3 residents are able to tailor their final year of training toward their career ambitions and have the opportunity to engage in research projects. In addition to intraoperative and bedside teaching, Duke Anesthesiology offers a strong didactic program for trainees. Each lecture series is organized by faculty leaders to ensure that content is up to date and provides residents the knowledge they need to become world-class anesthesiologists. Trainees have the opportunity to evaluate the lectures and provide feedback to presenters to help ensure the sessions are relevant to the needs of learners. Consequently, our residents are very confident in their ability to work independently in any setting once they graduate from the program.
The Duke Anesthesiology Residency Program's notable rankings extend beyond our hospital walls and medical campus. The city of Durham is named "North Carolina's Hippest City" and is ranked the #1 Greatest Basketball Town to Visit, the #1 Tastiest Town in the South, the #8 Best College Town, the #3 Best Place to Live in the United States and the #6 Smartest City in America, among other accolades. Visit our "Why Durham?" webpage to learn more about why "The City of Medicine" is a great place to live and train!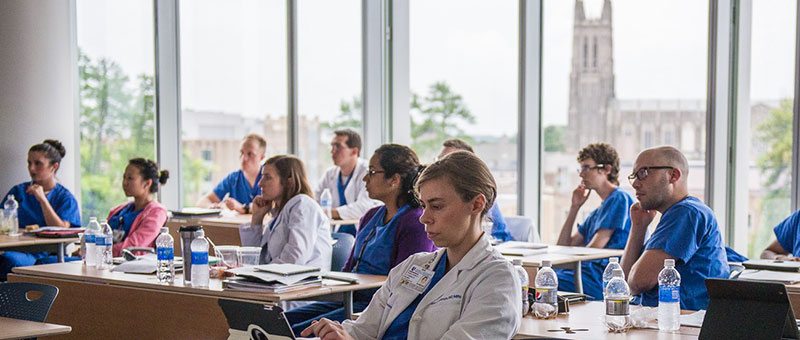 How many positions do you offer?
Typically, we offer 14-15 positions in the Match. One to two positions are reserved for our Academic Career Enrichment Scholars (ACES) Program, a separate NRMP-matched program to support and accelerate the next generation of anesthesiology clinician-scientists. We are approved for a "Reserved" or "R" position; please contact Chastity McLendon directly if you are interested in this position. Applicants may specify any or all tracks when they apply through the Electronic Residency Application Service (ERAS). Interview offers are not based upon applications to a specific track. After applicant interviews, we will determine track preferences. Applicants may declare or change their preferences up until the time that we submit our lists. Information regarding Duke Graduate Medical Education can be found at https://gme.duke.edu.
I am completing a residency currently and am interested in starting as a CA1 in July. Is this possible?
Please contact Chastity McLendon, residency program coordinator, with your information.
How do I apply?
We accept applications through ERAS.
Additionally, this year we will be using the Residency Central Application as a supplement to ERAS. The CentralApp was started as a free alternative to ERAS in plastic surgery 3 years ago and it is now used specialty wide. We are among the first programs to trial this platform in anesthesiology. We hope that in future years, CentralApp will remove the financial barriers created by progressive application fee structures. There is no cost to use the CentralApp and you can apply to as many programs as you like. In addition, as you will see from the questions, CentralApp also promotes holistic application review by focusing on quality application content rather than quantity. 
Upon accessing the platform, you will be instructed to create a secure account and will be able to request letters of recommendation, transcripts, and MSPE (Dean's Letters) directly through the portal. The Match will remain with the National Residency Matching Program (NRMP). Please direct any questions about the application to HELP@accessgme.com.
Our application requirements are the same as the standard ERAS application: the complete application, CV, personal statement, medical student performance evaluation (dean's letter), transcript, and three letters of recommendation. We require Step 1 and Step 2 USMLE scores of all applicants. Step 2 may be completed after the application deadline but must be submitted before ranking in February. Successful completion of USMLE Step 1 and of Step 2 CK is required by Duke University Hospital prior to matriculation.
We abide by the Duke Graduate Medical Education (GME) policy on licensing examinations, with the added stipulation that we require passage of the USMLE Step 3 before starting the CA-1 year.
What tracks do you offer and how many positions?
To complete your ERAS application, you can choose one track or any combination of tracks. For our purposes, these choices are not a binding commitment. If you are invited to interview, you will find out more about each track, and we will ask your track preference before our Match list is submitted.
What are the requirements for international medical graduates?
We have a minimum USMLE cutoff score of 225 on all parts of the exam. IMGs must be ECFMG certified to be considered for an interview. We require some U.S. clinical experience. Observerships do not meet this requirement. We do not have a timeframe for graduation from medical school; we are more interested in what you have done in the time since graduating. Applications are accepted only through ERAS.
I submitted four letters of recommendation. Is that too many?
ERAS allows you to upload up to four letters of recommendation. We consider a complete application to include three letters of recommendation. If you have four, that is fine.
Where can I send questions for the residency program director and assistant directors?
You can submit your questions via email at anesthesiologyresidency@duke.edu.
Other questions?
Please contact Chastity McLendon, residency program coordinator, with any questions you may have. You may also refer to the Fellowship and Residency Electronic Interactive Database.
At all levels, leadership, faculty, staff and the residents themselves raise the bar to bring the highest level of dedication and commitment to the Duke Anesthesiology Residency Program.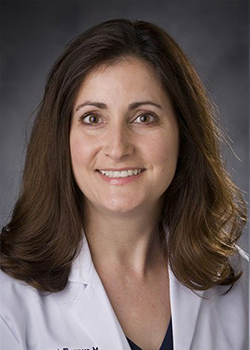 The Department of Anesthesiology was thrilled when Annemarie Thompson, MD, re-joined the Duke family in May of 2014 as residency program director and professor of anesthesiology and medicine in which she leads and mentors approximately 60 interns and residents. In May of 2023, she was appointed the interim vice chair for education, bringing 18 years of experience to this leadership role.
Dr. Thompson received her medical degree from Duke University before completing residency training in both internal medicine and anesthesiology at the University of California, San Francisco. She went on to complete a fellowship in both adult and pediatric cardiothoracic anesthesiology at Vanderbilt University, where she remained on faculty as director of the Adult Cardiac Anesthesiology Fellowship. In addition to Dr. Thompson's active clinical practice, she maintains an interest in perioperative population health having co-authored several multidisciplinary guidelines in perioperative medicine. She also currently serves as a senior oral board examiner and an ACTA MOCA question author and reviewer for the American Board of Anesthesiology and is in her second term on the Board of Directors for the Society of Cardiovascular Anesthesiologists.
Residents at Duke have a unique opportunity to maintain a close relationship with the chairman of Duke Anesthesiology, Joseph P. Mathew, MD, MHSc, MBA, Jerry Reves, MD, Professor of Cardiac Anesthesiology. Dr. Mathew takes a personal interest in every trainee and plays an instrumental role in their career planning. He is dedicated to actively taking part in recruitment season and personally interviews almost all applicants to the residency program. Dr. Mathew's contributions to clinical perioperative medicine have long been recognized in the fields of cardiology, surgery and anesthesiology. He is internationally respected in the area of transesophageal echocardiography (TEE) and is highly regarded for his groundbreaking research which focuses on improving perioperative patient outcomes.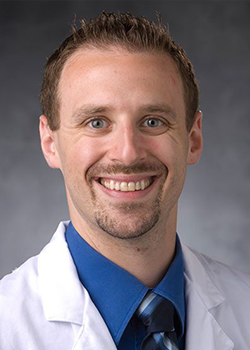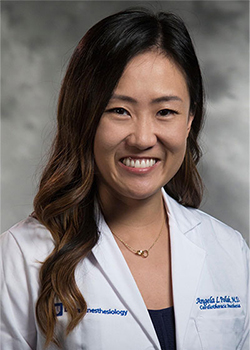 Brian Colin, MD, is an assistant professor of anesthesiology in the General, Vascular and Transplant Anesthesiology Division and serves as associate program director. Angela Pollak, MD, is an assistant professor of anesthesiology in the Cardiothoracic Anesthesiology Division and serves as assistant program director. Both Drs. Colin and Pollak are alumni of the Duke Anesthesiology Residency Program and went on to complete fellowships here at Duke. Their breadth of experience plays a vital role in the success of the residency program.
Ashley Grantham, PhD, was appointed as medical education specialist in 2015. She works on education innovation and research initiatives within the department, specifically creating, implementing and assessing high-quality learning experiences for anesthesiology trainees.
The Duke Anesthesiology Residency Program has a long history of strong resident leadership. The chief resident role fosters a positive learning environment, boosts resident morale, and serves as a liaison between residents and faculty. In 2008, the academic chief resident position was created in conjunction with the Academic Career Enrichment Scholars (ACES) Program. And, senior residents who are recognized as excellent teachers and mentors are named teaching scholars who aim to enhance the educational experience of medical students.
Welcome to the Duke Anesthesiology Residency Program webpage! We are so excited that you are interested in our program and want to share why we believe Duke's program to be one of the top residency experiences in the country and why we love to call Durham our home!
During your residency here, you will have the opportunity to rotate at Duke University Hospital (level 1 trauma center), Duke Regional Hospital (community hospital), and the Durham Veteran's Administration Medical Center. Overall, the breadth and depth of your clinical training will prepare you to care for the sickest and most complex patients. Furthermore, there is an abundance of opportunities to hone your clinical and procedural skills, as well as polish leadership skills with progressive autonomy throughout the years.
Duke is a categorical residency program, so you will begin your time here as an intern. This year allows you to build a solid clinical foundation for your anesthesia training through a variety of relevant rotations such as general medicine, pulmonology, cardiology, general surgery, intensive care, and emergency medicine.
At the end of your intern year, you'll trade your white coat for scrubs and spend three weeks of orientation in the ORs, where you'll learn the nuts and bolts of anesthesia. During this time, you are paired with another intern and are supervised by a senior resident, fellow, or faculty member. By July 1 of your CA-1 year, you will be ready to start doing your own cases! Even after orientation is done, you will find tons of support throughout your CA-1 year. One of the strongest aspects of our residency is the mentorship you will receive from senior residents who are assigned to supervise you in the OR. This year is where you will focus on building a solid foundation of knowledge and technical skills by doing general cases from colorectal to GYN to ENT.
By CA-2 year, you'll begin to do more advanced cases and will complete the bulk of your subspecialty rotations. Duke offers top notch training in a variety of areas, including cardiothoracic anesthesia, critical care, regional anesthesia, pediatric anesthesia, neuroanesthesia, and obstetric anesthesia. You will also have the chance to do multiple types of organ transplants, especially livers, lungs and hearts. There is no shortage of advanced cases to go around! You will finish your CA-2 year having completed most, if not all, case numbers required for graduation, and you will be able to do any kind of case in the OR. By the midpoint of CA-2 year, many of our residents have decided to apply to a fellowship for additional subspecialty training. We have a great track record of matching into every type of fellowship, both at Duke and at other institutions around the country.
Your final year of residency training involves becoming a leader in the OR as you take senior calls and learn to manage multiple rooms, triage cases, and lead a team of CRNAs and a junior resident. In addition to mentoring the junior residents, you will continue to hone your own clinical abilities. As scheduling chiefs, we often identify cases that are particularly challenging or unique and set these aside for our senior residents. You will also have several months of elective time to polish your skills in a particular area or explore a subject of interest.
Our program director, Dr. Annemarie Thompson, is a strong advocate for residents and is always listening to our feedback and working to improve the experience for residents. The commitment from faculty doesn't stop there - Duke has a wonderful group of faculty who love to teach and are giving with their time, both inside and outside of the OR. Our faculty have a diverse array of interests and many are leaders in their fields, so it is rarely difficult to find a mentor for research, quality improvement, education, or global health. In addition to high quality mentorship, Duke offers generous funding for presentations at academic meetings, which makes it that much easier to achieve your professional goals during residency.
Durham is very much an up-and-coming city with many ways to enjoy your free time. Some favorites among our residents include trying restaurants that have earned Durham the reputation as "Tastiest Town in the South," hanging out at a brewery after work, attending a summer Durham Bulls baseball game, or catching a Broadway show at DPAC. If that doesn't keep you entertained, there are a multitude of hiking, biking, and running trails in the area; other cities such as Raleigh are close by; and both the beach and the mountains are within a two to four hour drive. Beyond entertainment, Durham is simply an easy place to live, which shouldn't be underestimated during the busy years of residency training. 
Our residency program is formed by 60 residents from all over the world. Among our ranks are runners, musicians, gamers, researchers, and everything in between. Some of us are married with children and some of us are single. Some residents had non-medical careers before going to medical school and others took a more direct route to residency. Despite our varying journeys to anesthesia training, we are a very close-knit and collegial group. We can often be found enjoying the weather at Hi-Wire on a Friday night or hanging out in the resident lounge during our breaks. We hope that you will take a look at our program and consider if you might be a good fit for our "Duke family."
Thank you for visiting our residency webpage! To see a glimpse of our day-to-day lives, check out our residency-run Twitter page and Instagram account, both at @DukeAnesRes.
Best wishes!
Tiffany Dong, MD | tiffany.dong@duke.edu
Sydney Reed, MD | sydney.reed@duke.edu
Where in the World…Are Our Residents From?
The Duke Anesthesiology Residency Program offers a wide variety of learning experiences and resources for trainees including didactics, simulation, and more. This page provides an overview of the resources and educational opportunities available to residents during their four years at Duke.

Residency Didactics
In addition to intraoperative and bedside teaching, Duke Anesthesiology offers a strong didactic program for trainees. Each lecture series is organized by faculty leaders to ensure that content is up to date and provides residents the knowledge they need to become world-class anesthesiologists. Trainees have the opportunity to evaluate the lectures and provide feedback to presenters to help ensure the sessions are relevant to the needs of learners.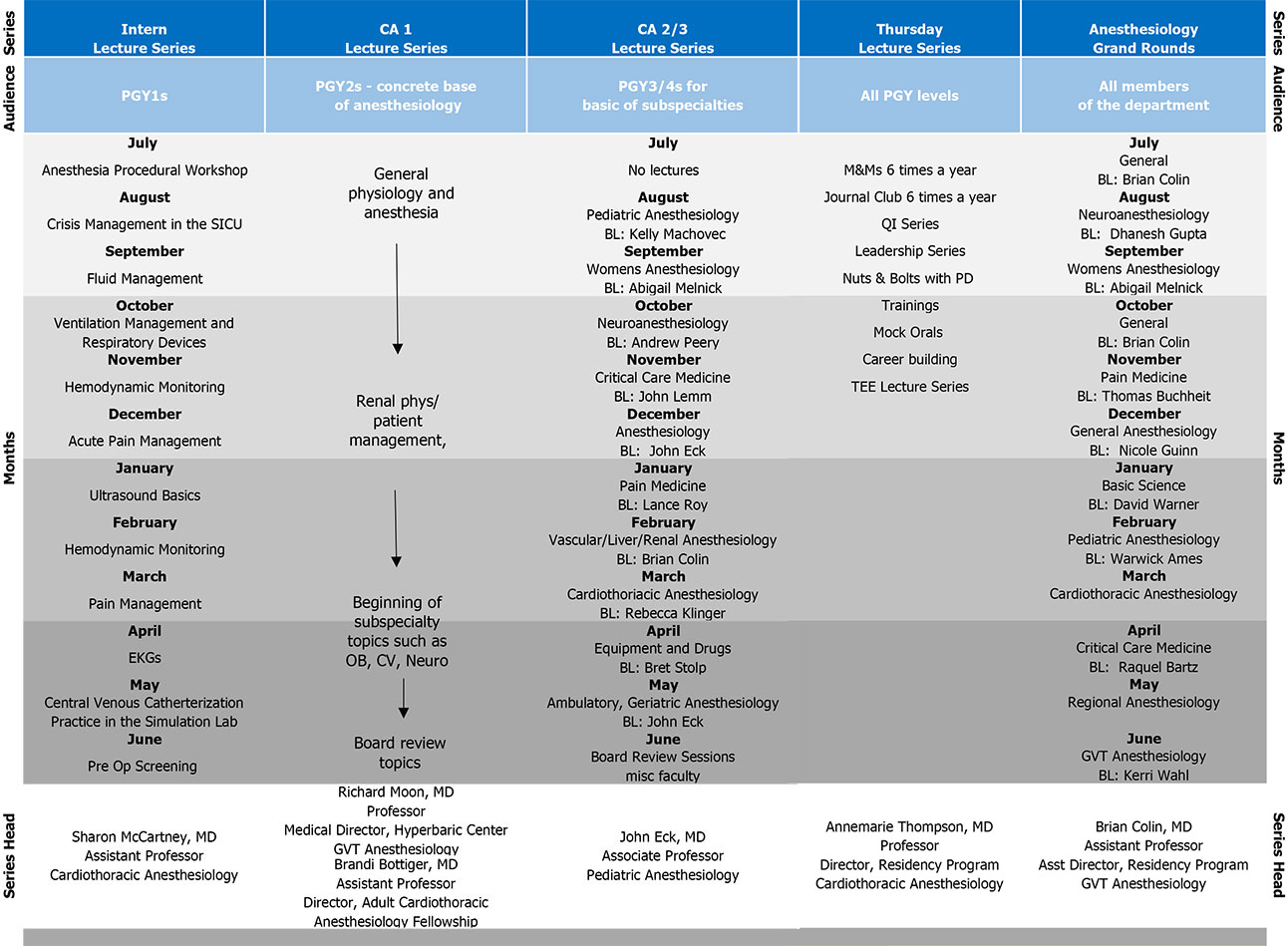 ACGME Anesthesiology Core Requirements: IV A 3: The curriculum must contain didactic instruction through a variety of learning opportunities occurring in a conference setting, in the clinical setting, or online that encompasses clinical anesthesiology and related areas of basic science. Other topics from Internal Medicine that are important for the preoperative preparation of the patient, from surgery as to the nature of the surgical procedure affecting anesthetic care, and from obstetrics that impacts anesthetic management of the patient should be included. The material covered in the didactic program must demonstrate appropriate continuity and sequencing to ensure that residents are ultimately exposed to all subjects at regularly held learning exercises.
Intern Lecture Series
The goal of the intern lecture series is to introduce interns to anesthesiology fundamentals at the beginning of their anesthesiology training. Topics include pre-operative screening, pain management, and ultrasound basics, among others. Lunch is provided for this series that meets once a month on Thursdays from noon to 1:00 p.m.
CA1 Lecture Series: Anesthesiology Fundamentals
This series is designed to build on the intern lecture series by providing trainees a concrete base of anesthesiology as they begin their anesthesiology rotations. Three primary topics are covered over the year:
General cardio-pulmonary physiology and management
Renal, hematologic, gastrointestinal and endocrine physiology
Basics of intraoperative anesthesia management and introductions to subspecialty anesthesia topics (OB, CV, and neuro)
The final portion of the series is devoted to board review topics. This series meets on Tuesday afternoons from 5 – 6 p.m.
CA 2/3 Lecture Series: Subspecialty Anesthesiology
This lecture series is a two-year curriculum that provides advanced residents with in-depth knowledge of anesthesiology subspecialties. Many of these sessions are taught using novel methodologies, including flipped classroom, games, peer-to-peer learning,  and case-based discussions.
For many sessions, pre-work is posted online in our course management system. During the live session, residents will participate in active learning activities such as case-based learning, large and small group discussions, and review games in a "Jeopardy" format.  This series meets on Wednesdays from 5 – 6 p.m.
All Residents Lecture Series: Thursday Series
The Thursday afternoon lecture series is designed to provide trainees with the knowledge and skills they need to succeed as well-rounded attending anesthesiologists post-training.  This series focuses on the following ACGME competencies: practice-based learning and improvement, interpersonal and communication skills, and systems-based practice. During the course of the year, residents will participate in the following activities on Thursday afternoons from 5 – 6 p.m.:
M&Ms (6x/year)
Twitter Journal Club (3x/year)
QI lectures
Nuts and bolts meetings with residency program leadership
Leadership development sessions
Mock orals
TEE Interactive Series (see TEE below).
Resident TEE Curriculum
The Resident TEE curriculum is a 6-month curriculum for CA-2 and CA-3 residents focused on basic perioperative TEE; including image optimization, recognition of valvular abnormalities, ventricular dysfunction, and hands-on image acquisition.
Simulation
In addition to didactics, Duke Anesthesiology trainees have the opportunity to participate in world-class simulation activities. These sessions use various modalities of simulation, including task trainers for procedural skills as well as high-fidelity mannequins for case-based scenarios. A faculty champion, often division-specific, leads each session. The curriculum is developed and standardized in collaboration with simulation staff to ensure a paramount learning experience for all participants. The chart below reflects simulation-based education for graduate medical education in the Department of Anesthesiology.

Intern Survival Skills: Procedure-based simulation training including central line, airway management, and IV placement led by Dr. Sharon McCartney.
Subspecialty Case-based Scenarios: Organized by Dr. John Eck, these regular sessions rotate CA-1, CA-2, and CA-3 learners through cases created by champions in each subspecialty.
Anesthesia Crisis Resource Management (ACRM): Complex case-based scenarios that challenge CA-2 and CA-3 learners with crisis resource management-focused debriefings. The course originated with Dr. Ankeet Udani.
Education Highway
Trainees have access to the Education Highway, an online departmental repository for learning materials. This tool provides opportunities for self-directed learning in addition to supporting the flipped lectures. Each division has a space, curated by a faculty member with expertise in that area, to house educational videos, significant papers, protocols, and other learning materials. Each week, a recording of the departmental Grand Rounds lecture is posted for viewing by those unable to attend.
Teaching Scholars
Teaching scholars are CA-3 residents chosen through an application and nomination process. The teaching scholars program is designed to provide participants with an excellent fund of knowledge in the area of medical education. Under the mentorship of Ankeet Udani, MD, MEd and Ashley Grantham, PhD, teaching scholars complete an education research project with the goal of presenting at the American Society of Anesthesiologists yearly meeting. Teaching scholars receive monthly lectures on education topics including curriculum design and education research. Teaching scholars are responsible for assisting in the instruction of medical students in the simulation center as well as assisting in teaching peers in need of remediation. Additionally, teaching scholars moderate resident M&Ms with Brad Taicher, MD.
Advising and Coaching
Each resident has the opportunity to choose a faculty adviser. In addition to the support provided by the resident's adviser and residency program leadership, the department's PhD educator, Ashley Grantham, is also available for individual educational coaching.
Other Resources
The following individuals are available to answer questions about the educational opportunities available in the department for trainees:
Annemarie Thompson, MD
Professor of Anesthesiology and Medicine
Director, Anesthesiology Residency Program
Brian Colin, MD
Assistant Professor of Anesthesiology
Associate Director, Anesthesiology Residency Program
Angela Pollak, MD
Assistant Professor of Anesthesiology
Assistant Director, Anesthesiology Residency Program
Mark Stafford-Smith, MD, CM, FRCPC, FASE
Professor of Anesthesiology
Director, Fellowship Education Program
Vice Chair, Education
Ashley Grantham, PhD
Medical Education Specialist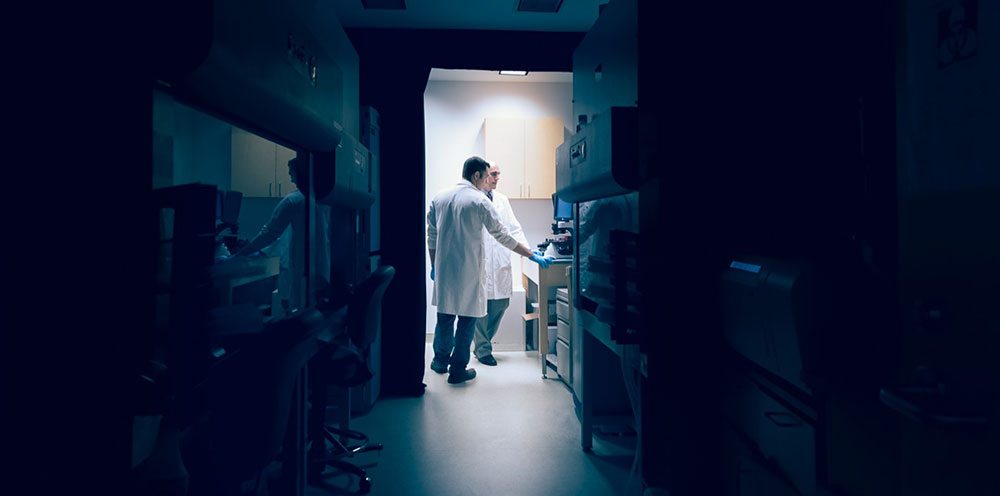 Residents in the Duke University Department of Anesthesiology have endless opportunities to involve themselves in research. All subspecialty divisions within the department are academically productive, with nearly all research faculty actively managing multiple simultaneous projects. For those interested in basic science, our division boasts several productive laboratories investigating pain, myocardial ischemia/reperfusion injury, neuroprotection, and the role of G-protein coupled receptors in human disease.
The Department of Anesthesiology is also fortunate to have unparalleled support for clinical research (Clinical Research Unit or CRU), allowing straightforward design and conduct of complex and unique clinical investigations. While participation in research is not required, resident research collaboration is both important and universally appreciated by investigators.  Residents are encouraged to attend research meetings when their training schedule allows. Furthermore, residents presenting at national meetings typically receive departmental financial support for travel, board, meals, and attendance. For residents who are interested in a research-focused career, the residency training program offers two ACES positions annually. Please refer to the ACES program section of the website for more information.
General Research About the Department
Mandatory Rotations
Department
Rotation
Location
Anesthesiology
2-3 months
Clinical Anesthesiology
Acute Pain Service
Perioperative Medicine
DUMC
DUMC
DUMC
Medicine
4-5 months
General Medicine
Cardiology
Cardiology Consults
Hyperbaric & Undersea Medicine*
Pulmonary Medicine
DRH
DUMC
DUMC
DUMC
DUMC
Emergency Department
1 month
Emergency Medicine
DUMC
Pediatrics
1-2 months
General Pediatric Wards
Pediatric ICU
DUMC
DUMC
Surgery
2 months
Surgical ICU*
General Surgery
VA
DRH
*Managed by the Department of Anesthesiology
DUMC=Duke University Medical Center
DRH=Duke Regional Hospital
VA=Durham Veterans Affairs Medical Center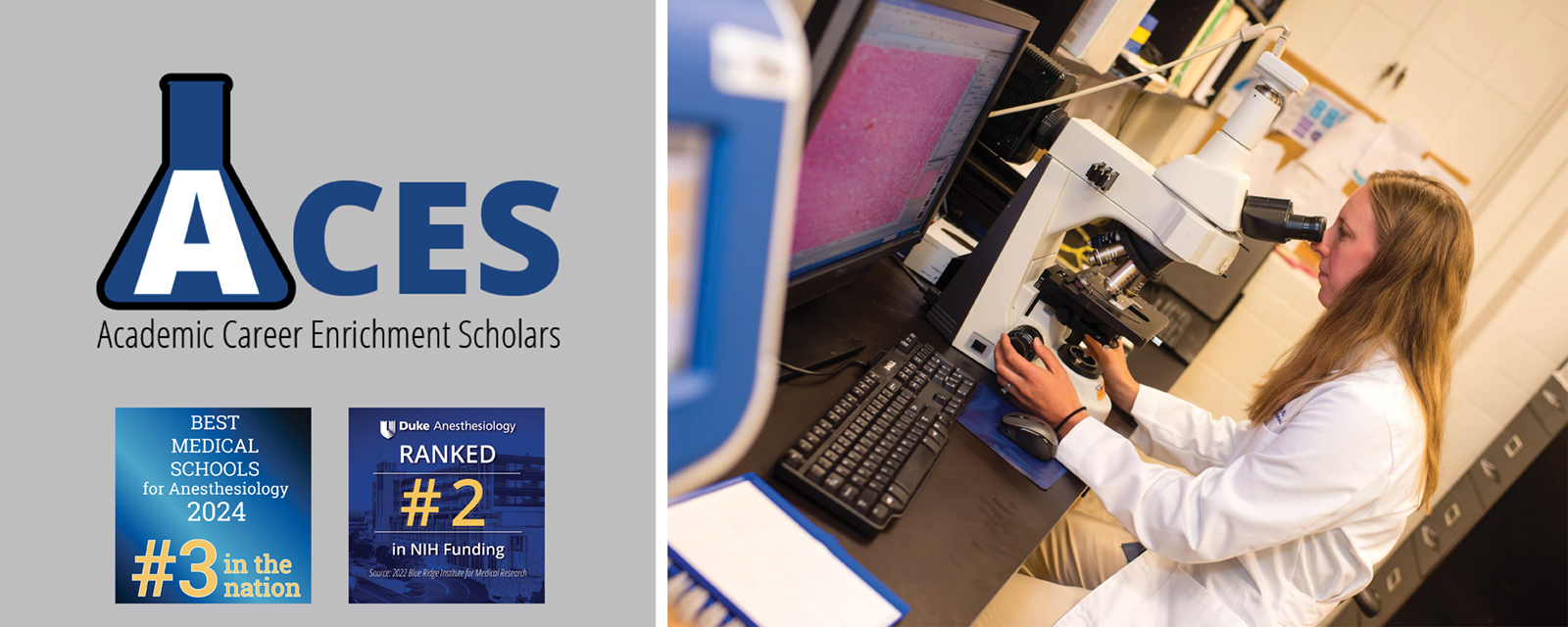 Duke Anesthesiology created the Academic Career Enrichment Scholars (ACES) Program in 2007 to integrate advanced clinical and research training without prolonging the duration of the traditional residency and fellowship system. This innovative curriculum program is a highly-selective resident research track designed to increase the number of graduates pursuing academic careers and help them gain status as independently-funded researchers. It matches up to two residents per year. Since 2007, roughly 25 trainees have graduated from the ACES Program or are currently in the program. To date, ACES residents have brought in more than $17 million in extramural funding, have published more than 438 number peer-reviewed papers, and 19 of 20 (95%) remain in academic anesthesiology.
Take a Virtual Tour of the Duke Medical Campus
Our virtual tour lets you explore our campus and see our research, health care and education facilities.

Bella Vishnevsky, MD
Regional Anesthesiology and Acute Pain Medicine Fellow
Megan Fah, MD
Critical Care Medicine Fellow
Leah Acker, MD, PhD
CA-3 / ACES Chief Resident
Katherine Sun, MD
CA-2 Resident
Bryan Chow, MD
CA-3 Resident
Reade Tillman, MD
CA-2 Resident
Suhas Kochat, MD, MBA
CA-2 Resident
John Ward, MD
CA-1 Resident
Bella Vishnevsky, MD
Regional Anesthesiology and Acute Pain Medicine Fellow
Emily Barney, MD
CA-1 Resident
Yohannes C. Constable, MD
CA-3 Resident
Michael Cutrone, DO
Adult Cardiothoracic Anesthesiology Fellow
Kathryn Pearson, MD
CA-2 Resident
Henry Lather, MD
CA-3 Resident
Leah Acker, MD
CA-3 / ACES Chief Resident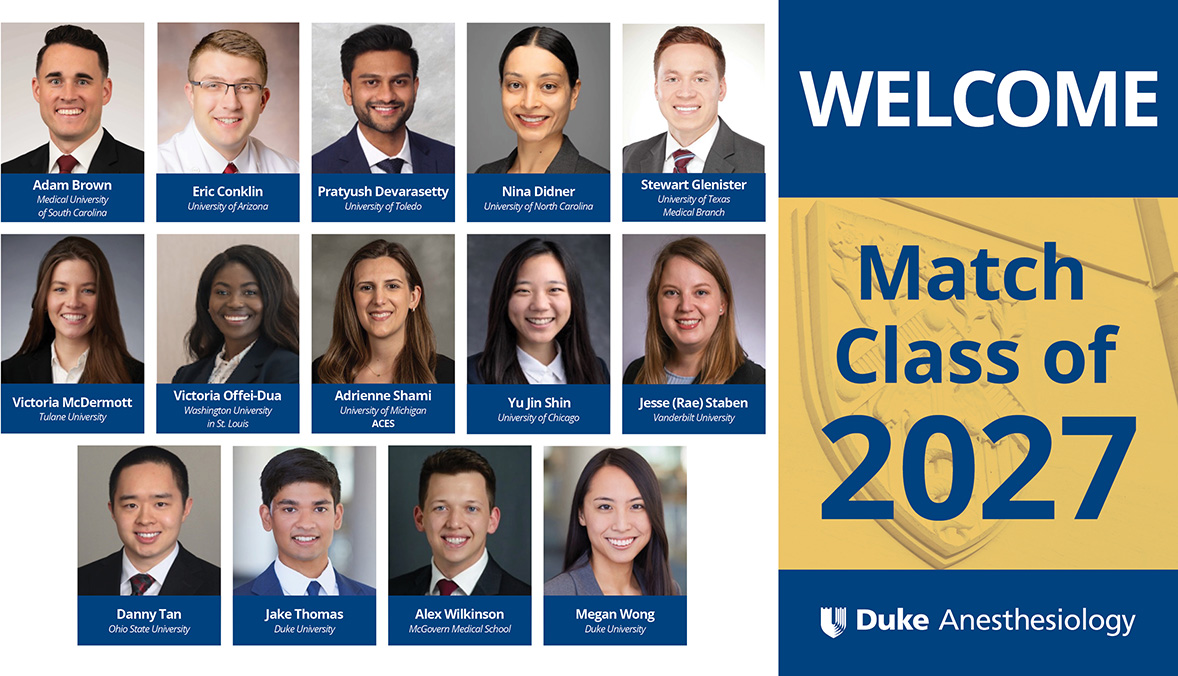 Resident Classes of 2023-2024
Interns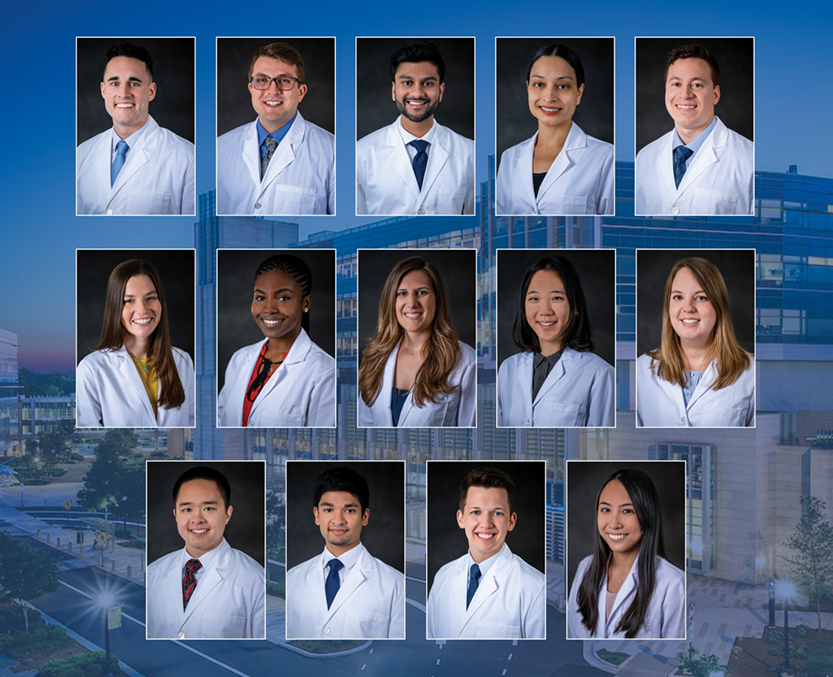 CA-1s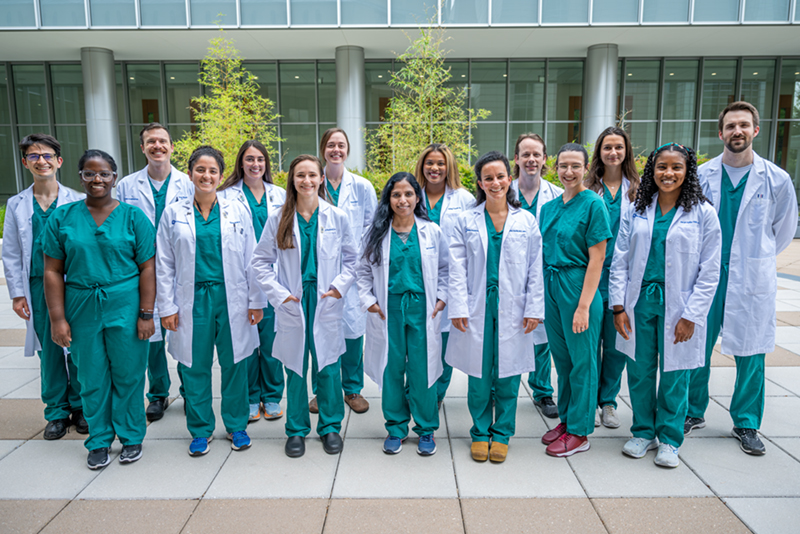 CA-2s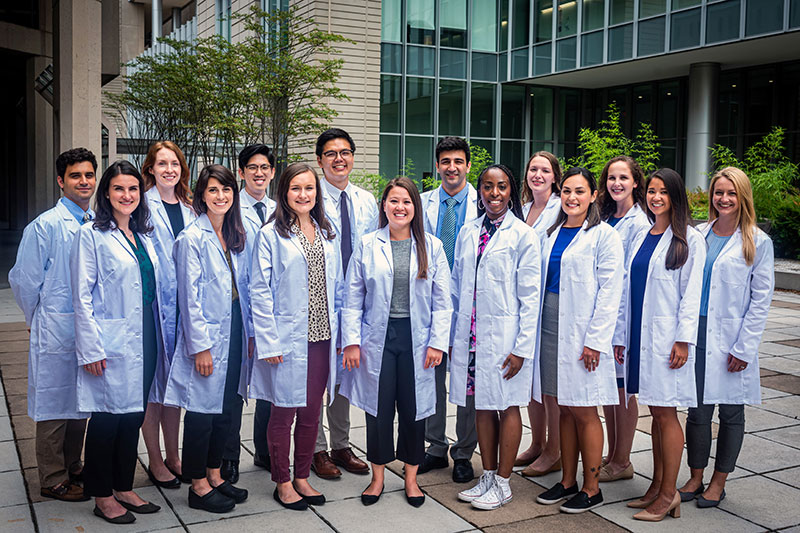 CA-3s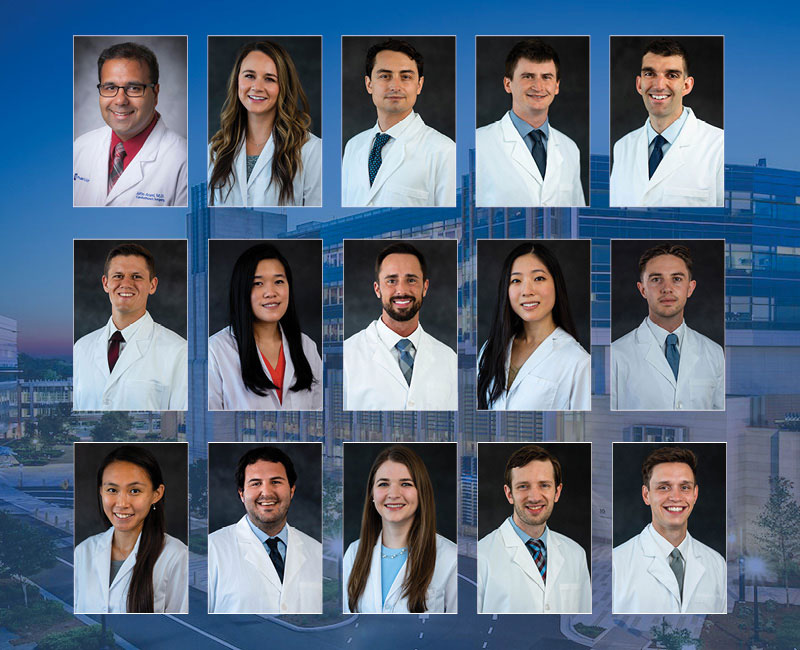 2022-2023 Residents at Graduation Day