The ACES Program is an integrated clinical residency and research track designed to facilitate and accelerate the development of academic anesthesiologists and their independent research programs.
About the Program
The primary focus of our Duke Anesthesiology Residency Program is the development of clinical skill and expertise required for the practice of anesthesiology. Additionally, many of our anesthesiology residents aspire to careers in academic anesthesiology and seek to supplement their clinical training with opportunities for research and publication. In the past, the knowledge gained through clinical training was sufficient for an appointment as a junior faculty member and to conduct meaningful laboratory or clinical research. But the quickening pace of innovation makes it difficult to perform state-of-the-art research without additional postdoctoral training. Increasingly, the skills necessary for successful scientific investigation fall outside the scope of clinical residency programs. Given these challenges, how is our specialty working to prepare the next generation of physician-scientists?
Duke Anesthesiology created the Academic Career Enrichment Scholars (ACES) Program in 2007 to integrate advanced clinical and research training without prolonging the duration of the traditional residency and fellowship system. This innovative curriculum program is a highly-selective resident research track designed to increase the number of graduates pursuing academic careers and help them gain status as independently-funded researchers. It matches up to two residents per year. Since 2007, roughly 25 trainees have graduated from the ACES Program or are currently in the program. To date, ACES residents have brought in more than $17 million in extramural funding, have published more than 438 number peer-reviewed papers, and 19 of 20 (95%) remain in academic anesthesiology.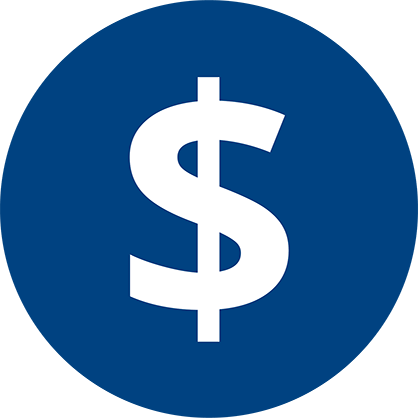 More than $17 Million in Extramural Funding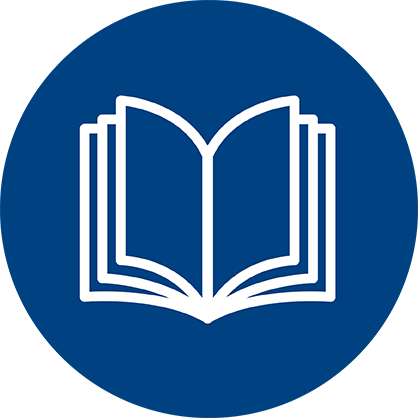 More than 438 Peer-Reviewed Papers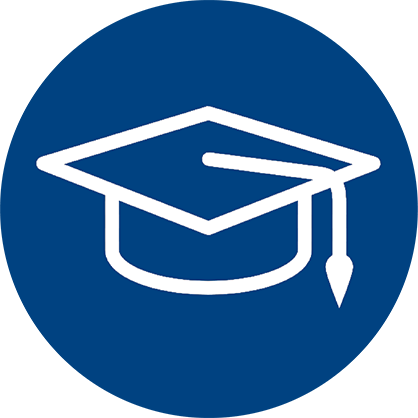 19 of 20 (95%) in Academic Anesthesiology
Laying the Foundation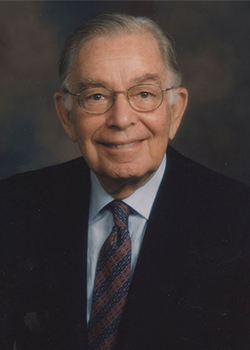 Duke Anesthesiology was founded in 1971 by Dr. Merel Harmel. Prior to being recruited to Duke Anesthesiology, as an anesthesiology resident in 1945, Dr. Harmel administered the first anesthetic for a "blue baby" cardiac surgery. The incredible story of these first "blue baby" surgeries, and the role of both racism and religious and cultural opposition in the development of these procedures, was more recently memorialized in the film "Something the Lord Made."
Dr. Harmel passed away in 2015 after a long and distinguished career but his spirit of innovation in anesthesiology lives on at Duke today. In many ways, the ACES Program itself is a continuation of Dr. Harmel's commitment to advancing the field of anesthesiology by seeking to promote the research interests and future discoveries of current Duke Anesthesiology residents. We can think of no better way to honor the innovative legacy of Dr. Harmel, an anesthesiologist who made history as a resident, than by promoting the discoveries and innovations of our research-oriented ACES residents.
The ACES Program helps aspiring anesthesiologist-scientists develop into superb clinicians as well as scientists, who will be equally respected among both clinical and scientific communities. ACES residents comfortably exceed ABA clinical requirements and are held to the same clinical standards as all Duke Anesthesiology residents.
Assuming ongoing clinical performance meets acceptable standards, the program allows ACES residents to set aside up to 13 months of dedicated research time while still successfully completing their anesthesiology internship, residency and 1-year subspecialty fellowship (if desired). After joining the faculty, trainees can gain further research time (up to 80% protected time over 2 years), either on the departmental T32 or from successfully obtained mentored research awards. Thus, the total protected research time for trainees can be up to 33 months in the first 7 years after joining our department.
While this is the "traditional" ACES path through residency and fellowship, we recognize that different trainees often require individualized training plans and schedules to best meet their personal, clinical, and scientific training needs and goals. For example, an ACES trainee doing mouse genetics research may need more intermittent research time to set up transgenic mouse lines, followed by uninterrupted research time once the necessary animals are available. In contrast, ACES trainees performing clinical or human translational research may benefit from having their protected research time spread out over multiple periods during the five-year program. ACES residents and program leadership work together to facilitate the best plan based on individual needs, while maintaining adherence to ABA guidelines.
In recent years, ACES residents have completed fellowships in cardiothoracic, pediatric, regional anesthesia and acute pain medicine, and neurosurgical anesthesia, as well as critical care medicine. Most, but not all, ACES residents complete a formal clinical fellowship, though some of our most successful ACES trainees did not complete a clinical fellowship. Some ACES trainees with outstanding scientific backgrounds choose to do a junior faculty year as a "clinical instructor" rather than a clinical fellowship; this approach allows the trainee to apply for grants open only to faculty members while also transitioning into independent clinical practice. Additionally, this route allows for more research time in the fifth year of the ACES Program, thus allowing the trainee to make significant scientific progress before their tenure clock starts as an assistant professor. Rather than adhering to a rigid formula, the ACES Program employs flexibility to ensure that each trainee has the best individualized plan to maximize his/her clinical and scientific training and success as well as personal wellbeing.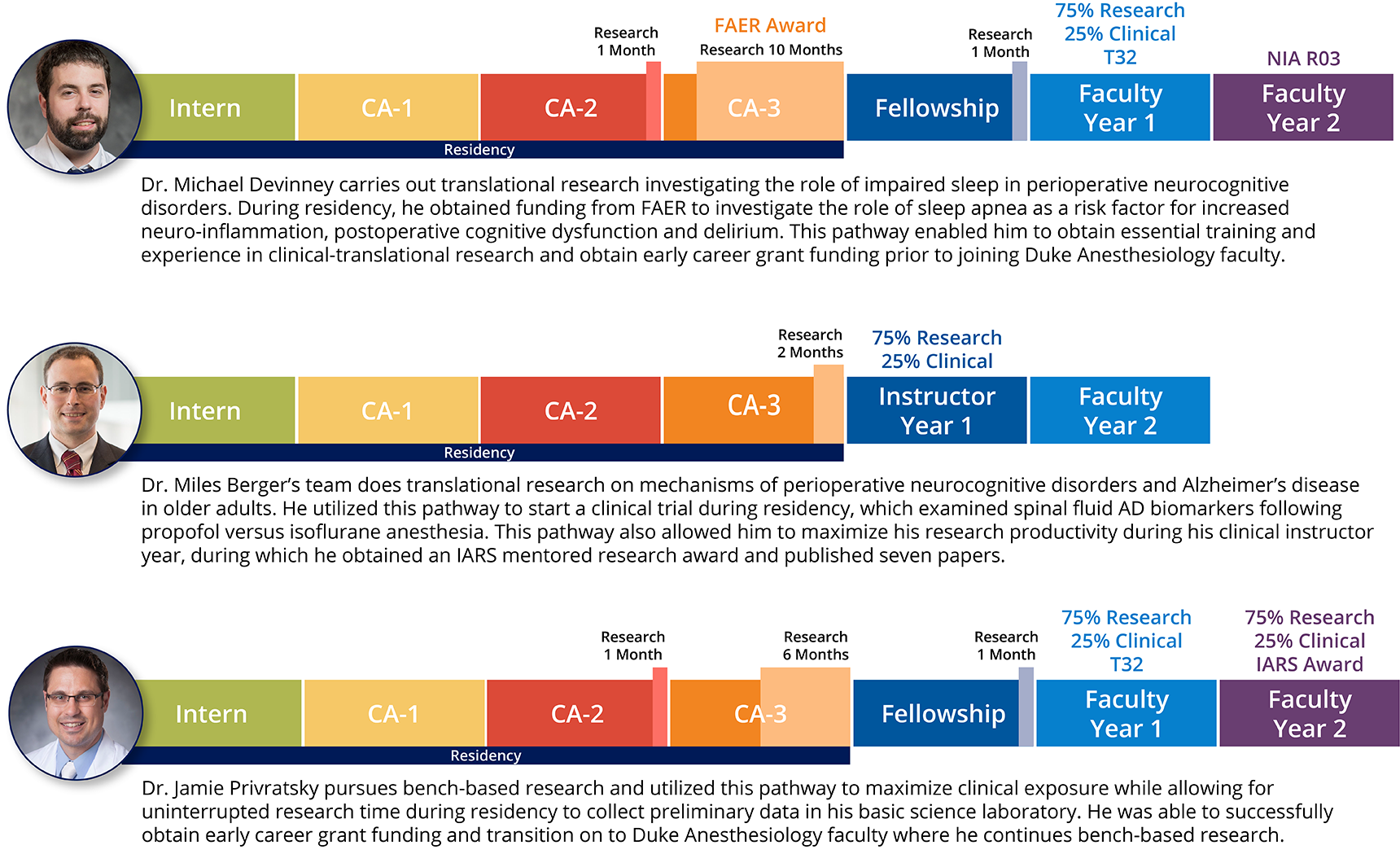 The academic chief resident helps facilitate and coordinate ACES educational and social activities during the academic year, including the annual ACES Academic Evening, where we view presentations of ongoing research by ACES residents/fellows, listen to an invited guest speaker, and host ACES applicants for a second visit. S/he also monitors the effectiveness of various ACES activities, acts as a resource for residency applicants considering the ACES Program, helps mentor younger ACES trainees as they navigate through the early stages of the ACES Program, and serves as a liaison to the ACES administrative team, as well as between the departmental leadership and ACES residents to work toward enhancing the overall ACES experience. Additionally, the academic chief resident sponsors the ACES visiting professor visit, a capstone event for the ACES Program, typically held near the end of each academic year.
A plethora of research mentoring, career development and other resources are available for ACES trainees through Duke Anesthesiology, as well as the larger Duke University School of Medicine and Medical Center, which support trainees in basic, translational, and clinical research career development. In fact, there are so many resources available for research development, grant-writing and organization, and research mentorship that our ACES trainees typically take advantage of multiple resources from among the list below, based on their own personal research and career development needs. These departmental and institutional resources robustly fulfill any training requirements for career development awards and provide the necessary training and education for developing into an independent investigator.
Duke Anesthesiology Departmental Career Development Resources
Duke Anesthesiology Faculty Development Program
Duke Anesthesiology Mentorship Program
Duke Anesthesiology SMART (Supporting Mentorship in Anesthesia Research through Training) Program
Duke Anesthesiology Biostatistics Resources
Duke University School of Medicine and Medical Center Career Development Resources
Duke Office of Research Mentoring
Duke Clinical Research Training Program
Duke Advice and Resources for Getting NIH Career Development (K Series) Grants
Duke Leadership Development for Researchers (LEADER)
The Fund to Retain Clinical Scientists at Duke
Duke Office of Physician Scientist Development Resources and Opportunities
Duke Advancing Scientific Integrity, Services, and Training (ASIST)
Duke Clinical Research Institute (DCRI), the world's largest academic clinical research organization.
The Robert J. Lefkowitz Society (named for Professor of Medicine Robert J. Lefkowitz, recipient of the Novel Prize for Chemistry in 2012), a society to support post graduate MD/PhD and MD trainees pursuing careers with a primary focus on basic or translational research as physician-investigators.
Click above to watch Duke Anesthesiology chairman, Dr. Joseph Mathew, share his perspectives on the ACES Program.
Because the ACES Program is a part of the Duke Anesthesiology Residency Program, ACES candidates must first apply to our residency program. We accept applications only through ERAS.
Most applicants who are successfully admitted into the ACES program will have previously had significant research experience prior to residency (at least one dedicated year, but most often a Masters or PhD).
Only applicants with prior research experience and committed to pursue a research career should apply to ACES.
Within the residency program application, ACES candidates should indicate (check the box) that they would like to be considered for the Duke Anesthesiology ACES program/track
Note: Indicating your interest does not ensure acceptance into the ACES program/track
Application season typically opens each September
Screening Process for ACES Candidates
Duke Anesthesiology faculty review ACES applications and determine which candidates to interview for the ACES Program/track
Up to two ACES candidates are selected for/invited to take part in the ACES Program each year
Thanks to the ACES curriculum design, residents who sustain successful clinical and examination performance records, can complete 36 months of residency training in anesthesiology (CA-1, CA-2, CA-3 years) within a 23 month period, leaving the remaining 13 months dedicated to the ACES Research Program/track.
Thank you for your interest in the Duke ACES (Academic Career Enrichment Scholars) research residency program!
ACES is a five-year program, including residency, fellowship and up to 13 months of research. Through its efficient, customized curriculum, ACES prepares the next generation of anesthesiologist-scientists without prolonging clinical training.
With only one to two ACES trainees annually, each trainee has a customized plan to maximize both clinical and scientific development. This individual attention and supportive environment allows ACES trainees to take ownership of their careers as academic anesthesiologists and to find the path that best suits their unique goals and interests.
ACES trainees are fully Duke Anesthesiology residents/fellows, with all the benefits, certifications, collegiality, and superb training that defines Duke Anesthesiology. ACES residents complete the standard clinical base year as interns. Advanced/subspeciality rotations typically begin halfway through CA-1 year and continue through the end of CA-2 year. Protected research time may start with a month or two in CA-2 year and then continue through most of CA-3 year; however, each ACES trainee is unique. Therefore, the curriculum has flexibility to incorporate research at different points during residency and fellowship. Fellowships are typically chosen by the end of CA-2 year, but again, there is lots of support and guidance to ensure the best fit for each trainee.
In addition to the friendly, welcoming residency and fellowship programs, ACES trainees are part of the broader Duke physician-scientist community, a department with a strong dedication to research, and the ACES community. Many former ACES trainees remain on the Duke Anesthesiology faculty. There is both a culture of "paying it forward" and genuine friendship among ACES trainees past and present. For example, prior to the pandemic, ACES trainees would go out to dinner monthly as a group. While our interactions are more virtual and less structured for now, we still have the same incredible collegiality!
Thank you again for your interest in the Duke ACES Program. You can follow us on Twitter @aces_duke and feel free to reach out with any questions!
Best,
Leah Acker, PhD, MD
ACES Leadership Team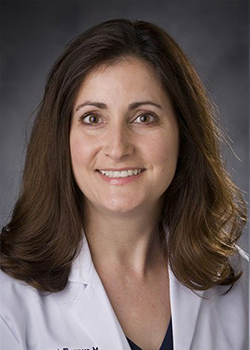 Annemarie Thompson, MD
Interim Vice Chair, Education
Director, Residency Program
Professor of Anesthesiology
Professor in Medicine
Professor in Population Health Sciences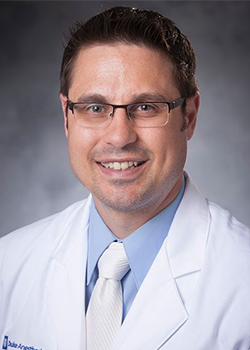 Jamie R. Privratsky, MD, PhD
Co-Director, Academic Career Enrichment Scholars (ACES)
Assistant Professor of Anesthesiology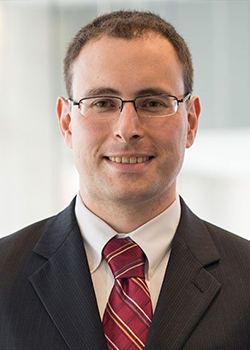 Miles Berger, MD, PhD
Co-Director, Academic Career Enrichment Scholars (ACES)
Associate Professor of Anesthesiology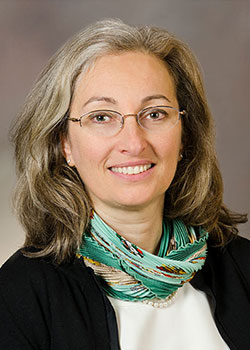 Miriam Treggiari, MD, PhD, MPH
Vice Chair, Research
Paul G. Barash Distinguished Professor of Anesthesiology
2023-2024 ACES Residents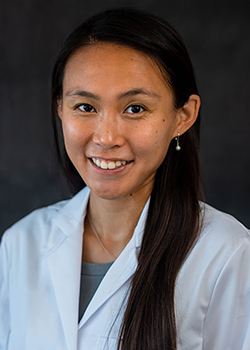 Jessica Liu, MD, PhD, CA-3
2023-2024 ACES Chief Resident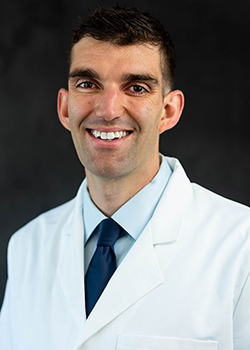 George Cortina, MD, PhD, CA-3
2023-2024 ACES Resident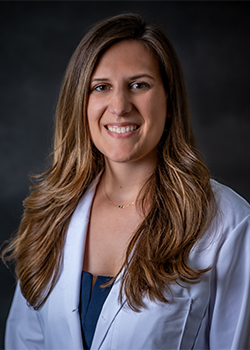 Adrienne Shami, MD, PhD, Intern
2023-2024 ACES Resident
Frequently Asked Questions for Applicants
Most successful ACES trainees will have completed both MD and PhD degrees or will have completed significant and impactful research as a medical student.
ACES trainees are expected to be superb clinicians, innovative researchers, and strong team players.
ACES residents benefit from hands-on detailed mentoring, additional research stipend support, and the benefit of being part of a dynamic and inclusive anesthesiology research community.
There is no requirement for ACES trainees to join our departmental faculty, though many have done so. Roughly one third of our ACES Program graduates (i.e. eight individuals) are currently on the Duke Anesthesiology faculty. Many ACES graduates have joined the faculty of other leading academic medical centers, and virtually all ACES graduates are currently in academic medicine. We view it as a success of the ACES Program whenever a graduate obtains a faculty position with protected research time, whether that is at Duke or other leading academic medical centers.
As above, no. There is no requirement for ACES Program graduates to join our departmental faculty, though given the high caliber of our ACES graduates, we are delighted when ACES trainees seek to join Duke Anesthesiology after completing the ACES Program.
To date, ACES Program graduates have obtained more than $17 million in extramural research funding, and have published more than 438 peer-reviewed publications. Several ACES trainees have been instrumental in the founding and ongoing leadership of eSAS (early Stage Anesthesiology Scholars), an international organization designed to promote the development of anesthesiologist scientists and researchers.
ACES graduates have obtained NIH funding from several different institutes (NIA, NIGMS, etc.), as well as from FAER (the Foundation for Anesthesia Education and Research), IARS (the International Anesthesia Research Society), the American Geriatrics Society, the Alzheimer's Drug Discovery Foundation, and the American Heart Association.