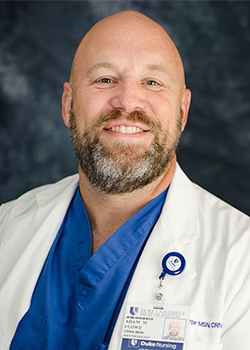 Certified Registered Nurse Anesthetists have been practicing at Duke University Medical Center for more than 50 years.  We currently have more than 100 CRNAs on staff.  Our outstanding service and dedication to promote Duke's mission of quality patient care, education, and research through nurse anesthesia practice is known nationally.
Our specialties in Duke's main operating rooms include neurosurgery, pediatrics, orthopedics,  urology, gynecology, otolaryngology, and vascular/transplant.  The Ambulatory Surgery Center, Eye Center, Heart Center, Birthing Center and offsite specialty clinics also utilize our expertise.  Duke's expanding surgical volume of high-risk pediatric and adult patients requires an accomplished CRNA team with a high degree of both clinical skill and acumen.
As Duke Medical Center's mission expands internationally, a number of CRNAs have traveled to a variety of underserved countries.  This global outreach initiative not only promotes the profession of nurse anesthesia but also supports Duke's mission of patient care and specialty provider education in areas that lack anesthesia providers.  Duke CRNAs have held both national and state association leadership positions and have been instrumental in maintaining our scope of practice and standard of care.  A number of Duke CRNAs have had distinguished military careers and others currently serve as reservists.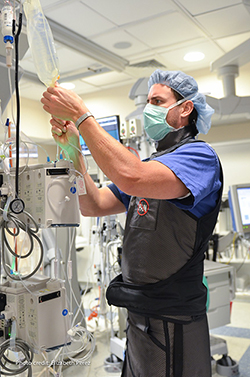 At Duke, the CRNAs and Anesthesiologists work in collaboration using the Anesthesia Care Team model.  The two professions have forged a cohesive, collegial and mutually respectful practice environment.  As such, the anesthesia department's reputation for progressive anesthesia care as well as outstanding quality of service is recognized worldwide.
CRNAs at Duke have abundant educational opportunities.  Staff CRNAs participate in the education of future anesthesia providers attending the Duke School of Nurse Anesthesia.  Several anesthetists serve as speakers for regional, national and international meetings.  We are proud of our contributions and reputation in the advancement of nurse anesthesia practice at Duke and we serve an integral role in the growth of a nationally recognized medical center.