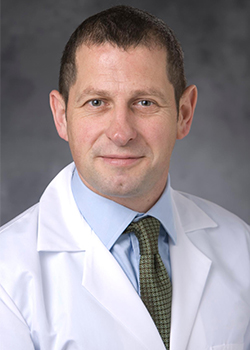 Duke University Medical Center is one of the first medical centers in the nation to offer an Accreditation Council for Graduate Medical Education (ACGME) Pediatric Cardiothoracic Anesthesiology Fellowship Program. In early 2022, the ACGME published the milestones for a new pediatric cardiothoracic anesthesiology fellowship program; this was in response to the growing need for a recognized training pathway for pediatric and congenital cardiac anesthesiology as the patient population with congenital heart disease continues to expand. The Duke Pediatric and Congenital Heart Center was recently ranked seventh in the nation by US News & World Report and offers the perfect platform for education in an environment of clinical excellence and innovative thinking. One fellowship position is available each year. This newly-established fellowship will officially launch with its first fellow on August 1, 2023.
Additional fellowship training through Duke Anesthesiology includes:
Pediatric Anesthesiology
Neurosurgical Anesthesiology
Obstetric Anesthesiology
Critical Care Medicine Anesthesiology
Undersea and Hyperbaric Medicine
Perioperative Medicine
Global Health Anesthesiology
Pain Medicine
Regional and Ambulatory Anesthesiology
Research
If you are interested in a one-year fellowship, please contact Teena C. Wyatt at teena.wyatt@duke.edu.
For questions or specific requests, please contact: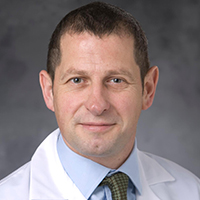 Warwick A. Ames, MBBS
Associate Professor of Anesthesiology
Program Director, Pediatric Cardiothoracic Anesthesiology Fellowship
Department of Anesthesiology
Box 3094
Duke University Medical Center
Durham, NC 27710
Email: warwick.ames@duke.edu
Application materials may be submitted by mail or emailed to: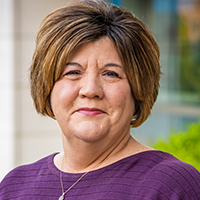 Teena C. Wyatt
Program Coordinator
Pediatric Cardiothoracic Anesthesiology Fellowship
Department of Anesthesiology
Duke University Medical Center
DUMC 3094
2301 Erwin Rd, 5688C HAFS
Durham, NC 27710
Email: teena.wyatt@duke.edu
This is a one-year ACGME accredited fellowship program in pediatric cardiothoracic anesthesiology. The fellow will receive an abundance of experience in high level cases from preoperative assessment to intraoperative and postoperative management.
Our main sites for rotations are the operating rooms and intensive care facilities at Duke University Medical Center.
| ROTATION | DURATION |
| --- | --- |
| Pediatric Cardiac | 32 weeks |
| Pediatric Cardiac Catheterization Suite | 8 weeks |
| Imaging (MRI/ TEE) | 2 weeks |
| Perfusion | 2 weeks |
| Pediatric Cardiothoracic Critical Care | 4 weeks |

Expectations of the fellowship program include:
To acquire the specialized fund of knowledge, clinical judgment and technical skills required to independently provide safe, evidence-based anesthetic care for a wide variety of pediatric patients with congenital heart disease. This includes children of all ages with and without associated medical comorbidities, undergoing surgical or diagnostic procedures, both simple and complex.
Communicating effectively and becoming a key part of a multidisciplinary team (cardiac surgery, nursing, perfusion, intensive care) in the operating room for care of complex cardiac patients, who are often referred from tertiary care centers.
To develop as a clinical teacher and to learn how to supervise the anesthetic care of less experienced providers during their pediatric cardiothoracic anesthesiology rotation.
To gain familiarity with research methods and help carry out a research project.
To create an environment that encourages and instructs the fellow to become a lifelong learner.
Pediatric Cardiac Rotation
The pediatric cardiac rotation is the 'heart' of the fellowship program. The fellow will be exposed to the entire spectrum of congenital heart disease, which will include simple cases like atrial septal defect (ASD) and ventricular septal defect (VSD) repairs, as well as more complex cases such as repair of transposition of the great arteries and palliation of hypoplastic left heart syndrome. Duke Children's Hospital & Health Center remains the premier children's hospital in North Carolina. During this time, the fellow will get exposure to pediatric heart transplants, extracorporeal membrane oxygenation (ECMO) management, regional anesthesia, and hemostasis and blood component strategies. With Duke's reputation of research and innovation, the fellow could potentially be involved in novel procedures; recent examples include a partial heart and a combined heart thymus transplantation. 
Some of the unique features of the rotation are fellow engagement with the multidisciplinary Congenital Cardiac Care Conference. At this weekly conference, decisions are made about the type of interventions patients need. As the fellow cares for pediatric congenital heart patients, they will be part of an anesthesia team that places and manages invasive monitoring, spending one-on-one time with the pediatric cardiothoracic anesthesiologist. This allows attending anesthesiologists to be heavily involved with teaching and explaining complex cardiac physiology.
There are currently two operating rooms for pediatric cardiac surgery. Anesthesia coverage by the trainees is shared between the pediatric, the pediatric cardiothoracic and the adult cardiothoracic anesthesiology fellowship programs. Call expectations for the pediatric cardiothoracic anesthesiology fellow will be one day per week and one weekend per month. 
Pediatric Cardiac Catheterization Suite Rotation
The Pediatric and Congenital Cardiac Catheterizations Suite at Duke has three operating rooms in which a diverse array of interventional and electrophysiological cardiac procedures that require anesthesia are performed. From extreme premature infants requiring closure or stenting of patient ductus arteriosus, to adults with congenital heart disease undergoing interventional and diagnostic procedures, We provide anesthesia for patients requiring radio frequency ablations and surgical management of pacemaker and intracardiac defibrillation devices in the suite. This experience will allow the fellow to learn the management of cardiac arrhythmias and the manipulation of permanent or temporary pacemakers/AICDs. They will spend one day a week in the suite, to meet the criteria of the ACGME Pediatric Cardiac Anesthesiology Fellowship.
Imaging (MRI/TEE) Rotation
All intraoperative echocardiography is traditionally performed by pediatric cardiologists who are encouraged during each surgical encounter to demonstrate and document echocardiological findings with the fellow in the operating room. In addition, the fellow will also spend a two-week rotation with the imaging department at Duke. This will include shadowing echocardiographers as they scan patients throughout the hospital platform, including cardiology clinics and the critical care floors. Time with other imaging modalities, such as cardiac MRI, is also encouraged.
Perfusion Rotation
The fellow will spend a two-week rotation with perfusion services in the operating room, where they will have hands-on experience. The fellow will participate in cardiopulmonary bypass (CPB) and extracorporeal membrane oxygenation (ECMO) pump setup with the perfusionist and assist with running the CPB pump during the bypass period for each cardiac case. The fellow will witness a variety of cannulation and bypass configurations in complex aortic, transplant, pulmonary vascular, and cardiac surgical cases and understand the rationale for the configurations. There is also one-on-one instruction in hands-on operation of a primed CPB pump "simulator." Extensive experience with intraoperative and ICU management, and considerations for ECMO and mechanical assist devices, will be provided throughout the fellowship but concentrated during this rotation.
Pediatric Cardiothoracic Critical Care Rotation
This four-week rotation allows the fellow to appreciate the medical management of children with congenital heart disease who are either critically ill or in the postoperative phase of their care. Understanding the ongoing medical management of long-term critical care versus the goal-directed therapy of an enhanced recovery after surgery (ERAS) will help the fellow to guide their intraoperative care, goals and objectives. Working in a multidisciplinary unit will enable them to share their clinical and educational experiences with fellows and residents from multiple disciplines across different departments. It also allows opportunities to teach medical students, residents and junior fellows. Our goal is that this rotation will provide the fellow with essential skills, knowledge and experience that will help them to build and further enhance their clinical, teaching and communication skills as a pediatric cardiothoracic anesthesiologist.
This is an advanced fellowship program. Applicants for this fellowship must be in accordance with the ACGME program requirements for graduate medical education in pediatric cardiothoracic anesthesiology. Specifically, you must have completed an ACGME-accredited fellowship in pediatric anesthesiology or an adult cardiothoracic anesthesiology fellowship with a minimum of one month of pediatric anesthesiology during that fellowship. There are numerous resources available to candidates interested in a career in pediatric cardiothoracic anesthesiology, such as the Congenital Cardiac Anesthesia Society (CCAS) website.
Fellowship educational goals, therefore, include maximizing proficiency in:
Learning to lead in an anesthesia environment to provide comprehensive and knowledgeable care to patients with congenital cardiac disease who have or are undergoing corrective or palliative surgery.
Developing an anesthesia-specific knowledge base, including key concepts of congenital heart disease and advanced pediatric cardiac physiology and pharmacology.
Learning to competently perform the medical and invasive procedures relevant to pediatric cardiothoracic anesthesiology, with an emphasis on point-of-care ultrasound (POCUS).
The ability to locate, appraise and assimilate evidence from scientific studies, and enable innovative practice in all related specialties to enhance the care of patients with congenital cardiac disease.
Provision of compassionate, culturally sensitive anesthetic care to a diverse range of socio-economic, age, ethnic, and religious backgrounds
Duke is first and foremost a center of academic excellence. Historically, we have had strong trainee representation at national meetings in subjects related to pediatric cardiothoracic anesthesiology. We encourage involvement in anesthesia research to the point of presentation at academic events and/or to publication.
Research opportunities include clinical and basic science research. The research interests and publications of Duke faculty can be explored at Scholars@Duke. In addition, Duke has maintained the membership of the Society of Thoracic Surgeons (STS) database, which greatly facilitates retrospective database studies. We have obtained numerous grants from the STS for studies specifically related to pediatric cardiothoracic anesthesia. Duke University Hospital and Duke Anesthesiology have a vast research infrastructure that supports the research activities of pediatric cardiothoracic anesthesiology fellows during the year of training, including scientific writing courses and access to statistical support. The fellow will be encouraged to participate in an institutional patient safety committee and lead a quality improvement project.
The fellow will also be provided with a laptop computer and an educational stipend for education or travel to national meetings such as the Congenital Cardiac Anesthesia Society. Further educational resources will be provided when the fellow begins the program.
Pediatric cardiothoracic anesthesiology fellows will have an opportunity to work closely with pediatric anesthesiology and adult cardiothoracic anesthesiology fellows, in addition to medical students during their fellowship. Teaching opportunities also include didactic lectures, dedicated simulation sessions at the Duke Human Simulation and Patient Safety Center, journal clubs, and the Pediatric Anesthesiology Division M&M. Fellows can also participate in the Duke AHEAD program that provides opportunities to learn and develop teaching skills.
Every three months, the fellow will undergo evaluations by faculty, and receive 360-degree feedback from peers, surgeons, OR and ICU nurses, perfusionists, anesthesia technicians, the Clinical Competency Committee, and program coordinator. All evaluations are conducted per ACGME recommendations, in addition to regular meetings with the fellowship director.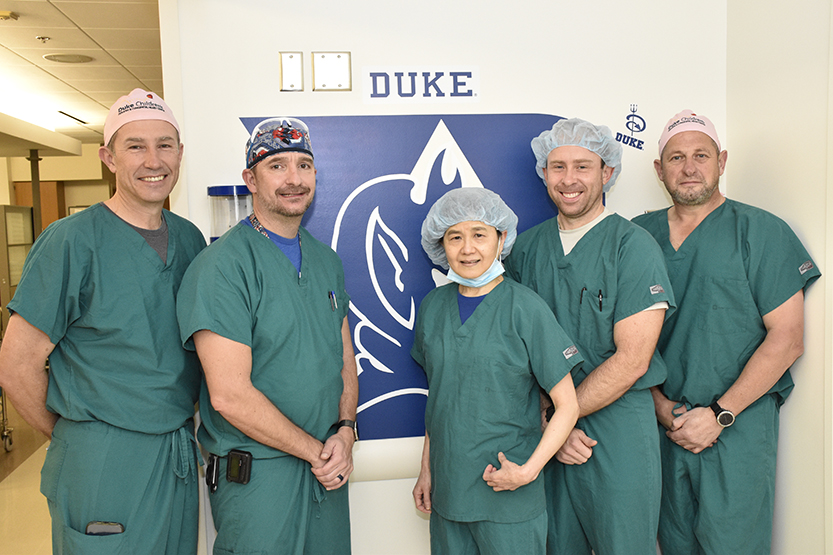 The Duke Department of Anesthesiology is committed to cultivating a just and inclusive culture in which individuals thrive and are united in their dedication to alleviating suffering, improving health and well-being, and promoting social justice through excellence in innovation, education, research, service, and professional growth. Learn more about our fellowship programs and Duke Anesthesiology's Equity, Diversity and Inclusion Program.