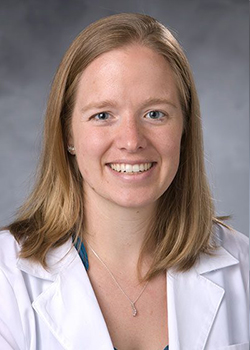 Thank you for your interest in the Adult Cardiothoracic Anesthesiology Fellowship program at Duke University Hospital. With a long track record of success in developing leaders in the field of cardiothoracic anesthesiology, we offer 14 ACGME accredited positions per year. Should you match at Duke Anesthesiology for your fellowship, your year will include great clinical exposure, a focused research and quality improvement project, and protected didactic time. The care our fellows deliver to our patients has contributed to the success of the Duke Heart Center. You will join a cohort of talented colleagues and ultimately join a large alumni network.
Second-year research or clinical fellowship opportunities are available, and these programs are individualized to meet the goals of successful applicants.
Our Adult Cardiothoracic Anesthesiology Fellowship Program participates in the SF Match process, under the sponsorship of the Society of Cardiovascular Anesthesiologists.
To be considered for an adult cardiothoracic anesthesiology fellowship position:
Visit sfmatch.org to register as an applicant and rank programs
If applying outside the SFmatch cycle:
Additional fellowship training through Duke Anesthesiology includes:
Pediatric Anesthesiology
Neurosurgical Anesthesiology
Obstetric Anesthesiology
Critical Care Medicine Anesthesiology
Undersea and Hyperbaric Medicine
Perioperative Medicine
Global Health Anesthesiology
Pain Medicine
Regional and Ambulatory Anesthesiology
Research
If you are interested in a one-year fellowship, please contact Teena C. Wyatt at teena.wyatt@duke.edu.
Important Dates for the 2024-2025 Fellowship Application and Match process:
November 6, 2023  Applicant Registration Begins
January – May 9, 2024: Interviews Offered
March 1, 2024: Applications Due
June 19, 2024: Match Day
Applications may be submitted through SF Match. Fellowship questions can be directed to: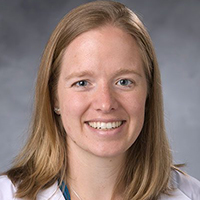 Brandi A. Bottiger, MD
Associate Professor of Anesthesiology
Program Director, Adult Cardiothoracic Anesthesiology Fellowship
Department of Anesthesiology
Box 3094
Duke University Medical Center
Durham, NC 27710
Email: brandi.bottiger@duke.edu
OR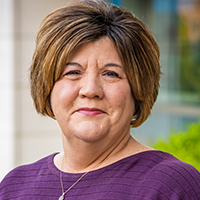 Teena C. Wyatt
Program Coordinator
Adult Cardiothoracic Anesthesiology Fellowship
Department of Anesthesiology
Duke University Medical Center
DUMC 3094
2301 Erwin Rd, 5688C HAFS
Durham, NC 27710
Email: teena.wyatt@duke.edu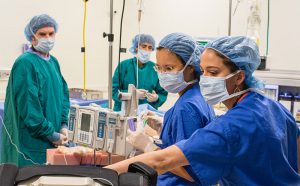 As primary anesthesiologists of adult cardiac and thoracic surgical patients, the fellows' initial responsibility and experience is in preoperative assessment and intraoperative and postoperative management. Direct faculty supervision is provided. During this 12-month period, fellows follow a curriculum that meets the ACGME Adult Cardiothoracic Anesthesiology Fellowship criteria. Our main sites for rotations are the operating rooms and intensive care facilities at Duke University Medical Center.
Annual Rotation Schedule Includes:
| ROTATION | DURATION |
| --- | --- |
| Cardiac | 24 weeks |
| Pediatric Cardiac | 4-5 weeks |
| Adult TEE | 9 weeks |
| Perfusion | 2 weeks |
| Elective | 2 weeks |
| Adult Thoracic | 8 weeks |
| Adult Cardiothoracic Surgical Critical Care | 4 weeks |
Cardiac Rotation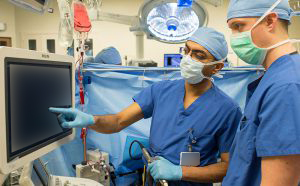 Fellows are most frequently in the primary anesthesia provider role, assessing and creating anesthetic management plans for cardiac cases with and without bypass, to encompass the preoperative, intraoperative, and postoperative period.
Expectations include:
Communicating effectively and becoming a key part of a multidisciplinary team (cardiac surgery, nursing, perfusion, intensive care) in the operating room for care of complex cardiac patients, who are often referred from tertiary care centers
Providing emergency and elective anesthesia care and transesophageal echocardiogram (TEE) services for structural heart disease, heart failure, electrophysiology, transplant, and aortic teams
Gaining a comprehensive understanding of invasive monitoring and support devices to include central lines, Swan Ganz catheters, cerebral oximetry, lumbar drains, percutaneous coronary sinus catheters
Caring for complex cardiac patients requiring mechanical assist devices, to include intra-aortic balloon pump (IABP), venovenous and venoarterial extracorporeal membrane oxygenation, and ventricular assist devices (VAD)
Managing cardiac arrhythmias for patients requiring electrophysiology procedures or manipulation of permanent or temporary pacemakers/AICDs
Participating in complex medical decision making with surgical and intensivist teams regarding patient care
Understand minimally invasive approaches to valve repairs and replacement, to include percutaneous valves and thoracotomy approaches to VAD surgery
More details on case type, volume and facilities can be found under Clinical Practice and Clinical Educational Objectives.
Pediatric Cardiac Rotation
The pediatric/congenital cardiac Rotation is a 4-5 week rotation where fellows get to spend 2-3 days of the week in the Pediatric Heart room. Fellows will be exposed to the entire spectrum of congenital heart disease, which will include simple cases like atrial septal defect (ASD) and ventricular septal defect (VSD) repairs, as well as more complex cases such as repair of Transposition of the Great Arteries and Norwood operations. Duke Children's Hospital & Health Center remains the premier children's hospital in North Carolina, and during this time, fellows will get exposure to pediatric heart transplants, extracorporeal membrane oxygenation (ECMO) management, and hemostasis and blood component strategies.
Some of the unique features of the rotation are fellow engagement with the multidisciplinary Congenital Cardiac Care Conference. At this weekly conference, decisions are made about the type of interventions patients need. As you care for pediatric congenital heart patients, you will be part of an anesthesia team that places and manages invasive monitoring, spending 1:1 time with the pediatric cardiac anesthesiologist. This allows attending anesthesiologists to be heavily involved with teaching and explaining cardiac physiology.
This pediatric/congenital cardiac rotation is unique to the Duke Adult Cardiothoracic Anesthesiology Fellowship and provides fellows with a great opportunity to be exposed to this ever-growing patient population.
Adult TEE Rotation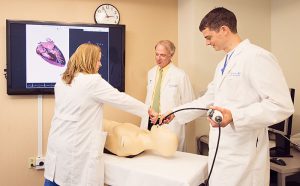 Features of the echocardiography rotation include:
One week in the cardiology echo lab involving a significant practical experience in transthoracic echocardiography and TEE simulation
Eight weeks of intraoperative TEE with supervision of exam performance, interpretation and over-reading of reports
TEE use in all adult cardiac surgical cases in a large gamut of pathology
3-D TEE probes and state-of the-art imaging machines for every cardiac operating room as well as the cardiothoracic (CT) intensive care unit (ICU)
TEE and transthoracic echocardiography simulation
Total echocardiographic experience that will significantly exceed current recommendations for qualification by the American Society of Echocardiography (ASE) and Society of Cardiovascular Anesthesiologists (SCA)
Weekly lectures and case conferences aimed at preparing fellows for the ASE/SCA Certification in Perioperative Echocardiography. All fellows are expected to attain this certification as part of their Fellowship
Click here for more details on the TEE Rotation and Perioperative TEE service.
Perfusion Rotation
Features of the perfusion rotation include:
Two weeks of TEE and hands-on perfusion in the operating room (OR), where fellows participate in cardiopulmonary bypass (CPB) and extracorporeal membrane oxygenation (ECMO) pump setup with the perfusionist, and assist with running the CPB pump during the bypass period for each cardiac case
Two weeks of focused, hands-on perfusion 1:1 with perfusionists, with opportunities to operate CPB pumps and auxiliary equipment, and dedicated ICU ECMO/device management time
Close interaction with an academically-focused and motivated perfusion team, covering pediatric and adult cardiac ORs, and ECMO/assist device management in the ICUs
Exposure to a variety of cannulation and bypass configurations in complex aortic, transplant, pulmonary vascular, and cardiac surgical cases
Extensive experience with intra-operative and ICU management and considerations for ECMO and mechanical assist devices
1:1 instruction in hands-on operation of a primed CPB pump "simulator"
Fellow lectures series with perfusionists, CT anesthesiologists, and CT surgeons covering perfusion basics, advanced principles, causes and management of perfusion "disasters," live mechanical assist device demonstrations, an introduction to ECMO and discussion panel, and case conferences for complications
Monthly multi-disciplinary ECMO case conference (perfusion sponsored) with participation from providers in all ICUs and OR platforms
Adult Thoracic Rotation
Fellows assess and create anesthetic management plans for minimally invasive, robotic and thoracotomy approaches to lung and esophageal resection. Additional, fellows are expected to care for patients with cancer and end-stage lung disease, to encompass the preoperative, intraoperative and postoperative period.
Expectations include:
Communicating effectively and becoming a key part of a multidisciplinary team (thoracic surgery, nursing and intensive care) in the OR for care of complex thoracic patients who are often referred by tertiary care center physicians
Preparing and executing pain management plans, including placement and intraoperative management of thoracic epidurals and regional blocks
Participating in complex medical decision making with surgical and intensivist teams regarding patient care
More details on case type, volume and facilities can be found under Clinical Practice and Clinical Educational Objectives.
Adult Cardiothoracic Surgical Critical Care Rotation
For four weeks, the Adult Cardiothoracic Surgical Critical Care Rotation takes place in the 7-West Cardiothoracic Intensive Care Unit (7W-CTICU) at Duke Medicine Pavilion (DMP) at Duke University Hospital's Heart Center. During this time, fellows will find unique opportunities to care for and manage some of the most complex patients in the country.
The rotation learning experience includes perioperative management of critically ill cardiothoracic surgical and heart failure patients, with primary intense exposure to patients with mechanical circulatory support including:
Left and right ventricular assist devices (LVAD & RVAD), both permanent and temporary
Biventricular assist devices (BiVAD)
Extracorporeal membrane oxygenation (ECMO)
Intra-aortic balloon pump counter-pulsation (IABP)
Our CTICU rotation allows fellows to actively manage diverse pathological entities including:
Cardiogenic, hemorrhagic, and vasodilatory shock
Pulmonary hypertension
Right heart failure
Respiratory failure or failure to wean from mechanical ventilation
Multisystem organ failure
Neurologic, renal, pulmonary, or infectious sequelae, or complications of surgery
Moreover, our fellows gain an appreciation of the long-term implications of various disease states and perioperative events on outcomes in cardiothoracic surgical patients.
This rotation allows our fellows to share their clinical and educational experiences with fellows and residents from multiple disciplines across different departments. It also allows opportunities to teach medical students and junior residents. Regardless of your future practice and professional scope, our cardiothoracic surgical critical care rotation will provide you with essential skills, knowledge and experience that will help you to build and further enhance your clinical skills as a cardiac anesthesiologist. Chest wall ultrasound and TEE are essential tolls used in this care area.
Didactic:
Mandatory conference attendance with protected time:

Adult Cardiothoracic Anesthesia Seminar Series: includes cardiothoracic anesthesia, cardiothoracic surgery, perfusion, and TEE topics
Weekly Departmental Fellowship Series: aimed at career development for the anesthesiologist. Topics include professionalism, leadership, business management, education, career development, oral board prep, ethics

Other conferences offered include:

Combined CT Surgical and Anesthesia M&M series (quarterly)
CT Divisional Grand Rounds (Weekly)
Heart Center Grand Rounds (Weekly)
Workshops: transthoracic and chest wall echocardiography, 3D TEE, TEE wetlab and heart dissection, ventilator management, and bronchoscopy
Patient Safety Conferences (quarterly)
Research Process and Timeline:
Key parts of the 12-month experience include completion of research project

QI Curriculum:
Expectations include completion of a quality improvement project, including presentation of results at a local meeting. Currently, this is work done in a group of peer fellows under the guidance of a mentor in quality improvement.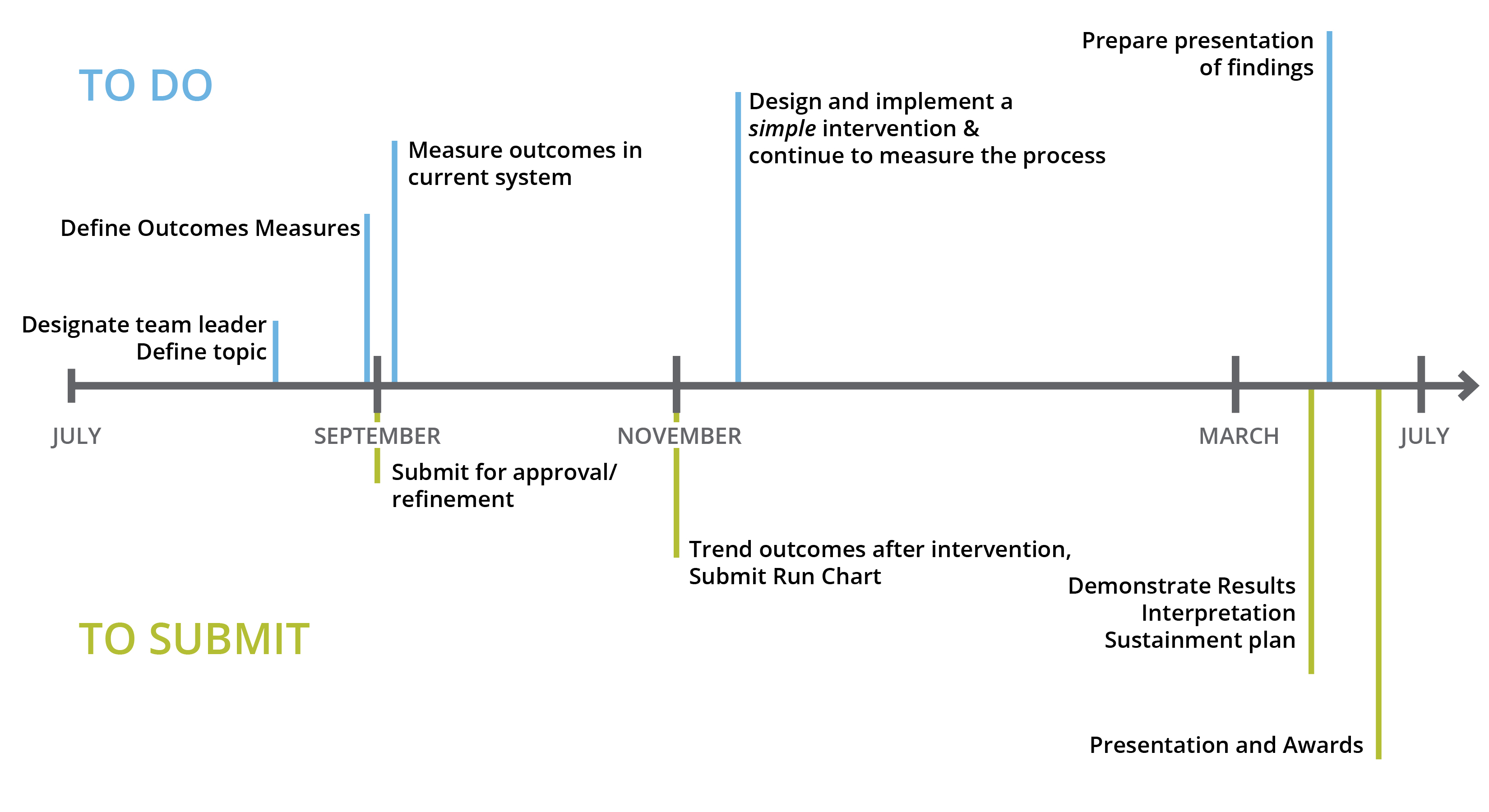 Evaluation:
Every three months, evaluations by faculty, and 360-degree feedback by peers, surgeons, OR and ICU nurses, perfusionists, anesthesia technicians, Clinical Competency Committee and program coordinator. All evaluations are conducted per ACGME recommendations, in addition to regular meetings with the fellowship director.
Typically, fellows provide anesthesia care to patients for a large variety of cardiothoracic surgeries. On any given day, we operate six to seven adult cardiac operating rooms and two thoracic operating rooms per day, of which one is a dedicated hybrid operating room. We also provide care to four electrophysiology suites. Additional information about the Duke Adult Cardiothoracic Anesthesiology Fellowship can be found here: https://scahq.org/duke-university-medical-center/
Case exposure includes:
Coronary artery bypass grafting (CABG)
Open and minimally invasive valve repairs and replacements
Transcatheter and percutaneous valve replacements
Ventricular assist devices
Extracorporeal membrane oxygenation (ECMO)
Pediatric cardiac surgery and adult congenital cardiac surgery
Heart transplant
Lung transplant
Aortic surgery, endovascular and open with deep hypothermic circulatory arrest
Thoracic surgery – robotic, video-assisted thoracoscopic surgery (VATS) and thoracotomy approaches for lung resections, esophageal surgery, tracheoplasty and tracheal reconstruction
Other electrophysiology procedures, mitral valve clipping and other cardiac catheterization procedures, pacemaker/AICD device implantation and management, and pulmonary thrombendarterectomy
Robotic thoracic and cardiac surgery
Other features of the clinical experience include:
Four days per week clinical involvement (one day per week is protected for non-clinical activities), and participation in combined cardiothoracic night call schedule (from home) to provide experience in the management of emergency (e.g., aortic dissection) and transplant (heart, lung and combined heart-lung) surgeries
Perioperative management of patients requiring cardiopulmonary bypass, mechanical assistance including ECMO, during dedicated perfusion medicine rotation
At the completion of the fellowship, successful fellows will have achieved the following goals:
Obtain independent consultant level of competency in cardiothoracic anesthesia per the ACGME milestones
Become part of a multidisciplinary team, including cardiothoracic surgical, nursing, perfusion, and intensive care teams
Safe and skillful management of complicated cardiothoracic surgical patients, including proficiency in intraoperative transesophageal echocardiography techniques
Knowledge through organized learning opportunities in a process that is aligned with and complementary to all other aspects of the fellowship requirements
Knowledge beyond the level expected of a graduating resident in the general areas of CT anesthesia
Understand the tasks, challenges and decisions required of professional colleagues in the areas of Cardiothoracic Medicine (e.g., CT surgeons, cardiologists, pulmonologists, perfusion technologists, etc.)
Attain proficiency in preoperative patient assessment, invasive monitoring and TEE techniques, intraoperative and postoperative patient management.
Experience routine and new procedures (e.g., off pump/PortAccess™ minimally invasive cardiac surgery, transcatheter aortic valve replacement (TAVR), lung reduction surgery, robotics, thoracic aortic stent-grafts, hybrid procedures, etc.)
Gain expertise in emergency and transplant cases (e.g., aortic dissection, heart and single/double/living-related lung transplant, heart/lung transplant, and lung/liver transplant)
Completion of a research project in manuscript form and presentation of results at a national meeting, understand components of initiating and completing a research project
Under the direct supervision of a mentor, design and initiate a research project, ideally planned between acceptance and starting the Fellowship. The protocol may entail clinical database and/or laboratory research in original or ongoing projects. Clinical schedules are flexible to commitments for proposed research projects. All research projects are guided by a faculty member with expertise in the area of investigation
A comprehensive understanding of the aspects of perioperative transesophageal echocardiography and completion of TEE studies and interpretations to meet Advanced Perioperative TEE certification requirements
Understand areas of general importance to physicians and leadership in medicine (e.g., being an effective educator, making good slides, ethics and medicine, patient safety, quality assurance programs, etc.)
Fellows will meet eligibility for Advanced Perioperative TEE certification
Fulfill designated reading assignments in selected cardiac and thoracic anesthesia textbooks and journal articles
Involvement in an anesthesia research project assures skill development in:
The ability to formulate clinically relevant hypotheses in cardiac and thoracic anesthesiology
Project design skills to create achievable studies able to answer questions according to the scientific method
Execution of research project
Introduction to statistical analysis techniques
Interpretation of results and preparation of a manuscript
Presentation of research at national or international meetings, which forms the basis of peer-reviewed manuscript submission for publication
Introduction to research funding and grants
Ability to critically evaluate the research of other investigators
Fellows spend the majority of their time as primary anesthesia providers for substantially complex cases. Opportunities for fellows to supervise cases occur sporadically, mostly in the last 6 months of the fellowship, but additional experience is available upon request.
Opportunities to teach medical students and junior residents are available in the operating room and are expected as part of the cardiothoracic anesthesia surgical intensive care rotation.
Goals also include successful participation in residency education, including clinical teaching, conducting didactic lectures, and participation in specialty conferences.
ACTA fellows are mentored and taught by faculty from the Cardiothoracic Anesthesiology Division.
After graduation, Duke fellowship graduates enter either private or academic practice, which varies slightly with each graduating class. To get a first-hand account of our fellowship program, we encourage you to ask our current fellows or alumni about their experiences.
The Duke Department of Anesthesiology is committed to cultivating a just and inclusive culture in which individuals thrive and are united in their dedication to alleviating suffering, improving health and well-being, and promoting social justice through excellence in innovation, education, research, service, and professional growth. Learn more about our fellowship programs and Duke Anesthesiology's Equity, Diversity and Inclusion Program.
We congratulate the class of 2023!