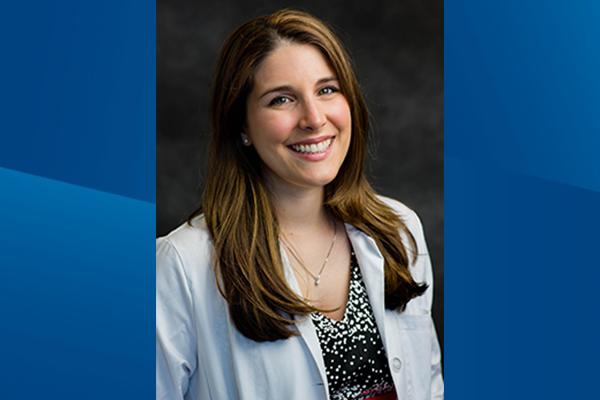 The National Institutes of Health has awarded Duke Anesthesiology's Leah Acker, MD, PhD, a two-year $322,000 grant for her project titled, "The Role of the Aging Brain-Heart-Immune Axis in Postoperative Delirium."
The vagus nerve mediates what Acker calls the brain-heart-immune axis, which allows the brain to suppress systemic inflammation. Advanced age, stress and illness all decrease vagus nerve activity. Without sufficient vagus nerve activity to keep inflammation in check, excessive inflammation can result. Excessive postoperative inflammation is thought to contribute to postoperative changes in thinking and memory, including postoperative delirium.
Postoperative delirium (POD) is a syndrome of acute fluctuating changes in attention and consciousness that affects up to 50 percent of surgery patients 65 and older, increases the risk for Alzheimer's disease (AD) and AD-related dementias, and accelerates dementia progression. Yet, interventions for POD are limited because its pathophysiologic mechanisms are poorly understood.
Acker's new study evaluates whether minute-to-minute changes in heart rate can predict how well older adults recover from surgery. In this study, Acker and her team will measure heart rate variability (HRV), the standard measure of vagal tone before general surgery in 135 patients 65 and older. Specifically, Acker's prospective, observational HIPPIE - HRV In POD and Postoperative Inflammatory Endpoints study will quantify the relationship between preoperative vagal tone and 1) delirium incidence and 2) inflammation-associated markers in the blood.
The results of Acker's HIPPIE study will demonstrate the involvement of the brain-heart-immune axis in POD pathogenesis and will provide novel biomarker(s) of POD risk. Furthermore, a mechanistic link between POD and the brain-heart-immune axis is anticipated to provide strong scientific justification for future trials of vagal tone enhancement as an intervention for POD. Acker's research will provide a new perioperative geriatric data set, including measurements of the previously unexplored perioperative brain-heart-immune axis.
"When we think about 'brain fog' after surgery, we tend to focus only on the brain, but this study considers how different organ systems communicate with each other to impact thinking and memory after surgery," says Acker, assistant professor in anesthesiology. "We need better predictors of how well older patients will recover after surgery. This study uses a lightweight wristband to measure how well the heart adapts to little everyday stresses in the days leading up to surgery. We expect information about little stresses will predict resilience to larger stresses, like anesthesia and surgery."