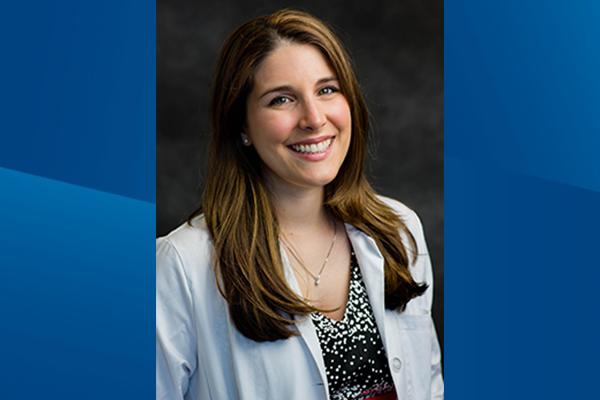 The Society for Neuroscience in Anesthesiology and Critical Care (SNACC) has selected Duke Anesthesiology's Leah Acker, MD, PhD, as the 2022 recipient of the William L. Young Neuroscience Research Award for her project titled, "Real-Time Electroencephalography (EEG) Changes with Blinded, Sham-Controlled, Transcutaneous Vagus Nerve Stimulation (taVNS) in Anxious Older Adults Awaiting Surgery."
If a patient's anxiety is too high before surgery, it triggers the fight-or-flight response and decreases the ability to focus mentally and reduce inflammation physically. To help reduce anxiety and inflammation, Acker's study pilots a novel non-invasive, non-drug intervention, taVNS. With this monetary award, she will evaluate how taVNS impacts electrical activity in the brain and then refine her intervention to help anxious surgical patients.   
This annual award honors the career and life of William L. Young, MD, a clinical and laboratory neuroscientist who is remembered as one of the most productive researchers, influential mentors and memorable personalities in neuroanesthesiology's history. It supports academic physicians and/or scientists who conduct clinical or laboratory-based research related to neuroscience in anesthesiology and critical care; award recipients receive $10,000 to support research related to the SNACC mission. 
"The William L. Young award truly means a lot to me. Bill Young was a mentor to Dhanesh Gupta, who has been my mentor since I was a medical student. I'm honored to continue this tradition," says Acker, assistant professor in anesthesiology. "It's a little bittersweet, though, because in one of our last conversations before his passing, Dr. Warner told me to apply for this award when I joined the faculty. He and Bill Young were good friends."
Acker will be recognized with this award at the SNACC's annual meeting next month in Seattle. Three Duke Anesthesiology faculty (Drs. Miles Berger, Michael Devinney, Leah Acker) have received this research award since its inception in 2016.