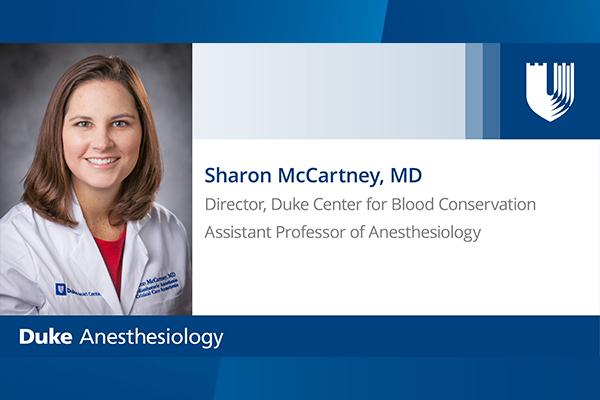 We are pleased to announce that Sharon McCartney, MD, has been appointed director of the Duke Center for Blood Conservation (CBC), a national leader in surgical blood management.
The Duke Center for Blood Conservation offers safe and effective techniques that reduce or eliminate the need for blood products - providing alternatives for patients undergoing surgery or medical procedures who want to avoid blood transfusions due to religious, medical or personal reasons.
In her new leadership role, Dr. McCartney will coordinate a highly-skilled multidisciplinary team of surgeons, anesthesiologists, hematologists, intensivists, perfusionists, and nursing staff, and organize and communicate care plans for patients who decline blood undergoing complex procedures. As a cardiac anesthesiologist and intensivist, Dr. McCartney has been a member of this center's select team that cares for these patients both in the operating room and in the Intensive Care Unit. She has direct experience in the perioperative management of patients who decline blood product transfusions, expertise on how to perform specialized techniques such as acute normovolemic hemodilution, and knowledge of blood fractions acceptable to patients of the Jehovah's Witness faith. Notably, Dr. McCartney is credited for initiating the expansion of the blood conservation techniques used for Duke's blood refusal patients to other populations - working to help create a protocol for anemia management of patients listed for heart transplant to help avoid the risks of allogeneic transfusion in this patient population.
Dr. McCartney received her medical degree from the University of Miami before going on to complete an anesthesiology residency, along with an adult cardiothoracic anesthesiology and a critical care medicine fellowship here at Duke. She joined Duke Anesthesiology faculty in 2016 and has served as course director for the Acute Care and the Cardiothoracic Surgical Intensive Care Unit medical student rotation, charge cardiothoracic anesthesiologist, and director of the Maintenance of Certification in Anesthesiology (MOCA) simulation course at Duke. Additionally, working with the current and former medical directors of the CBC, Dr. McCartney was the first author on a manuscript in Transfusion describing the management of patients for cardiac surgery through the CBC at Duke.
Please join us in thanking Dr. Nicole Guinn for her nine years of service and leadership as director of the Duke Center for Blood Conservation and congratulating Dr. McCartney on her new role in our department.