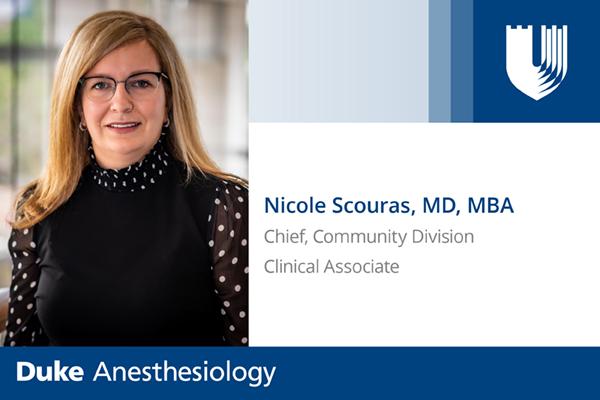 We are pleased to announce that after serving as interim chief for four months, Nicole Scouras, MD, MBA, has been appointed chief of the Community Division, effective immediately.
Dr. Scouras brings 13 years of experience to her new role as division chief in which she is responsible for maximizing the quality and efficiency of daily practice functions and operations at the community-based practices, while supporting departmental and institutional initiatives. The Community Division, comprised of 23 faculty, provides comprehensive and state-of-the-art anesthesia services at Duke Regional Hospital, Duke Raleigh Hospital, Davis Ambulatory Surgery Center, Duke Fertility Center, and Pioneer Ambulatory Surgery Center, while supporting the academic mission of the department.
"I am grateful for this opportunity to lead the Community Division through this time of transition to the Duke Health Integrated Practice as the division aligns more closely with the department and seeks opportunities for growth, while optimizing quality and efficiency," says Dr. Scouras. "I am honored to work alongside such a talented team of divisional faculty and CRNAs and am grateful for the support and guidance that I have received from Drs. Mathew, Gulur, Martin and Sanders over the last several months."
Dr. Scouras received her medical degree and earned a masters in public health at State University of New York at Buffalo prior to completing an anesthesiology residency at the University of Pittsburgh. In 2010, Dr. Scouras began working at Duke Raleigh Hospital. She joined the Community Division faculty in 2018 and has since been an integral part of the growth of this division. Dr. Scouras currently serves as president-elect of the Duke Raleigh Hospital medical staff, interim medical director of anesthesiology at Duke Regional Hospital and has served on numerous hospital and practice committees. In 2020, she received her MBA from the University of North Carolina, Wilmington and is a 2021 graduate of the Duke Clinical Leadership Program.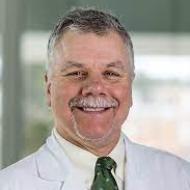 We would like to express our appreciation to the seven-member search committee for their collective time, efforts and contributions to the search process and selection of Dr. Scouras as division chief - an important task that helps ensure the future success of both the division and the department. The search committee was chaired by Dr. Stephen Klein and comprised of members of our department: Drs. Ryan Bialas, Jennifer Dominguez, Erica Heniser, Daniel Kovacs, Gavin Martin and John Borrelli.
We would also like to express our gratitude to Edward Sanders, MD, for serving in this role for 16 years and wishing him the best in retirement.
Please join us in thanking Dr. Scouras for her service as interim chief and extending her congratulations on her new leadership role in our department.