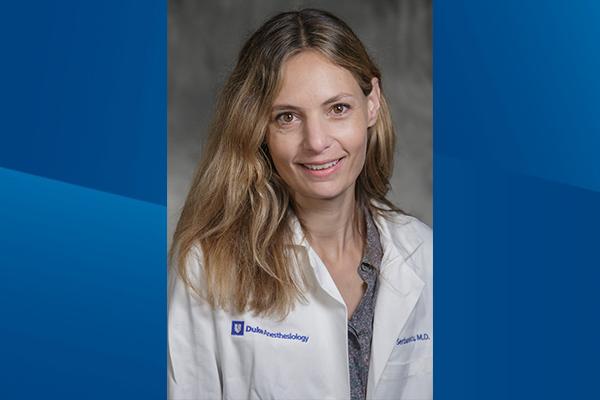 The International Anesthesia Research Society has awarded Duke Anesthesiology's Mara Serbanescu, MD, a two-year $175,000 Mentored Research Award for her project titled, "Role of Nutrition on Gut Microbes and Translocation After Trauma Laparotomy."
Serbanescu's research is significant as understanding how nutritional interventions affect the gut microbiota, bacterial translocation, and immune and inflammatory responses in early trauma may help guide the use and development of microbiota-targeted strategies that benefit critically ill patients.
Patients admitted to the Intensive Care Unit (ICU) following major abdominal trauma have high morbidity and mortality, and commonly face complications such as profound inflammatory responses and development of secondary infections. The community of microbes residing in a patient's GI tract (i.e. the gut microbiota) early after trauma may contribute to the development of these complications, and even represent therapeutic targets. However, currently very little is known about how the gut microbiota interact with a patient's host defenses in pathologies like trauma and sepsis, or which microbial signatures confer benefit versus harm.
To address this gap in knowledge, Serbanescu, assistant professor in anesthesiology, will be working with her mentors, Dr. Paul Wischmeyer, professor of anesthesiology and surgery, and Dr. John Rawls, professor of molecular genetics, microbiology, and medicine, as well as Dr. Krista Haines, assistant professor of surgery. Serbanescu's proposal will leverage Wischmeyer and Haines' Department of Defense-funded SeND Home Trial – a randomized controlled trial evaluating the effect of a personalized structured nutrition program that includes early parenteral nutrition and calorie targets guided by indirect calorimetry on functional outcomes in patients with severe abdominal trauma. Serbanescu and investigators hypothesize that in the days following emergent laparotomy, patients will have reduced intestinal barrier integrity, progressive loss of beneficial gut commensals, and expansion of opportunistic microbes – derangements that, in turn, contribute to translocation of gut microbes and microbial DNA to the blood. Further, use of early parenteral nutrition is predicted to mitigate some of these derangements by reducing the loss of beneficial microbes and fortifying barrier defenses. Using integrated analyses of 16S rRNA amplicon sequencing of paired rectal swabs and blood samples, and biomarkers of intestinal permeability and inflammation collected in the days following ICU admission, they will begin to delineate the relationships between gut and blood microbial communities, intestinal permeability, and host responses in trauma, and identify how nutritional interventions shape these dynamics.