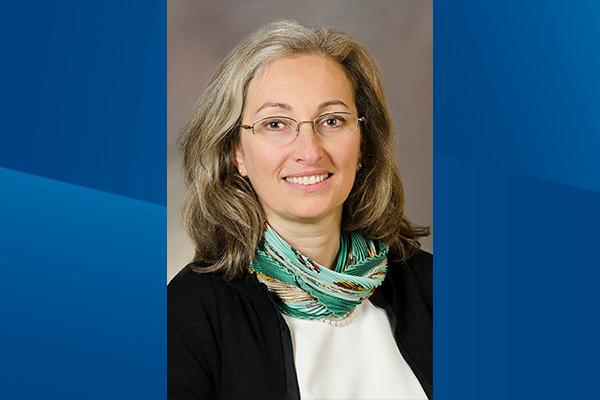 We are pleased to announce that Miriam M. Treggiari, MD, PhD, MPH, has been appointed as a professor of anesthesiology and our department's vice chair for research, effective April 1. She joins us from the Yale School of Medicine where she currently serves as the vice chair for clinical research in the Department of Anesthesiology.
In her new role at Duke Anesthesiology, Dr. Treggiari will be responsible for developing an interdisciplinary strategy for the department and continue to lead efforts to grow, promote, and support research and scholarship of programs in pain medicine/mechanisms, cognitive decline after surgery, transfusion medicine, organ preservation and resuscitation, perioperative genomics, obstetrics, simulation and safety, and hyperbaric medicine. She will also develop a multidisciplinary research vision, strategically leading and identifying novel investigative opportunities, while ensuring that junior faculty members establish formal career development plans with aggressive, but realistic, timelines and milestones in a pathway to research independence.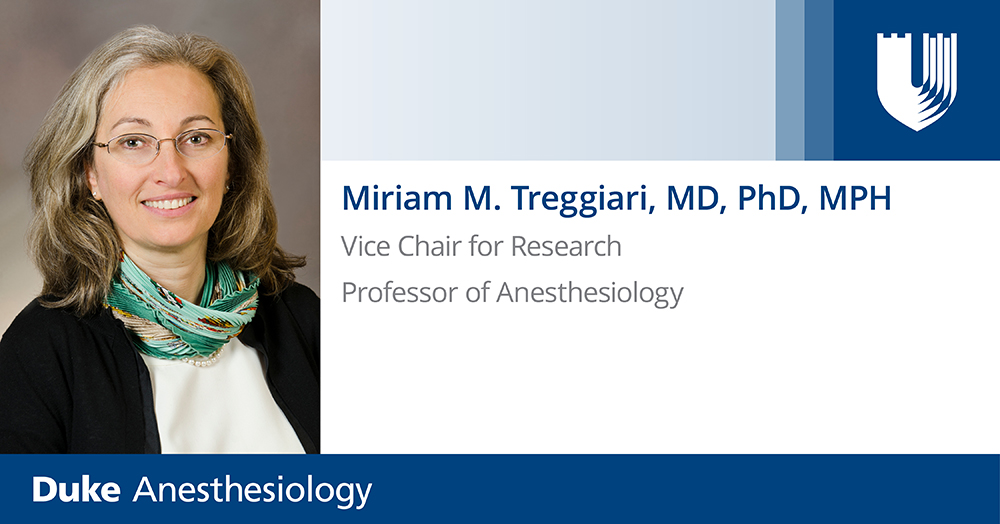 "It has been inspiring to see the energy and commitment of Duke Anesthesiology to advance knowledge and discovery. I am looking forward to joining the talented teams and serving to advance and promote the department's academic mission," says Dr. Treggiari.
Dr. Treggiari is an internationally-recognized leader in the area of clinical and outcomes research in the perioperative setting with special emphasis in critically ill and neurocritical care patients. Her scholarly work on ICU sedation has contributed to shaping societal guidelines on the management of sedation in critically ill patients. As a result of the recognition for her work to improve outcomes in patients with subarachnoid hemorrhage, she has contributed to the development of the international guidelines for the management of these patients. More recently, she has been chairing the international guideline committee working on the updated guidelines. Her current efforts continue to be in the implementation of large pragmatic clinical trials to improve outcomes in critically ill patients. Her current clinical trials focus on the prevention of ventilator-associated pneumonia using different models of endotracheal tubes and evaluating long term cognitive function. She is also PI for a multi-center trial investigating the hemodynamic management of patients with acute spinal cord injury. Driven by her passion to improve outcomes in the perioperative period, she has led several quality improvement initiatives, including the implementation of health system-wide ICU sedation protocols, perioperative and ICU glycemic control guidelines, ICU extubation safety protocols, and initiatives to coordinate and integrate care in the perioperative period.
In 2003, Dr. Treggiari joined the Department of Anesthesiology and Pain Medicine faculty at the University of Washington in Seattle. During her 11 years there, she served as the director of ICU research and the medical director of the Neurocritical Care Service. During that time, she also served for seven years as the associate medical director of the Cystic Fibrosis Therapeutics Development Network Coordinating Center in Seattle. In 2014, Dr. Treggiari joined the Department of Anesthesiology and Perioperative Medicine faculty at the Oregon Health and Science University (OHSU) in Portland, where she served as the director of clinical research for two years and went on to become the vice chair for clinical research. Before joining Yale in 2019, she received one of the highest honors in academia as a recipient of an endowed professorship at OHSU and was elected to the FAER Academy of Research Mentors in Anesthesiology.
Dr. Treggiari received a medical degree from both the University of Pavia in Italy and the University of Geneva in Switzerland. She completed an anesthesiology residency and a fellowship in critical care medicine at Geneva University Hospitals in Switzerland. In 2002, Dr. Treggiari received her master of public health (MPH) degree in epidemiology at the School of Public Health and Community Medicine at the University of Washington in Seattle, where she also received her PhD. In 2020, she was granted an honorary master's degree (MA Privatim) from Yale University.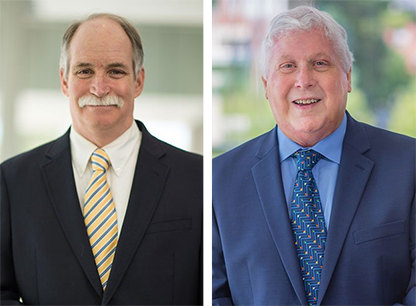 We would also like to express our appreciation to the six-member search committee for their collective time, efforts and contributions to the search process and selection of Dr. Treggiari as the vice chair for research – an important task that helps ensure the future success of the department and our research initiatives. The search committee was co-chaired by Drs. Evan Kharasch and David S. Warner and comprised of departmental members Drs. Miles Berger, Padma Gulur, Mihai Podgoreanu, and Niccolo Terrando.
We look forward to Dr. Treggiari carrying on the legacies of our beloved and late Drs. Warner and William "Bill" Maixner, who preceded her in this leadership role as vice chair for research (Warner, 2001-2017; Maixner, July 2017-November 2020). They will always be remembered for their selfless commitment to scientific discovery and mentorship.
Please join us in congratulating Dr. Treggiari on her new appointment in our department and welcoming her to the Duke Anesthesiology family.