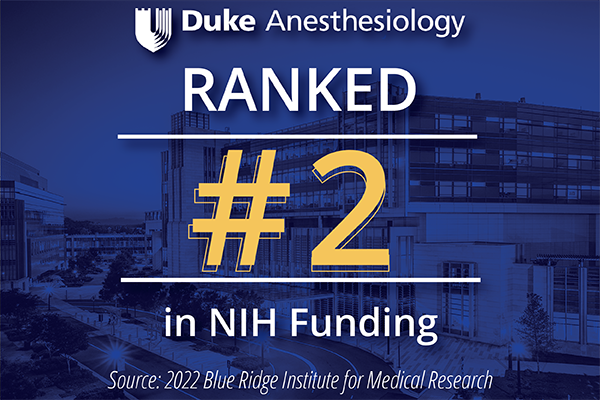 In its annual release of rankings, the Blue Ridge Institute for Medical Research ranks Duke Anesthesiology the #2 anesthesiology clinical science department in the country for National Institutes of Health (NIH) funding ($20.6 million) – establishing Duke as one of the premier research institutions in anesthesiology across the country.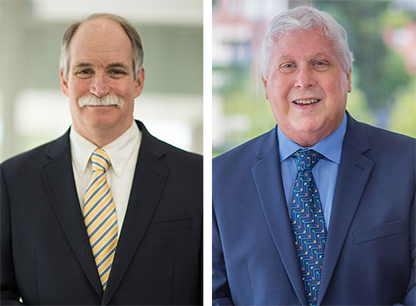 This historic departmental ranking marks more than 30 years of hard work and dedication, beginning with the efforts of the late Dr. David S. Warner, who is credited for building the foundation of Duke Anesthesiology's research program. The department also recognizes the late Dr. William "Bill" Maixner, who provided the vision and the mentorship necessary for this extraordinary accomplishment. Additionally, this ranking acknowledges our NIH investigators, research staff and all members of the department for their commitment to advancing patient care through innovative research.
The Duke University School of Medicine continues its leadership in biomedical research; it was awarded more than $527 million in federal funding from the NIH, ranking #9 nationally among academic medical centers. Duke has ranked in the top 10 in NIH research funding nationally in 19 of the last 22 years. 
"Duke scientists are making an enormous difference in advancing scientific knowledge and improving human health," says Dean Mary E. Klotman in an article published by the School of Medicine. "Their consistently strong record of research funding is a testament to their excellence and innovation, and I am proud of our faculty, students, and staff for their commitment to biomedical science in service to society." 
The NIH is the largest public funder of biomedical research in the world, investing more than $45 billion in 2022 to advance research aimed at improving health.