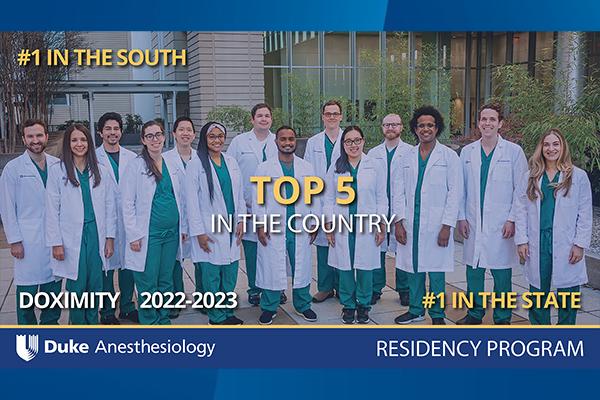 We're proud to announce that our Duke Anesthesiology Residency Program has once again been ranked among the top five residency programs (by reputation) in our specialty, nationwide. Specifically, we have maintained our #5 ranking, as revealed by Doximity's 2022-2023 Residency Navigator. 
Our program has also, once again, been ranked #1 in the region (south) and #1 in the state of North Carolina. 
Each year, Doximity and US News & World Report collaborate to collect residency program reputation rankings across 28 specialties, nationwide. The reputation component is powered by Doximity's annual Residency Nomination Survey. Residency Navigator is a comprehensive residency program directory (including more than 4,000 residency programs) used by approximately 90-percent of graduating fourth-year medical students.
We'd like to extend our congratulations and gratitude to everyone within our department who works hard every day in support of our program and residents.