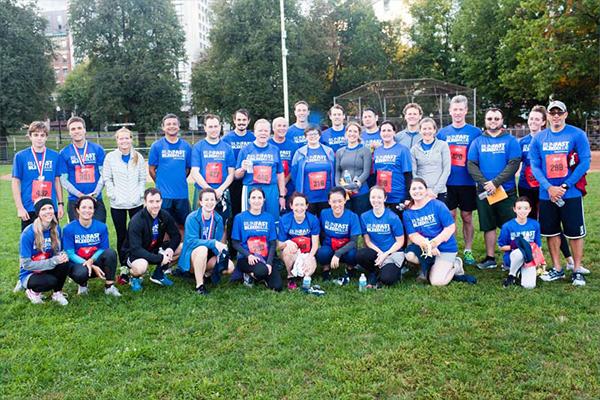 Duke Anesthesiology rallied until the last minute on Saturday, October 21 to secure their title of "top fundraising team" for the seventh consecutive year at the 8th Annual ASA Sponsored Run For The Warriors race at the Boston Common!
Congratulations to Duke Anesthesiology for reaching their fundraising goal and raising more funds than any other team at this year's event – a total of $11, 895 ($4,490 more than last year). All funds raised will benefit the men and women wounded during service, their families, and families of the fallen through the many Hope For The Warriors® programs.
Thank you to the 42 Duke Anesthesiology race participants (listed below) and donors who raised money for this nonprofit veteran service organization. A special congratulations goes to Drs. Atilio Barbeito (faculty), his son, Jose, and Stephanie Jones (fellow) who medaled for having one of the top three race times in their division (gender/age group)! Dr. Barbeito placed 2nd in his division and 7th overall. Jose placed 2nd in his division and 5th overall. Dr. Jones placed 3rd in her division.
Wads Ames
Atilio Barbeito
José Maria Barbeito
Luz María Barbeito
Miles Berger
Brandi Bottiger
Chad Burkhart
Jessica Burkhart
Eric Cole
Sarah Cotter
Theresa Crowgey
Jonathan Dunkman
Dave Falcinelli
Jenna Falcinelli
Michael Fierro
Kyle Fletke
John Gamble
Mike Grocott
Stacey Hilton
Alina Hulsey
Courtney James
Luke James
Stephanie Jones
Catherine Kuhn
Annabelle Levine
Matthew Levine
Angela Pollak
Ying Low
Kelly Machovec
David MacLeod
Jonathan Mark
Joseph Mathew
Rachael Mintz-Cole
Richard Moon
Alina Nicoara
Kendall Smith
Kelsey Steller
Alena Suarez
Arturo Suarez
Annemarie Thompson
Bryn Van Hoomissen
Julie Westover