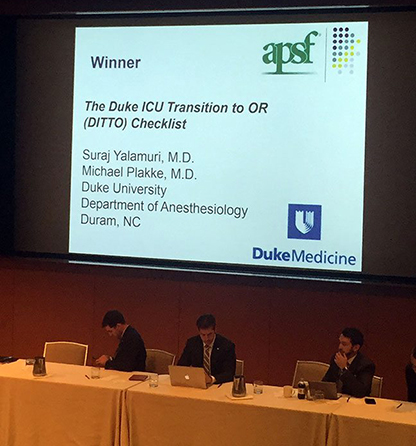 The Anesthesia Patient Safety Foundation (APSF) has named a Duke Anesthesiology team as the winner of the 2017 APSF Resident Quality Improvement (RQI) Recognition Award.
The winning video is titled, "A Bedside Tool to Improve Safety and Efficiency of Cardiothoracic ICU Patient Transport: The Duke ICU Transition to OR (DITTO) Checklist." Authors include: Suraj Yalamuri, MD, and Michael Plakke, MD (team leaders); John Haney, MD, AB, MPH; Brad Taicher, DO, MBA; Madhav Swaminathan, MD, FASE, FAHA; Cory Maxwell, MD (mentors), for the DITTO Team (Hassan Amhaz, MD; Vinca Chow, MD; Heather Pena; Joseph Deblasio; Mollie Kettle; Jhaymie Cappiello; Jessica Lumbard; Rachel Gambino; Courtney Thurman).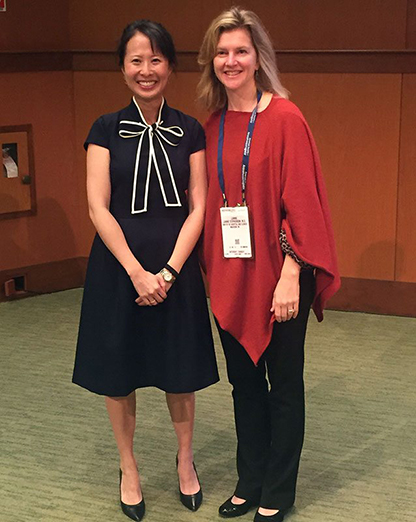 According to the project's abstract, critically ill patients in the Cardiothoracic Intensive Care Unit often require invasive monitoring systems and life-sustaining medical therapies. When transport to the operating room for surgical procedures is needed, much coordination and preparation is required. Using a collaborative effort with stakeholders from several medical teams involved in critically ill patient transport, the authors were able to create and implement a checklist that both significantly improved efficiency and decreased variability of transport times. They were able to decrease transport times by more than 50 percent without increasing the stress and workload of the medical teams.
Winners were announced at the award ceremony on Sunday, October 22, at the annual meeting of the American Society of Anesthesiologists in Boston. Dr. Eun Eoh accepted the APSF award on behalf of the team leaders.