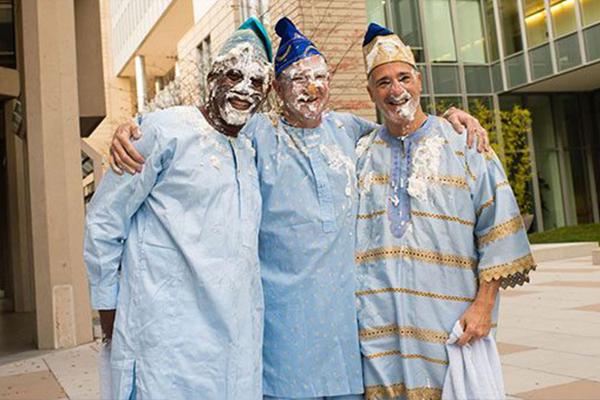 For the first time since the launch of Duke Anesthesiology's Pie in the Face event, there was a tie for first place in fundraising! Departmental members gathered in the courtyard outside of the Trent Semans Center on November 30 to watch the winners, Drs. Adeyemi Olufolabi and Stephen Parrillo, graciously accept a celebratory pie in the face, hand-delivered by Drs. Erin Manning and Ashraf Habib.
This year's three "competitors," who arrived to the event in coordinating outfits, raised a total of $4,185 which goes toward departmental residents' travel expenses for their global health missions. Drs. Olufolabi and Parrillo both raised $1,590. The runner-up, Dr. Gavin Martin, raised $1,005. Dr. Ellen Flanagan did the honors and surprised him with a pie in the face as well. We thank all of the donors for their generosity and the contestants for participating in this year's fourth annual global health fundraiser!
Previous Pie in the Face winners include Duke Anesthesiology's chairman, Dr. Joseph Mathew, along with Drs. Solomon Aronson and Eddie Sanders. Anesthesia plays a critical role in global health care and there is a great need for anesthesiologists abroad. In response, Duke Anesthesiology continues to take steps to encourage its global presence in countries that need it the most. Click here to learn more and/or make a gift to the department's Global Health Program.