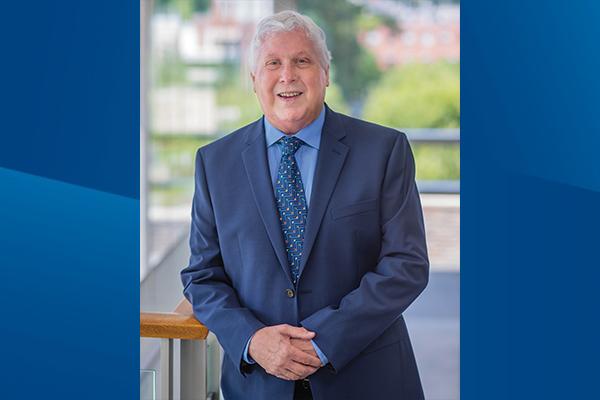 It is with profound sadness that we inform you about the passing of a beloved member of our Duke Anesthesiology family, William "Bill" Maixner, DDS, PhD. He passed away on November 2 at the age of 68 after battling an illness. Duke flags were lowered on November 4 in honor of his life and legacy.
Dr. Maixner, the Joannes H. Karis, MD, Professor of Anesthesiology, was a world-renowned pioneer in pain research and one of our department's most distinguished faculty. He will be remembered as an extraordinary leader, innovator, scientist and mentor who dedicated his life-long career to unraveling the mysteries of chronic pain and was committed to translating basic discoveries into novel diagnostics and treatments to positively impact research, education and patient care.
On January 1, 2016, Dr. Maixner joined our department from the School of Dentistry at the University of North Carolina at Chapel Hill (UNC-CH), where he was the Mary Lily Kenan Flagler Bingham Distinguished University Professor, to further expand our clinical and research program in pain medicine. During his short time with us here at Duke, he achieved incredible milestones. Dr. Maixner developed and led the Center for Translational Pain Medicine, which recently received the rare and prestigious designation as a National Center of Excellence through an $8.5 million National Institutes of Health (NIH) program project grant (PPG), the first PPG in 40 years awarded to our department. He was a visionary who brought to fruition a center that united leading basic scientists, clinicians and clinical researchers under one umbrella, with the core mission of developing novel pain therapies to improve patient care. Through his leadership, this center has rapidly become internationally-recognized as a best-in-class translational pain medicine program, ultimately transforming the way we diagnose and treat painful conditions. He was also instrumental in developing Duke Innovative Pain Therapies, a first-of-its-kind multispecialty pain practice focused on non-opioid therapies, which opened its doors to patients in September 2016. In 2017, Dr. Maixner received one of the highest honors in academia with his appointment as the Joannes H. Karis, MD, Professor of Anesthesiology, designated by the Duke University School of Medicine, becoming only the fifth faculty member in our department to be named a distinguished professor. This endowed professorship recognized his remarkable achievements in advancing medical science, significantly shaping the field of pain research and education, profoundly impacting patient care and exemplifying superior mentorship. That same year, he was named our department's vice chair for research.
Dr. Maixner was originally from Ottumwa, Iowa. After completing his BA, PhD, and DDS at the University of Iowa, he became a research fellow at the National Institute of Dental Research. He went on to become faculty at UNC-CH, where over the span of 30 years, he served as a professor in the Departments of Endodontics and Pharmacology, co-director of the Oral and Maxillofacial Pain Program, associate dean for academic affairs in the School of Dentistry, and director of the Center for Pain Research and Innovation.
Dr. Maixner played a key role as a knowledge leader in the field of pain; he served as president of the American Pain Society and on our nation's Health and Human Services Interagency Pain Research Coordinating Committee and the NIH's Pain Consortium, in which he helped shape the direction of our nation's national strategies in pain research, education and patient care. He considered chronic pain to be a "hidden epidemic" and proudly campaigned for more research support amongst colleagues, sponsors, health organizations, and congressional committees.
Dr. Maixner earned several accolades throughout his career, including the New York College of Dentistry Distinguished Scientist Award and the Wilbert E. Fordyce Clinical Investigator Award from the American Pain Society. His primary research focus was on biological, environmental and genetic factors involved in pain transmission and modulation. Notably, Dr. Maixner was the principal investigator on the National Institute of Dental and Craniofacial Research's (NIDCR) $19 million, seven-year OPPERA study to examine pain produced by temporomandibular joint and muscle disorders. In 2012, the NIDCR awarded him and his team an additional $16 million in funding to support the study (called OPPERA II) for an additional five-year period. He published more than 200 manuscripts and book chapters and was continuously funded by the NIH since 1986.
Additionally, Dr. Maixner was appointed as a member of the Foundation for Anesthesia Education and Research Academy of Research Mentors in Anesthesiology. His mentorship skills were evidenced by the success of the numerous students, trainees and mid-career scientists whom he mentored throughout his career.
Dr. Maixner's legacy of innovation within all three pillars of research, education and patient care will forever be remembered here at Duke as we continue to honor his accomplishments and grow his goals. Most importantly, his legacy will live through his family. He was a dedicated and loving husband to his wife, Viravan, father to his two children, William and Dylan, and grandfather to two granddaughters born in 2020. Please join us in extending our sincerest condolences to Dr. Maixner's family, friends and colleagues.
To ensure that Dr. Maixner's legacy is preserved, memorial gifts may be made to the William Maixner Gift Fund to establish a professorship in his name at the Duke University School of Medicine. This highly-coveted, permanently named memorial will honor his exceptional achievements, fuel scientific discovery, and invest in teaching and mentoring the next generation of leaders, providing an extraordinary opportunity to make a difference and to invest in his legacy of excellence.
Updated May 25, 2021