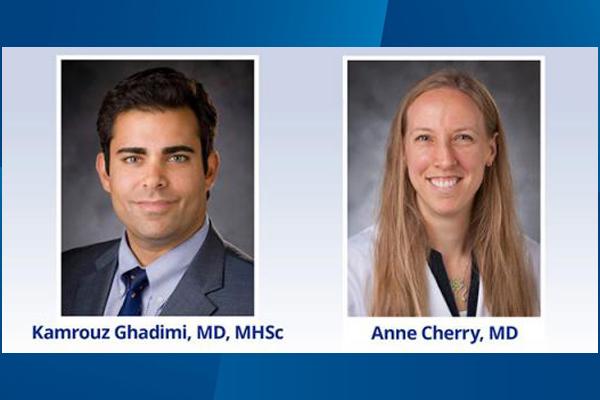 We are pleased to announce that Kamrouz Ghadimi, MD, MHSc, and Anne Cherry, MD, have been appointed new leadership roles in our department's Clinical Research Unit (CRU); Dr. Ghadimi will serve as director and Dr. Cherry will serve as assistant director of the unit, effective January 1. With this announcement, please also join me in expressing our gratitude to Edmund Jooste, MB ChB, for his seven years of service as director of the CRU and Michael "Luke" James, MD, FAHA, FNCS, who stepped down as assistant director in July 2021.
CRUs are the operating business units responsible for the integrity, financial accountability, regulatory compliance, quality, and academic productivity of clinical research studies taking place at Duke Health. Study selection decisions are made within the CRUs, as well as the coordination and allocation of resources, and the flow of funds associated with individual studies. Our CRU is a departmental initiative to further organize our clinical research efforts in all areas of perioperative and critical care research at Duke Health. This research has led to changes in clinical practice and has improved outcomes for patients after surgery.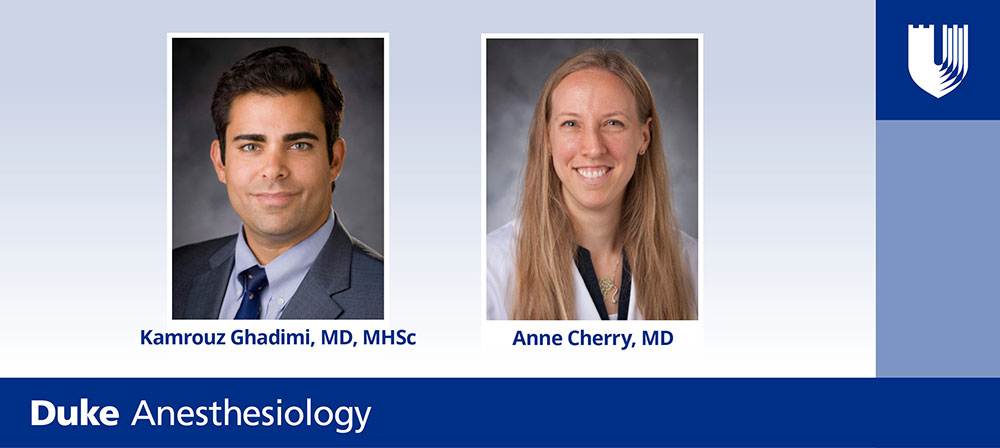 As the director, Dr. Ghadimi will oversee the decisions and responsibilities of the CRU and its nearly 300 protocols. Together, in their new roles, he and Dr. Cherry will serve the department by providing our investigators with a valuable and innovative approach to the conduct of research. This approach will be coupled with the high level of integrity and regulatory compliance that has been a hallmark of the CRU. Additionally, Drs. Ghadimi and Cherry aim to promote participation in clinical research across the department by identifying and addressing barriers to participation or access to CRU resources. They will also engage in interdepartmental communications with other CRU leaders and the vice dean of clinical research, Dr. Susanna Naggie, regarding new innovations and updates about ongoing research initiatives for Duke Health.
"Our CRU is the linchpin of conduct and implementation of prospective studies that originate from our department; this includes the majority of clinical trials and prospective clinical research with translational and basic science components. As principal investigators within the department, we have had the distinct pleasure of working with the various talented individuals within our CRU and we appreciate their touchstone contributions to our department's larger research enterprise and gravitas," say Drs. Ghadimi and Cherry. "We look forward to our new roles working alongside our colleague Bonnie Funk, the backbone of operations for our CRU, and building upon the strong foundations that have been established by previous leaders, including Drs. Joseph Mathew and Edmund Jooste, that have placed us in pole position to navigate the next phase of clinical research at Duke Health."
Dr. Ghadimi received his medical degree from the Boston University School of Medicine. He went on to complete an internship in general surgery at the University of California Irvine Medical Center and Long Beach Veterans Affairs Medical Center and a clinical anesthesiology residency at the Allegheny Health Network in Pittsburgh. He also completed clinical fellowships in adult critical care medicine and cardiothoracic anesthesiology at the University of Pennsylvania. Dr. Ghadimi joined Duke Anesthesiology faculty in 2014 as an assistant professor. He recently earned a master of health sciences degree (MHSc) from the Duke-NIH Clinical Research Training Program and led the landmark INSPIRE-FLO randomized clinical trial which compared inhaled pulmonary vasodilator therapy in patients undergoing heart and lung surgery. He has served as the assistant director of the CRU since July of 2021.
Dr. Cherry received her medical degree from Duke University School of Medicine, where she went on to complete both an anesthesiology residency and a fellowship in cardiothoracic anesthesiology (as administrative chief). She joined Duke Anesthesiology faculty in 2013 as an assistant professor. Since 2017, Dr. Cherry has served as the director of fellowship research for the Adult Cardiothoracic Anesthesiology Fellowship and provided oversight for the department-wide fellow seminar research block; related to these research education roles, she has developed didactics, encouraged proactive mentor-mentee team formation, and developed infrastructure to more rapidly initiate fellow projects. She is currently pursuing an MHSc degree from the Duke-NIH Clinical Research Training Program.
Please join us in thanking Drs. Jooste and James for their leadership and congratulating Drs. Ghadimi and Cherry on their new appointments in our department.