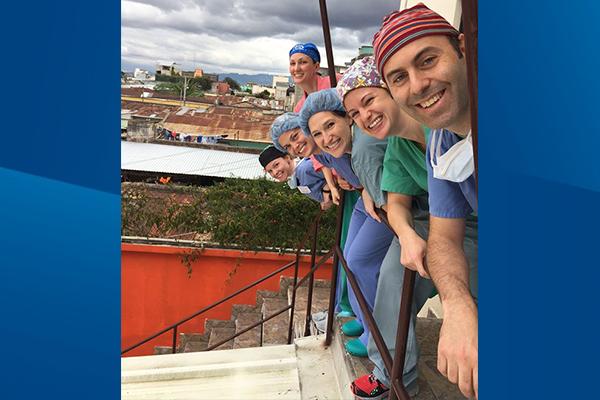 A: Dr. Brad Taicher takes us on his journey abroad to provide a snapshot of how our department and residency program make a real difference in the lives of others.
It's March 11th and we've safely arrived in Guatemala City, Guatemala for the sixth time in as many years to help evaluate and care for a group children undergoing general and urologic surgeries. This year's anesthesia team is comprised of Stephanie Jones (CA-3 resident), Dayna Seguin (CRNA) and Becky Motykiewicz (CRNA), as well as three local anesthesia residents who will anesthetize with us throughout the week (Drs. Miguel Gonzales, Amilkar Garcia and Yolanda Castaneda). On our first day, we saw 80 plus children come through the clinic to be evaluated by our surgical team for appropriateness, and by our anesthesia teams to ensure they are medically optimized, and plan for the week ahead.
Why Guatemala? It's the poorest country in Central America, and one of the poorest in the world. The public health system in Guatemala is well developed, but bankrupt. It lacks sufficient resources to provide care for all in need, creating an enormous backlog of patients, many of whom have no chance of ever receiving the surgeries they need through the public health system. There are about 4.5 million people in and around Guatemala City; more than 90 percent of whom rely on the public system and only two significant public hospitals to handle major surgeries. These two hospitals are only provided enough funding to purchase supplies to do elective operations in the mornings for about half of the year. When they run out of supplies, it's emergency surgery only. There is no pediatric fellowship training here for those who are interested, so when I'm here, I'm usually the only pediatric anesthesiologist in the country. Pediatrics is an interest for many here, but a job for few. And for perspective, Guatemala is a country of children with greater than 50 percent of the population less than 18 years old.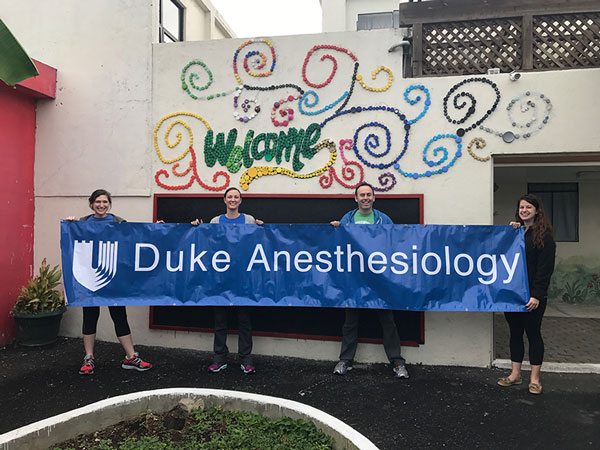 In the United States, we may encounter patients who lack the skills to cope with the stress of their surgical encounter. In Guatemala, it is the opposite; patients have overdeveloped coping skills secondary to the conditions of their upbringing and the ubiquitous violence. It is often said that Guatemalan children don't cry because they have long ago run out of tears. Our mission brings hope to these individuals and families while simultaneously seeking a sustainable model by supplementing pediatric training for local providers and collaborating on research and quality improvement endeavors with local institutions.
In addition to Guatemala, Duke teams have traveled to Ghana, Haiti, Philippines, India, and countless other countries. We are grateful for the phenomenal support provided by our department, hospital, and university over the past six years and the opportunity to include our own trainees and CRNAs on our mission trips. We are excited to continue our collaboration here in Guatemala, and look forward to another successful trip!