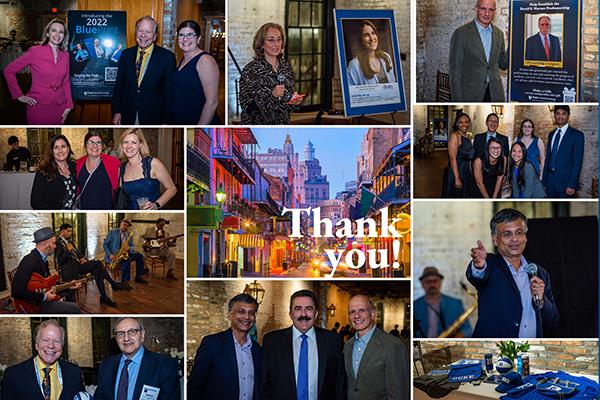 We would like to thank all members of our department who helped make this year's American Society of Anesthesiologists (ASA) meeting in New Orleans a success. Duke Anesthesiology made a big impression at this year's event with 27 faculty and trainees participating in the conference, including 70 lectures, workshops, panel discussions, presentations, and more.
During the conference, we hosted Duke Anesthesiology's 32nd Annual ASA Alumni Event at The Chicory for a night of celebration. The anticipated highlight of the evening was the reveal of the 2023 DREAM Innovation Grant (DIG) recipient.
Congratulations to: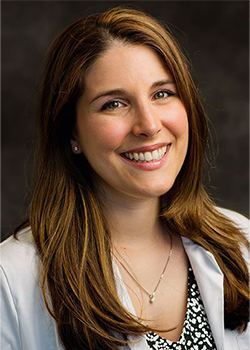 Leah Acker, MD, PhD
2023 DIG Recipient
"A Pilot Feasibility Study of Day-of-Surgery PeriOperative Transcutaneous Auricular Vagus Nerve Stimulation (taVNS) Effects on Neurocognitive and Neuroinflammatory Trends (POTENT+)"
DIGs are part of the department's Duke DREAM Campaign, which was launched in 2007. These grants support innovative high-risk and potentially high-reward investigations to accelerate anesthesiology, perioperative, critical care, and pain management research. Each DIG recipient can receive up to $40,000 in seed money for their pilot study which ultimately helps them apply for and obtain extramural funding. To date, $1,021,109 in DIGs have led to more than $17 million in extramural funding. We would like to express our appreciation to the DIG Application Review Committee and the donors who continue to support our research programs and initiatives, ultimately helping us transform the future of patient care. Please click here to make an online donation to our Duke DREAM Campaign.
As we also highlighted at our ASA Alumni Event, as we approach end-of-year giving opportunities, we invite you to make a gift to help us achieve our goal of formally establishing the David S. Warner Professorship at the Duke University School of Medicine. We are about $14,000 away from reaching this goal and preserving Dr. Warner's legacy within academic medicine.
VIEW THE ASA ALUMNI EVENT PHOTO GALLERY
We sincerely appreciate your continued support of Duke Anesthesiology and your commitment to our mission of providing extraordinary care through a unique culture of innovation, education, research, and professional growth. We are particularly grateful to those who worked in the operating rooms during the ASA so that others on our team could attend.
Here's to a successful 2023 and we look forward to celebrating at our ASA Alumni Event next year in San Francisco.