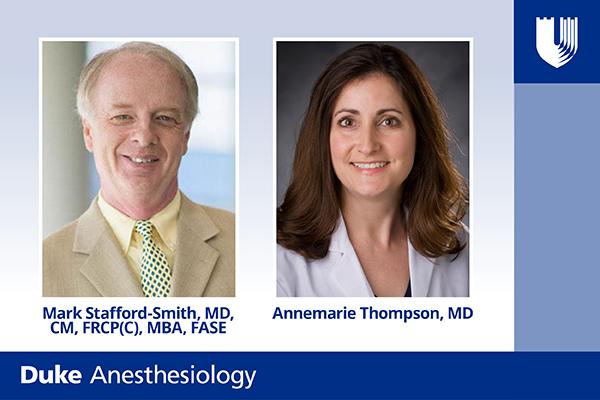 Following a 38-year career in the field of anesthesiology, with 29 of those years here at Duke Anesthesiology, please join us in expressing our sincere gratitude to Mark Stafford-Smith, MD, CM, FRCP(C), MBA, FASE, for his decades of dedication, service and leadership, and extending him our best wishes in retirement as he formally steps down from his position as the vice chair for education. As we begin the important process of a national search for his position, we are pleased to announce that Annemarie Thompson, MD, will transition into her new role as the interim vice chair for education on August 1, while continuing her current role as director of our Duke Anesthesiology Residency Program.
"I will be forever grateful for my training at Duke, and the subsequent generosity of time and ongoing guidance from a host of Duke mentors throughout my career," says Dr. Stafford-Smith, professor of anesthesiology. "Prior to coming here, I had no appreciation of the numerous ways through which I could contribute to patient care, but it has been the commitment to excellence, the collaborative culture and comradery that have kept me here. The thing I will miss the most will be working with such excellent colleagues and witnessing the growth of our next generation of trainees."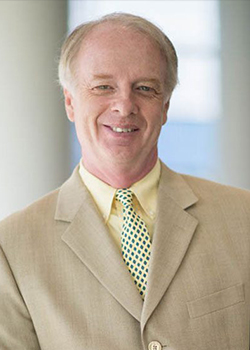 Dr. Stafford-Smith received his medical degree from McGill University in Montreal before completing a residency in family medicine at Dalhousie University in Nova Scotia. After working as a rural family practitioner there for nearly three years, he returned to Dalhousie to complete an anesthesiology residency. Dr. Stafford-Smith arrived at Duke in 1992, where he also completed both a cardiac anesthesia clinical fellowship and a one-year research fellowship in the laboratory of Dr. Debra Schwinn. Four years later, he formally joined Duke Anesthesiology faculty. Most recently in 2019, he expanded his expertise through completion of an MBA degree from the University of Massachusetts, Amherst. 
Throughout his career at Duke, Dr. Stafford-Smith has played an instrumental role in medical education, including the considerable growth of our fellowships and the collaboration among them. Contrasted with 1994 when Dr. Stafford-Smith himself was one of only three graduating fellows, this year 37 fellows will graduate from our seven programs with reputations primarily top tier in their subspecialty, a fellow cohort rivalling any in quality and size across the country. For 19 years, he served as director of the Adult Cardiothoracic Anesthesiology Fellowship, providing mentorship and overseeing training for approximately 200 fellows, before being appointed the director of fellowship education in 2006 and the vice chair for education in 2013 - roles he currently holds. Nationally and internationally, Dr. Stafford-Smith has served in many education leadership roles. He was a member of the Board of Directors for the Society of Cardiovascular Anesthesiologists, chair of the Adult Cardiothoracic Anesthesiology (ACTA) Fellowship Directors Committee (an eight-year span that included revision of the fellowship curriculum and development of the ACTA match), and led a group that established the American Board of Anesthesiology (ABA)-ACTA fellowship certification exam (beginning this year). Other leadership roles have included president of the Association of Anesthesiology Subspecialty Program Directors (representing all anesthesia fellowships nationally), and membership of the ACGME Residency Review Committee (RRC) for anesthesiology. As part of the RRC, he was directly involved in the development of two new ACGME-accredited anesthesia fellowships, Pediatric Cardiac Anesthesiology and Neurocritical Care. Other ABA/ACGME contributions have included serving on several milestone development committees. Recognizing his contributions to education, Dr. Stafford-Smith remains especially proud of receiving the Master Clinician Teacher Award from the Duke University School of Medicine and being inducted into the FAER Academy of Education Mentors in Anesthesiology.
Beyond his role in fellowship education, which he holds most dear, over the past 10 years as vice chair for education, Dr. Stafford-Smith has collaborated with numerous educators to lead change in other aspects of our educational mission. These include, but are not limited to: the integration of a departmental education specialist; enhancements to Duke Anesthesiology Grand Rounds and the re-establishment of its central role in our team's weekly learning; significant strengthening of medical student education (both within our department [eg. the introduction of an anesthesiology rotation to the medical school curriculum – particularly unique among medical schools], but also a new and collaborative relationship with the medical school); the introduction and evolution of virtual platforms to our department's educational mission; the design of and internal enhancement to fellowship and medical student education, along with our Education Highway, through Sakai platforms (in collaboration with Duke Learning Innovations); and continued medical education with private practice anesthesia organizations, including the creation of the Morpheus Consortium, which has facilitated online perioperative medicine and nutrition courses with students from more than 15 countries.
In addition to his significant contributions in the education realm, Dr. Stafford-Smith's research interests have focused on understanding acute kidney injury (AKI) and other serious adverse outcomes in the critically ill and postoperative patient, including the search for early biomarkers and a genetic basis for AKI, and exploring strategies to support and reverse acute kidney dysfunction. Under the mentorship of Dr. Mark Newman, Dr. Stafford-Smith notably served as a national principle investigator for a significant trial with the Duke Clinical Research Institute. He has written more than 200 peer reviewed publications, 45 book chapters and more than 200 abstracts, and he has lectured at nearly 200 invited presentations. 
The career highlights in this announcement are certainly shy of recognizing the immense accomplishments that Dr. Stafford-Smith has achieved in his seasoned career – contributions that have left a national footprint in our field, particularly the development and growth of fellowship programs.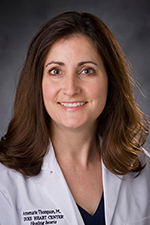 Dr. Thompson brings 18 years of experience to her new role as interim vice chair for education. She received her medical degree from Duke University before completing residency training in both internal medicine and anesthesiology at the University of California, San Francisco. She went on to complete a fellowship in both adult and pediatric cardiothoracic anesthesiology at Vanderbilt University, where she remained on faculty as director of the Adult Cardiac Anesthesiology Fellowship. In 2014, Dr. Thompson joined Duke Anesthesiology faculty as director of the residency program, a nationally-acclaimed training program in which she leads and mentors approximately 60 interns and residents, and has since been an integral part of the department's overall success in graduate medical education. Nationally, Dr. Thompson is in her second term on the Board of Directors for the Society of Cardiovascular Anesthesiologists and has served as chair of the Perioperative Education Track for the American Society of Anesthesiologists. She maintains an interest in perioperative population health having co-authored several multidisciplinary guidelines in perioperative medicine. She also currently serves as a senior oral board examiner and an ACTA MOCA question author and reviewer for the American Board of Anesthesiology. 
On behalf of our department, please join us in thanking Dr. Stafford-Smith for his years of exceptional leadership as vice chair and wishing him much joy in this next chapter of his life, as well as congratulating Dr. Thompson on her new appointment in our department.