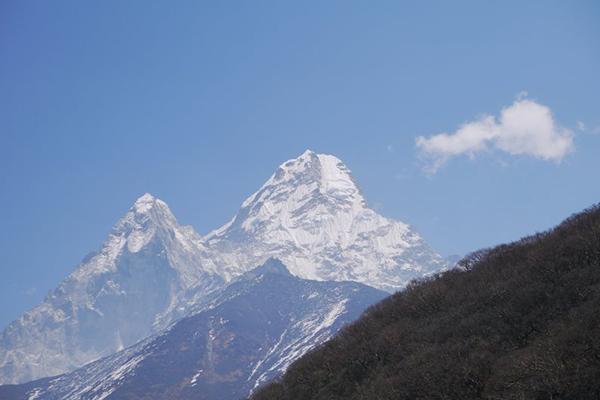 Xtreme Everest 2 trekkers have passed the 4000-meter mark and are now in Pheriche at 4270 meters (14,009 feet) in altitude. We are now on a scheduled 2 day "rest" as part of the acclimatization protocol.
We spent 3 days in Namche where we were able to catch up with Nelson Diamond from Duke (3rd-year medical student) who is working at the Xtreme Everest lab there under the able guidance of Monty Mythen.
The rest interval after the tough walk up to Namche was most welcome. Hot showers, short hikes, and visits to the coffee shop in town (really coffee!) helped with the acclimatization process. The views of Everest from just beside the lodge were spectacular!
Baseline oxygen saturations improved to the high 80s – low 90s for most of the trekkers and everyone was rested for the next leg of the journey.
Namche to Deboche was a beautiful trek with Everest in view ahead of us throughout the day and  Ama Dablam (or the upside-down ice cream cone, as some of the trekkers refer to it) our constant companion on the right-hand side.
Incredibly, even the fittest trekkers demonstrated saturations in the low 70s during some of the more strenuous parts of the hike.
Deboche to Pheriche was again a spectacular day with incredible views and beautiful weather. Other than the afternoon of rain on the hike from Lukla to Monjo, it has been beautiful, sunny weather. As we gain altitude the rhododendron forest has given way to pine and now scattered shrub junipers are the only vegetation we see. The Himalayan Rescue Association is based here in Pheriche, where they provide medical care for trekkers and the local population. Fortunately, none of the XE2 trekkers have required their services.
So, it's another day of rest (an "easy" 400-meter acclimatization hike tomorrow morning) before the final 3 day push on to Base Camp.
See the XE2 blog for additional updates and tweets:
http://www.xtreme-everest.co.uk