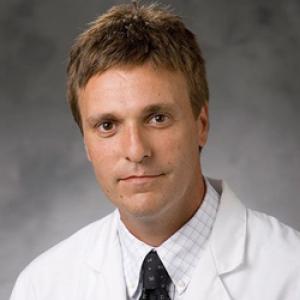 Associate Professor of Anesthesiology
2015 DIG Research Projects | "Using Health Information Technology to Bridge the Quality Gap in Anesthesiology"
Background
I grew up in Buenos Aires, Argentina, where I studied medicine. My father, also an anesthesiologist, exposed me early on to the specialty of anesthesiology. When the time came to find a residency program, I sought Duke as a place where I could find excellent training in clinical care and a solid foundational training for an academic career in anesthesiology. I found this and much more.
After completing internship, residency, and a fellowship in Cardiothoracic Anesthesiology, I accepted a position as faculty in the department. During this time, I made many great friends, teachers, and colleagues.
As I began my practice, I was heavily influenced by the words of Dr. Urbach and others, who pointed out, "The immediate challenge to improving the quality of surgical care is not discovering new knowledge, but rather how to integrate what we already know into practice." Taking these words very seriously, I began trying to find solutions to common problems in order to make healthcare delivery safer and more effective. To do this, I pursued training in Public Health at the University of North Carolina – Chapel Hill, which I completed in 2012. Since then, I have been working to improve the way we deliver care around the time of surgery both at Duke and at the Veterans Affairs Medical Center.
Research
A current paradox is the fact that we spend many hours a day collecting data on our patients, yet we know very little about them as a population. Despite the vast amounts of notes, diagnoses, laboratory and other test results, demographics, and vital signs that are entered into our electronic health record system daily, we cannot yet answer simple questions regarding our own personal practice, such as the number of cases or procedures we perform each month, our patients' average pain scores during recovery, or the most common complications that our patients experience after a certain type of procedure. Although we know a lot about each patient we treat, we lack a panoramic view or our practice. In other words, we are data rich, but information poor. As a consequence, we don't understand our system, and we therefore create activity that not always adds value. We lack the opportunity to uncover patterns and trends, and to test what works and what doesn't in our day-to-day practice.
Together with a group of anesthesiologists and a human factors engineer, we envisioned a system that would allow each provider to access up-to-date information on his or her practice, on demand, and presented in an easy-to-use format. Our proposal is to create a quality improvement dashboard that contains key quality improvement metrics and displays them using data visualization principles.
The DREAM Campaign is providing our group with the opportunity to pursue this goal, which is to develop key quality improvement metrics and then create a prototype dashboard.  Future plans include an assessment of the impact of such a tool on provider behaviors and patient outcomes, and the creation of predictive models for specific patient populations. We are thankful for our DREAM Campaign donors and their support and investment in our work.
Personal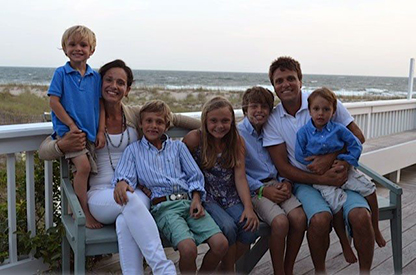 I am most grateful to my wife, Luz María Arieu, MD, and our 5 children, who support this work daily by putting up with many late evenings and missed dinners. We live in Chapel Hill and have a busy but happy household that includes sheep, two shepherd dogs, and several chickens. I am deeply grateful to the DREAM Campaign for supporting our research, which we believe will help accelerate the pace of improvement in the quality of care we provide to our patients around the time of surgery.