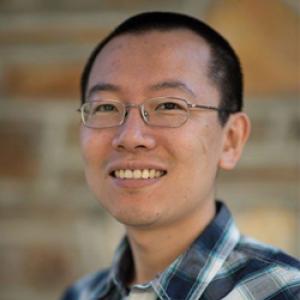 Adjunct Assistant Professor
2015 DIG Research Projects | "Investigating Mechanisms Underlying Pathological Itch Conditions"
Background
I was born in Tangshan, Hebei Province of China. In 1976, my hometown was struck by an earthquake (magnitude 7.8), known as the Great Tangshan Earthquake, which claimed over 240,000 lives. By death toll, this was the largest earthquake of the 20th century. We lost many of our relatives, but our Tangshan people were never intimidated by the disaster and we managed to rebuild our hometown within years. My parents were among the generations that devoted their lives to the reconstruction of our hometown, and I was lucky enough to be born 5 years after the earthquake. Although the Great Earthquake is a memory deeply rooted in our minds, it taught us how to be strong, persistent and optimistic in our lives. These are the invaluable merits I have inherited from my parents.
I got my Bachelor's Degree in Pharmaceutics from Hebei Medical University, China. After college, I went on to pursue my M.S. and Ph.D. in Pharmacology from Hebei Medical University. I received a lot of inspiration and encouragement from my mentor, Dr. Hailin Zhang, and became deeply interested in ion channel studies. Dr. Zhang taught me not only how excel in science, but also how to be a person with great integrity.
While under his mentorship, I received an award from the China-UK Joint Laboratory for Membrane Biology, and had the chance to visit Dr. Nikita Gamper's lab at the University of Leeds, UK, for 4 months. Under the guidance of Drs. Gamper and Zhang, and with the help from my colleagues, I was the first scientist to identify the molecular mechanisms underlying bradykinin (one of the most endogenous algogens) induced inflammatory pain. This project also ignited my tremendous interest in pain and neuronal sensory biology.
After earning my Ph.D., I joined the lab led by Dr. Sven-Eric Jordt, one of the leading scientists in the world, studying mechanisms of counterirritant and neurobiology of sensing at Yale School of Medicine. There, I studied mechanisms of pain and itch in pathological conditions. After my postdoctoral training at Yale, I moved with Dr. Jordt to Duke University Medical Center and started my academic career as an Assistant Professor in the Department of Anesthesiology; where I am currently studying the mechanisms underlying analgesia, skin inflammation, and pruritus (itch).
Research
Allergic contact dermatitis (ACD) is the major cause of occupational and environmental skin disease, and accounts for approximately 20% of all work-related health com­plaints. One of the major characteristics of ACD is persistent pruritus, leading to scratching behavior that further damages the skin and facilitates access by allergens and pathogens. Compelling evidence has suggested that the TRP ion channel, TRPA1, plays an important role in mediating inflammation and itch. My recent work has focused on the importance of the TRPA1 channel in mediating the skin inflammation and pruritus in an ACD mice model established by the experimental allergen oxazolone. I found that pharmacological blocking of the TRPA1/Substance P pathway strongly attenuate symptoms of ACD.
I have realized the limitations of the oxazolone-ACD model and begun establishing a mouse model with high translational relevance using urushiol, the contact allergen of poison ivy.
In the US, the most common ACD is caused by contact with poison ivy, with more than 10 million cases each year. People who come in contact with poison ivy suffer from skin inflammation and severe itch sensation. Despite its prevalence, few studies have been published exploring the detailed immune and subsequent pathological and pruritic mechanisms involved in poison ivy ACD. The aim of this DIG proposal is to identify the potential pruritogens and prutitus pathways involved in the mouse poison ivy ACD model we have established. This study is expected to generate a database of inflammatory and pruritic mediators and signaling pathways in poison ivy contact dermatitis for further translational research.
Personal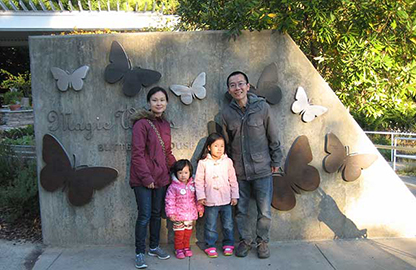 I have been married to my wife, Yan, for over 8 years. She has devoted much of her time taking care of our family. We have two lovely daughters, Yingying and Meimei. "Yingying," which sounds like "England" in Chinese, was born while I was visiting England. Similarly, "Meimei," which sounds like "America" in Chinese, was born in the US. Their names always remind me of the places where I have been. During the weekends, we love playing games, visiting museums, shopping, and enjoying our family time. We really enjoy our new lives in Durham. It is such a wonderful city.