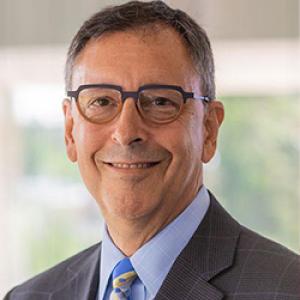 Merel H. and Armide Harmel Professor of Anesthesiology (2019)
Dr. Kharasch Awarded Distinguished Professorship
Duke University has awarded the Department of Anesthesiology's Evan Kharasch, MD, PhD, the Merel H. and Armide Harmel Professor of Anesthesiology. He is among nine School of Medicine faculty members who received a distinguished professorship; the honors were presented on May 2. These professorships are awarded to the most distinguished faculty who have demonstrated extraordinary scholarship in advancing science and improving human health.
"I am honored to be named a distinguished professor at Duke, and to join that cadre of remarkably accomplished and respected faculty," says Kharasch. "It is particularly gratifying to receive the professorship that honors Dr. Harmel, the founding chair of Duke Anesthesiology, an accomplished clinician, scientist and innovator, and an ardent proponent of academic anesthesiology."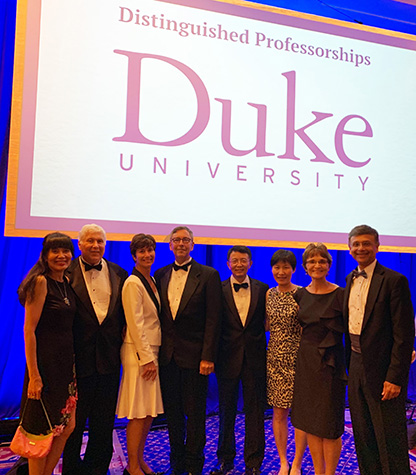 Kharasch is a professor of anesthesiology and the department's vice chair for innovation. He also serves as the director of academic entrepreneurship for the School of Medicine. He is a leading expert on the pharmacology of anesthetic and pain drugs in perioperative and critical care. His research focuses on both basic and clinical pharmacology, including drug disposition, pharmacodynamics, pharmacogenetics and drug safety, and understanding individual variability in drug response. Kharasch served a pivotal role in the evaluation, testing and regulatory approval of sevoflurane, currently the most widely used volatile anesthetic in the world. His research has also elucidated mechanisms of anesthetic toxicity, increased the safety of anesthetics and analgesics, rewritten anesthesia textbooks, and had impact on patient care at great scale. His current research involves the rational and optimal use of opioids for anesthesia and pain treatment. His second interest is in urine biomarkers of renal cancer, having discovered methods for noninvasive renal cancer diagnosis, and also in the development and application of molecular diagnostics.  Kharasch is an elected member of the National Academy of Medicine and editor-in-chief of the journal, Anesthesiology.
Dr. Merel H. Harmel, the "founding father" of Duke Anesthesiology, was a professor emeritus who served as the department's chairman from 1971 to 1983. He notably led the development of the world's first electronic vital signs-monitoring system. Originally known as Duke Automatic Monitoring Equipment (DAME), the equipment was installed in Duke University Hospital when it was built in 1980. Similar equipment is now standard in all operating rooms across the nation.
Kharasch is the sixth faculty member of Duke Anesthesiology to be named a distinguished professor, one of the highest honors in academia. These highly-coveted, permanently-named memorials promote scientific discovery and the advancement of anesthesia care.