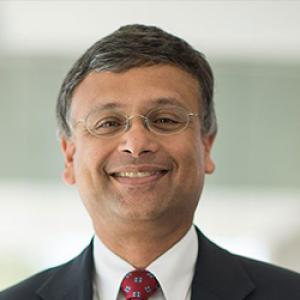 Jerry Reves, MD, Professor of Cardiac Anesthesiology
Joseph P. Mathew, MD, is the Jerry Reves, MD, Professor of Cardiac Anesthesiology, current chairman of Duke Anesthesiology (appointed in 2015) and a professor of anesthesiology. His contributions to clinical perioperative medicine have long been recognized in the fields of cardiology, surgery and anesthesiology. Mathew is a leading researcher in his field, focused on improving perioperative outcomes, particularly neurocognitive dysfunction, alterations in brain connectivity and occurrence of atrial fibrillation after cardiac surgery; and notably recognized for his leadership in perioperative echocardiography. He is internationally respected in the area of transesophageal echocardiography (TEE) – a diagnostic tool that uses sound waves to monitor cardiac and blood vessel function. This tool, used in connection with cardiac surgery by researchers at Duke, has played a critical role in perioperative stroke prevention, helping to reduce the rate of stroke by 50 percent. Mathew is an active physician-scientist funded by the National Institutes of Health for his groundbreaking research on perioperative neurocognition and functional neuronal connectivity, particularly in the setting of cardiac surgery. He has published more than 200 manuscripts and book chapters and is the editor of the leading textbook on perioperative TEE. He is also the current president of the Association of Cardiac Anesthesiologists and was elected into the Foundation for Anesthesia Education and Research's Academy of Research Mentors.
In 1998, Mathew joined the faculty at Duke Anesthesiology and has since served as director of the Perioperative Transesophageal Echocardiography, director of the Neurological Outcome Research Group and the Clinical Research Unit, chief of the Cardiothoracic Anesthesia Division, and executive vice chair of performance and operations within the department. He has served on national committees within the anesthesia community and within the cardiovascular and surgical communities. He was named a fellow of the American Society of Echocardiography in 2004. Mathew received his medical degree from Southwestern Medical School in Dallas, Texas. He went on to complete a residency in anesthesiology and a fellowship in cardiovascular anesthesiology at Yale University School of Medicine.
---
Given by Joseph G. and Virginia Reves
Jerry G. Reves, MD, is recognized as a pioneer in modern anesthesiology. In 1975, while associate professor of anesthesiology at the University of Alabama, he became the first physician to use the drug now known as Versed, the most common anesthetic used worldwide today on a patient during surgery. Reves came to Duke in 1984 and with then-chair of surgery, Dr. David C. Sabiston Jr., and then-chair of medicine, Dr. Joseph C. Greenfield, co-founded the Duke Heart Center in 1987. He served as that center's director for 10 years and designed the anesthesia protocol for Duke's first heart transplant in 1985. Reves mentored trainees who went on to become department chairs at universities across the country. From 2001 until his 2010 retirement, he served as vice president for medical affairs and dean of the College of Medicine at the Medical University of South Carolina. Reves and his wife, Virginia, established this endowment in 2006 to fund a professor in cardiac anesthesiology, combining an endowment they previously established in 1997 with planned gifts from Margaret Cathcart and gifts from other donors.