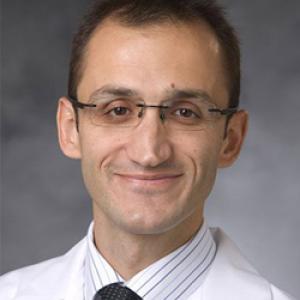 Former Associate Professor in Anesthesiology
2013 DIG Research Projects | "Pharmacogenomics of β-blockers: Implication for Postoperative Atrial Fibrillation"
Background
I was born and raised in Hungary, where I completed most of my undergraduate studies. I received my medical degree from Semmelweis University in Budapest, Hungary, and my PhD degree from Erasmus University in Rotterdam, the Netherlands. I completed my residency in anesthesiology and intensive care medicine at Semmelweis University. Subsequently, I went on to complete my fellowship training in cardiothoracic anesthesiology at Royal Brompton and Harefield Hospital in Harefield, the United Kingdom, prior to taking a position as faculty at Washington University School of Medicine in St Louis, Missouri. Two years ago, I was fortunate to be invited to join the Department of Anesthesiology at Duke University Medical Center to pursue my research career in clinical and translational research. It was the unparalleled resources of a community of clinical collaborators and geneticists that brought me to Duke.
Currently, as an assistant professor in the Department of Anesthesiology, I serve as a cardiothoracic anesthesiologist. My research interests include perioperative and long-term cardiac risk assessment and management, genomics, perioperative cardiac risk profiling, and perioperative pharmacogenomics. I am the author and co-author of several book chapters in the field of cardiovascular anesthesiology and surgery. I have been a frequent speaker at international conferences about the importance of perioperative cardiac risk assessment and management, and have published over 60 peer-reviewed articles as a first author or as a co-author in scholarly journals with national and international circulation. Many of my peer-reviewed publications have been selected and used by national and international guidelines to formulate recommendations for the assessment and prevention of cardiovascular complications after surgery.
Research
My study is designed to test blood and small specimens of tissue from the atrium of human hearts to learn how to prevent and treat a serious complication following heart surgery. Approximately 25% to 40% of heart surgery patients experience dangerously high irregular heart rates (postoperative atrial fibrillation), and are, therefore, in danger of congestive heart failure, kidney failure, stroke, and even death. The purpose of the proposed study is to analyze the genetic material from the stored blood and heart tissue samples to learn why some patients experience postoperative atrial fibrillation despite treatment with beta-blockers, which are used routinely to protect patients against this very serious complication. This knowledge will help physicians predict which patients will benefit from beta-blockers and which ones will not. For those who will not benefit, other treatments can be developed and used to prevent or treat postoperative atrial fibrillation, thereby further reducing the number of patients who have this potentially life-threatening complication.
The Duke DREAM Campaign has a noble mission to support academic research within the Department of Anesthesiology at Duke. As a part of this wonderful undertaking, the DIG program provides a unique opportunity to accelerate anesthesia research. In this era of financial constraints, it can be very challenging to obtain extramural research funding unless one has sufficient preliminary data or peer-reviewed scientific publications. However, with the support of the DIG, it is now possible to achieve these goals with future potential for successfully applying for societal and federal grant opportunities.
Personal
I have been married to my beautiful wife, Monika, for 11 years, and we have three lovely children; David (ten years old), Sara (six years old), and Lily (two years old), all born in different countries. We share a great passion for travel, which is not surprising since we have lived in so many different cities and countries. We also share a passion for the beauty of nature, which is why North Carolina is a very special place for us.
View Dr. Kertai's Spring 2013 DIG Report