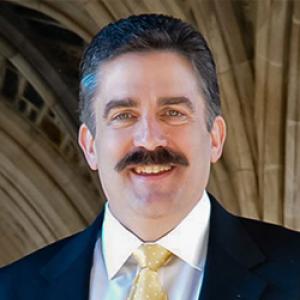 Merel H. Harmel Professor of Anesthesiology (2004)
Mark F. Newman, MD, is the Merel H. Harmel Professor of Anesthesiology and former chairman of Duke Anesthesiology. He previously served as the first medical director of Duke's Global Perioperative Research Organization, director of the Perioperative Organ Protection Consortium and a professor in the Department of Medicine. Newman is best known for his work in assessing cognitive dysfunction and quality of life following coronary artery bypass graft surgery. Appointed chief of the Division of Cardiothoracic Anesthesia in 1994, he served (since 1996) as a senior fellow at the Duke Center for the Study of Aging and Human Development, where he studied genetic predictors of short- and long-term cognitive dysfunction, myocardial infarction and perioperative organ injury. He was also a member of Duke Clinical Research Institute's Multicenter Outcomes Research faculty. Newman joined Duke as an assistant professor of anesthesiology in 1992 and has trained and mentored more than 30 Duke cardiothoracic anesthesiology fellows. He has appeared on NBC Nightly News, North Carolina Now, and The Today Show, and has been invited to speak at more than 200 national and international meetings. In 2006, he was awarded the Bernard H. Eliasberg Medal for significant contributions in the field of anesthesiology, critical care and pain management. Newman earned his medical degree at the University of Louisville School of Medicine before completing a fellowship in cardiac anesthesiology at Duke University Medical Center.
---
About the Merel H. Harmel Professorship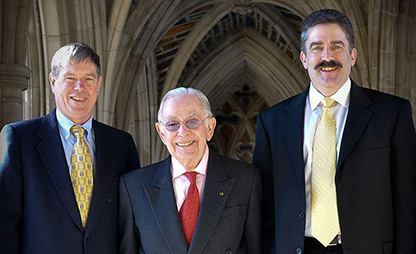 Merel H. Harmel, MD, was a professor emeritus and founding chair of the Duke Department of Anesthesiology. He served as chair from 1971 to 1983 and had a profound impact on all those with whom he came in contact.
In 1945, Dr. Harmel became the first anesthesiology resident at Johns Hopkins. At the recommendation of his mentor, Austin Lamont, MD, Dr. Harmel participated in the first Blalock-Taussig shunt procedure—an operation developed to shunt blood to the lungs in children with tetralogy of Fallot, also known as "blue babies." Taking place in just his eleventh month of residency, Dr. Harmel acted as the anesthesiologist for the procedure, which was pioneered by surgeon Alfred Blalock, MD, cardiologist Helen Taussig, MD, and assistant Vivien Thomas.
Following his time at Johns Hopkins and later at the University of Pennsylvania, Dr. Harmel went on to found the first anesthesia departments at State University of New York, Downstate Medical Center in 1952 and the University of Chicago in 1968. In 1971, Dr. Harmel became chair of the new Department of Anesthesiology at Duke. At that time there were only six faculty members, no residency program, and little academic enterprise.
Dr. Harmel worked diligently to recruit faculty, establish the residency program, and create an academic and research program. During his time at Duke, Dr. Harmel led the development of the world's first electronic vital signs-monitoring system. Originally known as Duke Automatic Monitoring Equipment (DAME), the equipment was installed in Duke University Hospital when it was built in 1980. Similar equipment is now standard in all U.S. operating rooms. Dr. Harmel brought international prominence to Duke's Department of Anesthesiology and was a strong advocate for medical student and resident education.
This endowment was established in his honor by Duke University and is currently held by Mark F. Newman, MD, former chair of the Department of Anesthesiology from 2001-2014.