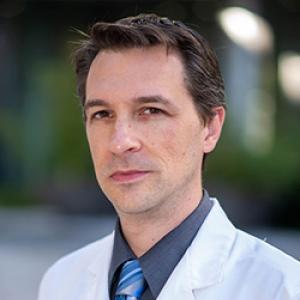 Assistant Professor in Anesthesiology
2022 DIG Research Project | "Mechanisms of Genetic Regulation of Nociception and Injury Resilience by Mras"
Background
Shad Smith, PhD, is an associate professor within Duke Anesthesiology's renowned Center for Translational Pain Medicine (CTPM). He is the director of the CTPM Biorepository, which collects and maintains specimens from thousands of pain patients and controls from studies conducted over the past 15 years. The focus of his research career has been the search for individual variation that contributes to greater pain sensitivity and increased risk for chronic pain disease. Originally from North Carolina, Dr. Smith completed an undergraduate degree in psychology at Brigham Young University. Moving to Montréal for his PhD work in the laboratory of Jeffrey Mogil at McGill University, he developed an interest in identifying genes that regulate pain and analgesic response. Switching from mouse genetics to human genetics, he took a post-doctoral fellowship at the University of North Carolina at Chapel Hill to work with Luda Diatchenko and William Maixner on the groundbreaking OPPERA (Orofacial Pain: Prospective Evaluation and Risk Assessment) study of temporomandibular disorders (TMD). During this time he won an F32 Ruth L. Kirschstein National Research Service Award fellowship from NIDCR to investigate adrenergic mechanisms of pain. He also served as a research scientist and eventually the director of Bioinformatics, for Algynomics, Inc., a pharmacogenomics start-up, consulting for a number of multinational pharma companies.
Dr. Smith moved into an assistant professor position in the School of Dentistry at UNC-CH in 2011, continuing his studies on the genetic and epigenetic basis for chronic pain. He held a Biomedical Researcher Development Scholarship from NIDCR that he used to develop and apply novel genomic approaches to orofacial pain research. He transitioned to Duke Anesthesiology in 2016. His current research activities include collecting and examining large clinical pain cohorts with in-depth biological and behavioral assessment in order to understand the etiology and mechanisms of chronic pain. He has served as the chair of the Pain and Genetics Special Interest Group for both the American Pain Society and the International Association for the Study of Pain, and also serves on the Duke IRB as well as grant review committees for the National Institutes of Health and the Department of Defense, among others.
Research
Chronic pain conditions inflict a tremendous societal cost in terms of both human lives spent suffering as well as the burden on our health care system. Dr. Smith's investigations into the causes of chronic pain have led to findings of novel genetic risk factors for many disorders, including TMD, fibromyalgia, irritable bowel disorder, vulvar vestibulitis, and low back pain. He has conducted genome-wide screens in search of novel pathways that can be exploited to provide improved, non-addictive treatments for pain. He has published dozens of papers employing both large-scale candidate gene analyses and genome-wide association studies (GWAS) identifying novel genetic risk factors. His work at Duke combines this long-standing search for risk factors for chronic pain with a unique emphasis on translational studies. Since 2017, the CTPM Biorepository has enrolled more than 1,500 patient volunteers, including 14,000 biospecimens, for studies of the biological and psychosocial determinants of pain.
His work with the OPPERA program culminated in a GWAS of TMD incorporating data from more than 300,000 people. The principle finding from this study was a novel TMD risk gene MRAS, which codes for a member of a family of oncogenic Ras GTPases, that promotes healing and resilience against chronic pain via an unknown mechanism that seems to be active in males only. The contribution of MRAS to pain-relevant pathways is an entirely unexplored area, making this a promising direction for target discovery, in addition to revealing a previously undetected sex dimorphism in nociception.
DREAM Innovation Grants (DIG), made possible through Duke Anesthesiology's DREAM Campaign, support innovative, high-risk investigations with the potential to significantly accelerate anesthesia and pain management research. Dr. Smith will use his DIG award to set up a new program of research using transgenic mouse models that mimic the effect of the MRAS polymorphism in order to better understand its function and relevance to pain pathways. The best understood functions of M-Ras protein include cell differentiation and migration and it is highly expressed throughout the nervous system, suggesting it may be important for synaptic development in key neuronal pathways. DIG funding will enable a series of experiments that will characterize the influence of M-Ras on nociceptive pathways and establish a basis for future studies translating this genetic finding towards clinical use. The potential clinical utility of discoveries deriving from the awarded DIG funds lies in determining the molecular pathways by which this gene promotes analgesia and/or healing in an organism that has suffered an injury or trauma that could potentially lead to lasting pain. Therapeutic interventions that commandeer these mechanisms, ideally in both males and females, may prove useful in supporting innate healing processes.