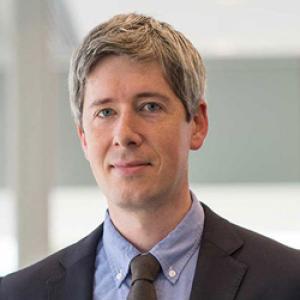 Associate Professor of Anesthesiology
Background
I am a Green Bay Packer fan by birth, but moved to Buffalo at two years old for the warmer weather. Following graduation from Canisius College in Buffalo, I headed to Duke to start my MD/PhD degree. After completing two years of medical school and spending five great years in the lab of Antonius VanDongen, PhD, in the Department of Pharmacology and Cancer Biology, I returned to medical school and began to meet and shadow the attendings within the Department of Anesthesiology.
It wasn't long before I decided to pursue a career in the specialty, with the hope of also studying pain medicine, and was lucky enough to remain at Duke for residency training. After residency, I completed my internship at UPMC Shadyside Hospital in Pittsburgh, followed by my pain medicine fellowship in New York at Memorial Sloan Kettering, Cornell, and Hospital for Special Surgery. My family and I had great experiences in both cities, but always looked forward to coming back to Durham.
I was greeted back at Duke and the Durham VAMC by an incredibly supportive, vibrant, and growing clinical and research environment.  I am currently practicing in both the operating room and pain clinic at the VA Medical Center, and am working in the lab with a wonderful team. I am enormously grateful to the DREAM Campaign for supporting this work.
Research
Under the mentorship of Dr. Andrew Shaw, I have been analyzing data from over one hundred soldiers with recent amputations enrolled into Dr. Shaw's study – VIPER (Veterans Integrated Pain Evaluation Research) – in order to find novel pain biomarkers and pathways. It is our hope to eventually develop badly needed new treatments for chronic post-surgical and post-injury pain.
We have performed unbiased plasma metabolomics and proteomics along with gene expression, methylation, miRNA array analysis, and whole exome sequencing on each of these patient samples. After comparing data between patients with and without pain, and also a mouse model of amputation pain, we found multiple pathways evolutionarily conserved and enriched in humans and mice with pain. This DREAM Innovation Grant will allow us to investigate one of the most promising of those pathways, with the hope of developing new pain therapeutics.
Personal
I have been married to my wonderful wife Emily for 10 years and we have two beautiful daughters. We all love our Durham neighborhood, great neighbors, and our four very productive chickens.