All remaining dates have been postponed. Please check back soon for updates.
Join us for an exciting, interactive two-day preceptorship in ultrasound guided regional anesthesia designed for physicians at any level wishing to strengthen and improve their skills at placing and managing a wide variety of peripheral nerve and fascial plane blocks.
Overview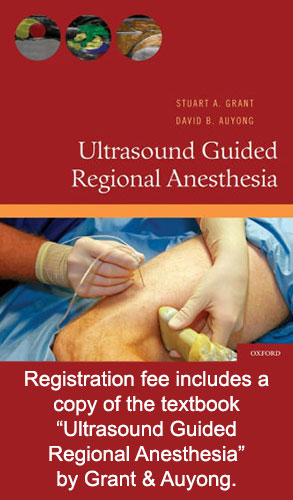 This dynamic and interactive program is designed for practicing anesthesiologists, acute pain physicians and emergency medicine physicians who wish to learn and observe a wide variety of ultrasound guided regional anesthesia (UGRA) techniques as practiced at Duke University Medical Center. This two-day clinical observership affords participants a unique peer-to-peer exchange of knowledge and experience with expert faculty, and the sharing of cutting-edge best practices in ultrasound guided peripheral and truncal blocks. This highly specialized program is designed to provide tools and resources for the physician to implement UGRA into his/her home institution and to address pitfalls and barriers to implementing and growing a regional anesthesia service.
The observership program also features didactic and case-based learning, as well as hands-on ultrasound scanning practice on volunteer live models. The preceptorship is limited to four participants per session in order to maintain an intimate teaching environment.
Course Features and Topics
Preceptorship experience can be customized to the needs and goals of participants. The Duke Anesthesiology Orthopaedics, Plastics and Regional Anesthesiology Division will work with you ahead of time to plan the experience that best suits your needs depending on the size and type of institution, mix of case types, inpatient vs. outpatient, etc.
Develop a framework for the establishment of a regional anesthesia service using strategies to increase surgical, anesthetic and hospital buy-in
Learn how to set up and grow a preoperative block room, purchase equipment, manage a block nurse team, and the "nuts and bolts" of day-to-day operations
Network with expert regional anesthesiologists, observe them in action and discuss cases of interest with them
Observe cutting-edge block techniques for a wide variety of surgical procedures, including:

Knee, hip and shoulder joint replacement
Orthotrauma cases
Elective upper and lower limb orthopedic and plastic surgery
Abdominopelvic surgery
Cardiothoracic surgery
Rescue blocks in the PACU

Observe the placement and management of continuous peripheral nerve catheters including management of outpatient pumps
Gain valuable insights into these techniques through focused didactic and case-based discussion
Practice what you've just learned by scanning sonoanatomy on volunteer live models
Target Audience
Physicians at any level of practice or training who wish to improve their skills and knowledge regarding ultrasound guided regional anesthesia. The course is designed primarily for anesthesiologists, acute pain physicians, and emergency medicine physicians.
Learning Objectives
At the conclusion of this activity, participants should be able to:
Interpret various sonographic artifacts and outline a plan for troubleshooting these using various transducer maneuvers and ultrasound machine setting adjustments
Demonstrate the correct sonographic technique for identification of the brachial plexus and individual nerves of the lower extremity, and associated vascular and musculoskeletal structures
Demonstrate the correct sonographic technique for performance of truncal blocks including transversus abdominis plane block, quadratus lumborum block, rectus sheath block, paravertebral and erector spinae plane blocks
Develop a framework and a value-based proposition for the establishment of a regional anesthesia service using strategies to increase surgical, anesthetic and hospital buy-in
Preceptorship is observation only. Hands-on experience is limited to knobology and the scanning of volunteer live models. No patient contact is permitted.