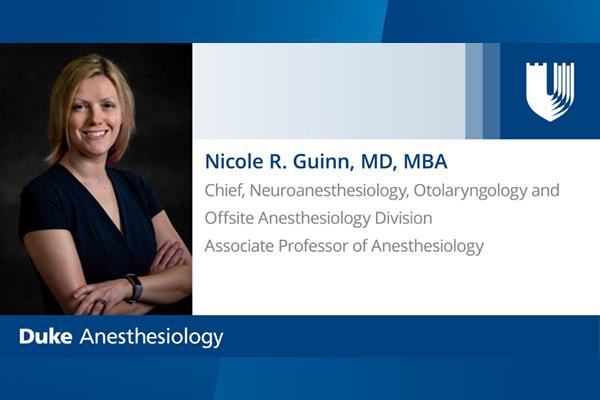 We are pleased to announce that after serving as interim chief for nearly nine months, Nicole Guinn, MD, MBA, has been appointed chief of the Neuroanesthesiology, Otolaryngology and Offsite Anesthesiology Division, effective immediately.
Dr. Guinn, associate professor of anesthesiology, brings 11 years of experience to her new role as division chief in which she is responsible for ensuring that this division's faculty and trainees provide outstanding, state-of-the-art clinical care for patients at our quaternary care flagship hospital. Divisional faculty provide clinical care across a variety of sites and specialties, including neurosurgery, head and neck surgery, and offsite services, including anesthesia for electroconvulsive therapy, magnetic resonance imaging and interventional radiology, which requires continuous coverage as a level one stroke center. The division chief coordinates the clinical operations across these sites, directs our research and educational missions, and oversees professional and academic advancement of the division faculty.
"I am grateful for the mentorship I have received during the last few months while serving as the interim division chief, particularly from Drs. Mathew, Martin, Gulur, Krishnamoorthy, and Gupta, for the partnership from our surgery, CRNA, and nursing teams, and for the patience and support of our outstanding divisional faculty," says Dr. Guinn. "I look forward to leading the division as we transition into the newly aligned system and to supporting our exceptional research, education, and clinical work, while building opportunities for collaboration across the department and institution."
Dr. Guinn received her medical degree in 2007 from the Icahn School of Medicine at Mount Sinai in New York City and went on to complete an anesthesiology residency along with a cardiothoracic anesthesiology fellowship at Duke. In 2012, Dr. Guinn joined Duke Anesthesiology faculty and has since been an integral part of the growth and success of this division. Dr. Guinn notably served as the medical director of the Duke Center for Blood Conservation from 2013-2022, working with patients who decline transfusion to receive safe care and improved outcomes, and developing an institutional Preoperative Anemia Clinic to diagnose and treat anemia in operative patients at risk for transfusion. She also served as medical director of Duke's Preoperative Anemia Clinic from 2014-2022 and is the current vice chair of the Transfusion Committee where she aims to decrease perioperative transfusion rates. Dr. Guinn is known nationally for her expertise in the management of patients "When Blood is Not an Option" and for preoperative optimization of anemia in surgical patients and is the current chair of the ASA Committee on Patient Blood Management. Dr. Guinn is also involved with the American Board of Anesthesiology, serving as an OSCE Committee member and APPLIED examiner for board certification in anesthesiology. She is a 2020 graduate of the Duke Clinical Leadership Program, and last year, Dr. Guinn earned her MBA degree from the University of North Carolina, Wilmington.
We would like to express our appreciation to the 10-member search committee for their collective time, efforts and contributions to the search process and selection of Dr. Guinn as division chief - an important task that helps ensure the future success of both the division and the department. The search committee was chaired by Dr. Ashraf Habib and comprised of members of our department (Drs. Jennifer Dominguez, Lisa Einhorn, Amanda Faulkner, Michael "Luke" James, Eric JohnBull, Vijay Krishnamoorthy, Gavin Martin, Andrea Nackley, and Allison Ross).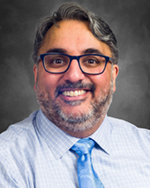 We would also like to express our gratitude to Dhanesh Gupta, MD, MBA, for serving in this role for seven years and wishing him the best in the next phase of his career as the anesthesia medical director of Duke University Hospital.
Please join us in thanking Dr. Guinn for her service as interim chief and extending her congratulations on her new leadership role in our department.