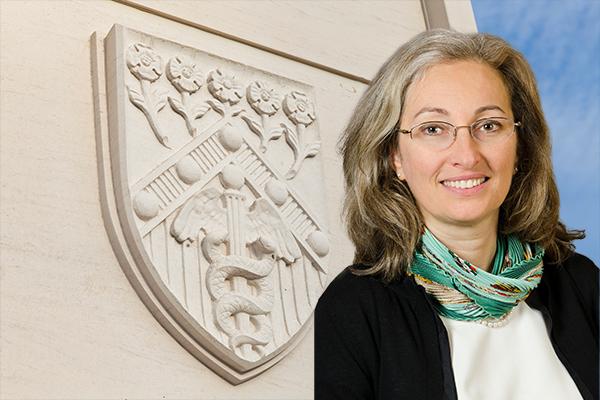 The Duke University School of Medicine has named the Department of Anesthesiology's Miriam M. Treggiari, MD, PhD, MPH, the Paul G. Barash Professor of Anesthesiology. Distinguished professorships are the highest honor that Duke bestows on its faculty members, recognizing the institution's most accomplished faculty who have demonstrated extraordinary scholarship in advancing science and improving human health. The Paul G. Barash Professorship provides Treggiari with ongoing support to discover unprecedented breakthroughs in the field of anesthesiology.
"It is a great honor and privilege to be the recipient of the Paul G. Barash Professorship. I am grateful to Dr. Mathew and the individuals whose generosity and foresight made this professorship possible," says Treggiari. "I am inspired and committed to build upon the foundation laid by Dr. Barash, and to uphold the highest standards of scholarship, mentorship, innovation, and compassionate patient care that he embodied throughout his remarkable career."
Treggiari is a professor of anesthesiology and the department's vice chair for research. She is an internationally-recognized leader in the area of clinical and outcomes research in the perioperative setting with special emphasis in critically ill and neurocritical care patients. Treggiari's research work on ICU sedation has contributed to shaping societal guidelines on the management of sedation in critically ill patients. More broadly, her scholarly work has led to improved care and outcomes in patients with subarachnoid hemorrhage, where she contributed to the development of the international and societal guidelines for the critical care management of these patients. Her current efforts continue to be in the implementation of large pragmatic clinical trials to improve outcomes in critically ill patients. Her latest clinical trials focus on the prevention of ventilator-associated pneumonia using different models of endotracheal tubes and evaluating long term cognitive function. She is also PI for a multi-center trial investigating the hemodynamic management of patients with acute spinal cord injury. Driven by her passion to improve outcomes in the perioperative period, she has led several quality improvement initiatives, including the implementation of health system-wide ICU sedation protocols, perioperative and ICU glycemic control guidelines, ICU extubation safety protocols, and initiatives to coordinate and integrate care in the perioperative period.
Paul G. Barash, MD, the late professor emeritus of anesthesiology at the Yale School of Medicine, was a respected member of the Yale community for nearly 50 years with a special connection to Duke; he was a strong supporter of and mentor to many faculty at the institution. Notably, Barash was an internationally-renowned lecturer, editor and writer in the field of anesthesiology. He was recognized for his commitment to teaching, his application of innovative technology to learning, and his positive contributions to the advancement of anesthesia education. Barash played a critical role in the development of both the first anesthesia software designed for handheld devices and an award-winning interactive anesthesia CD, cited as the best teaching CD in medicine, science and technology. He also led the development of many of the standard methodologies of cardiac anesthesia, including the use of pulmonary artery catheterization and intraoperative echocardiography.  
Treggiari is the first woman of Duke Anesthesiology to be named a distinguished professor, one of the highest honors in academia, and joins six anesthesiology faculty who previously received this honor. These highly-coveted, permanently-named memorials preserve the legacies of our leaders and promote scientific discovery and the advancement of anesthesia care. A formal ceremony and reception for this honor will be held in the spring of 2024.