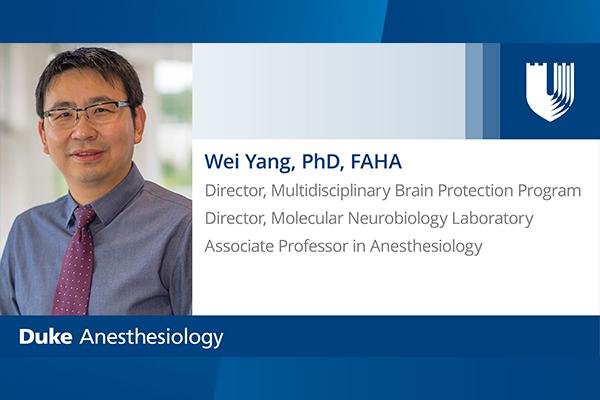 We are pleased to announce that Wei Yang, PhD, FAHA, associate professor in anesthesiology, has been appointed director of the Multidisciplinary Brain Protection Program, effective immediately.
The mission of the program is to discover novel and effective therapeutic strategies of brain protection and recovery through a deep mechanistic understanding of the pathophysiology that underpins brain disorders, with an emphasis on stroke.
"I am very excited and honored to develop the Multidisciplinary Brain Protection Program by building upon the research legacy of the late Dr. David Warner and further strengthening collaborations in experimental neuroscience across campus and beyond," says Dr. Yang.
The Multidisciplinary Brain Protection Program (MBPP) aims to provide a rich and supportive environment that will promote the development of interdisciplinary research projects among investigators with expertise ranging from basic molecular biology to clinical science. Within the program, a wealth of research resources – such as highly-controlled animal disease models, well-established animal behavioral tests, a large collection of genetic mouse tools, and advanced in vivo brain imaging – is available to support rigorous, cutting-edge, and collaborative research. MBPP also provides training opportunities for clinicians who are interested in experimental neuroscience research.
Dr. Yang earned his PhD in molecular biology in 2005 from the University of Rostock in Germany. In 2006, he arrived at Duke and joined the department as a postdoctoral researcher in Dr. Wulf Paschen's lab. Since then, his research has been focused on brain ischemia injury, using both global brain ischemia (cardiac arrest) and focal brain ischemia/stroke animal models. In 2017, Dr. Yang was appointed an associate professor and as the director of the Molecular Neurobiology Laboratory within Duke Anesthesiology, a role in which he will continue to serve. 
Dr. Yang is deeply committed to his long-term research goal of developing new therapies that can be translated into clinical practice to improve quality of life for patients who have suffered brain disorders. He has published more than 70 peer-reviewed articles, primarily based on his research work at Duke. His research has been continuously supported by various grants, such as R01 and R21 awards from the National Institutes of Health, along with the Scientist Development Grant and the Collaborative Sciences Award from the American Heart Association. Dr. Yang has made a number of significant contributions to our understanding of the role of protein homeostasis in brain ischemia and is actively exploring the therapeutic potential of targeting proteostasis-related pathways in brain ischemia. In addition, his group has generated a variety of valuable and innovative research tools for research communities, including several genetically modified mouse lines.
Please join us in thanking Dr. Yang for his service and extending him congratulations on his new role in our department.