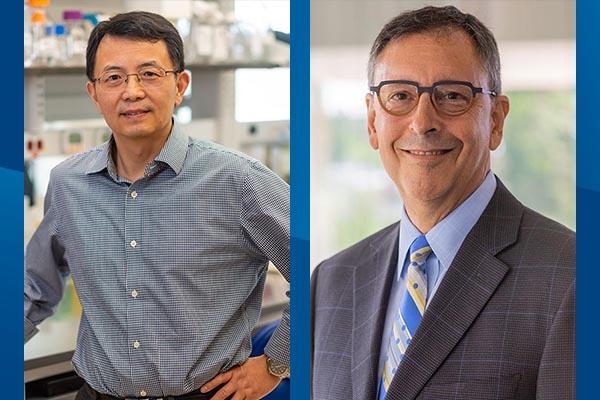 Duke Anesthesiology's Ru-Rong Ji, PhD, William Maixner Professor of Anesthesiology, and Evan Kharasch, MD, PhD, Merel H. Harmel Professor of Anesthesiology, have been named among the most "Highly Cited Researchers" in the world.
Ji and Kharasch are two of 30 Duke scientists named to the 2022 list. These pioneers in their fields represent the most influential researchers who have published multiple papers frequently cited by their peers that rank in the top one percent of citations for field and year in the Web of Science. The list is produced each year by Clarivate, which runs the Institute for Scientific Information. In all, the 2022 list includes nearly 7,000 researchers from across the globe.
"I am very pleased to be included in this list in the last five years," says Ji, director of both the Sensory Plasticity and Pain Research Laboratory and the Center for Translational Pain Medicine at Duke Anesthesiology, who has made this prestigious list since at least 2018. "It is great to see our department is well represented at Duke." His research focuses on molecular and cellular mechanisms of chronic pain, including but not limited to mediators of inflammation and pain, neuropathic pain and cancer pain.
"Citation is one way to measure impact, and it is gratifying to know that our work has had impact at scale," says Kharasch, who serves as the vice chair of innovation and the director of the Mechanistic and Clinical Pharmacology Laboratory at Duke Anesthesiology, and the editor-in-chief of the journal, Anesthesiology. "This is an august group of Duke investigators, of which I am honored to be a part." His research focuses on both basic and clinical pharmacology, including drug disposition, pharmacodynamics, pharmacogenetics, drug safety, and rational drug use, and understanding individual variability in drug response.
The year's most highly cited researchers from Duke include:
Biology and Biochemistry
Charles A. Gersbach
Robert J. Lefkowitz
Clinical Medicine
Christopher Bull Granger
Pamela S. Douglas
Adrian F. Hernandez
Manesh R. Patel
Eric D. Peterson
Cross-Field
Chris Beyrer
Stefano Curtarolo
Renate Houts
Tony Jun Huang
Ru-Rong Ji
Jie Liu
Jason Locasalev
Edward A. Miao
David B. Mitzi
Christopher B. Newgard
John F.Rawlsv
Drew T. Shindell
Pratiksha I. Thakore
Mark R. Wiesner
Microbiology
Barton F. Haynes
Neuroscience and Behavior
Quinn T. Ostrom
Pharmacology and Toxicology
Evan D. Kharasch
Plant and Animal Science
Xinnian Dong
Sheng Yang He
Psychiatry and Psychology
Avshalom Caspi
William E. Copeland
E. Jane Costello
Terrie E. Moffitt
Social Sciences
Michael J. Pencina
John W.Williams
Source:Duke Research Blog, November 15, 2022