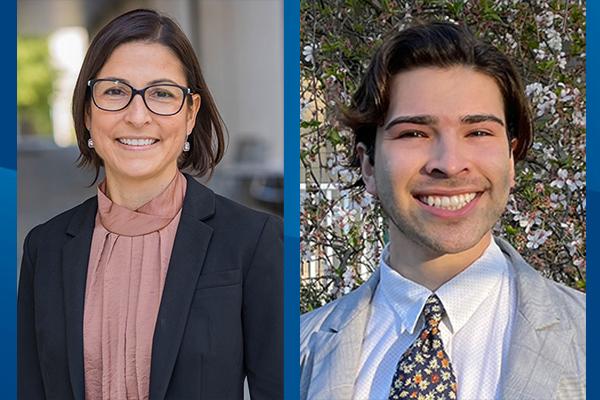 The National Institutes of Health's National Institute of Neurological Disorders and Stroke has awarded Duke Anesthesiology's Andrea Nackley, PhD (principal investigator), and Nathaniel Hernandez, BS, Pharmacology PhD Candidate, a three-year $128,409 fellowship grant for their project titled, "MicroRNA 374 as an Epigenetic Regulator of Chronic Pain."
Common chronic pain syndromes, such as fibromyalgia and temporomandibular disorder, constitute one of our nation's most significant health care problems that affect more than 100 million Americans, predominately female, yet are ineffectively treated because the underlying molecular mechanisms remain largely unknown. Nackley and Hernandez hypothesize that these conditions are driven by catecholamine activation of beta-adrenergic receptor 3 and subsequent dysregulation in microRNA 374, which regulates the expression of genes important for pain and inflammation.
The Nackley lab has shown that catecholamines drive pain via activation of peripheral beta-adrenergic receptor 3 (Adrb3) and downstream mediators that regulate neuronal excitability and immune responses. Catecholamine signaling has also been shown to alter the expression of microRNAs (miRNAs), which are small non-coding RNAs that negatively regulate mRNA targets. However, the role of miRNA dysregulation in chronic primary pain conditions (CPPCs) pathophysiology remains understudied and unclear.
Preliminary data from their case control study reveal that patients with temporomandibular disorders have decreased levels of miR-374. They replicated this finding in an animal model of CPPCs where mice with low COMT activity exposed to stress exhibited pain and decreased levels of miR-374. Their findings point to new RNA targets that may play an important role in pain related to heightened catecholamine tone, yet mechanistic studies are needed to determine their causal role.
Their project applies diverse methodologies in a clinically-relevant animal model in order to (1) define the relationship between beta-3 adrenergic receptor activation, microRNA 374, and complimentary mRNA expression with regards to cell type and sex, and (2) test the hypothesis that altered levels of miRNA 374 in mice directly contributes to pain.
The objective of this research is to directly test the relationship between miR-374, its mRNA targets, pain, and inflammation. Their central hypothesis is that catecholamine activation of Adrb3 reduces levels of miR-374, leading to dysregulation of mRNAs that promote inflammation and chronic pain in a sex hormone-dependent manner.
"This type of work will help us understand the epigenetic basis for chronic primary pain conditions as well as elucidate new putative therapeutic targets," says Nackley, associate professor in anesthesiology and associate director of the Center for Translational Pain Medicine. "I'm also very excited about the opportunities that this F31 training grant will provide Nathaniel, a rising superstar in the pain field, to further develop his skillset and advance his professional development."