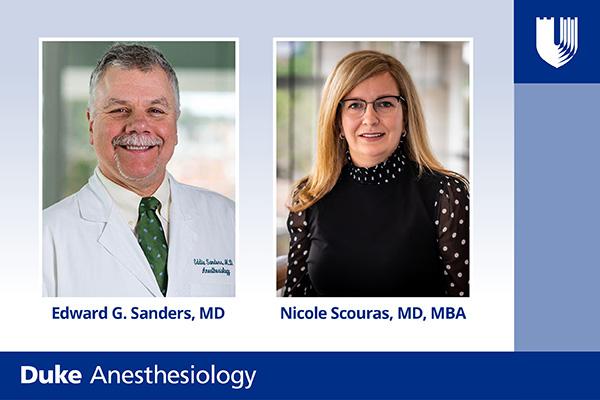 Please join us in expressing our sincere gratitude to Edward "Eddie" Sanders, MD, for his nearly 30 years of dedication, service and leadership to Duke and extending him our best wishes in retirement; he will formally step down from his position as chief of the Community Division at the end of June. As we begin the important process of a national search for his position, we are pleased to announce that Nicole Scouras, MD, MBA, will transition into her new role as interim chief of the Community Division, effective March 1.
The Community Division provides comprehensive and state-of-the-art anesthesia services across 12 medical sites throughout the Triangle (with Duke Regional and Duke Raleigh Hospitals as the primary sites) in a private practice model while supporting the academic mission of the department.
"This coming May marks 37 years since I performed my first anesthetic. From a time when every resident in our program arrived ever-earlier each workday, to try to secure the one pulse oximeter in our OR to, today, where technology abounds and from a foundation of a specialty almost exclusively tied to the operating room, to one in which we are now involved throughout the perioperative continuum - these evolutions have taken me on an exciting journey indeed," says Dr. Sanders. "The friendships I have made and the respect I have for this specialty make retirement, while tremendously exciting, a bit bittersweet, nonetheless. Thanks to Dr. Newman for his vision of a Community Division and to Drs. Mathew and Gulur for their resolve and commitment to supporting the growth of this very unique endeavor. Under their ongoing leadership and with now, Dr. Scouras taking over the role of interim division chief, the 'sky is the limit' in terms of what this partnership between 'town-n-gown' can accomplish."
Dr. Sanders earned faculty status with Duke Anesthesiology in 1994 and formally joined the department in 2007 with his appointment as chief of the Community Division. Under his leadership, the division has grown from 11 to 45 anesthesiologists, 29 to 115 certified registered nurse anesthetists, with anesthesia services provided at three to now 12 sites and approximately 75,000 cases. Throughout his career, Dr. Sanders has held prominent positions such as the president of Durham Anesthesia Associates, which eventually led to the creation of Regional Anesthesia, PLLC, president of the Duke Regional Hospital medical staff and chief of the Duke Regional Department of Anesthesiology. As a member of the Duke University Health System (DUHS) Perioperative Governance Committee and medical director of anesthesia services for Duke Regional Hospital, he was part of or led service-line development and allocation of surgical case load across DUHS. And in 2000, he participated in the founding of the Duke University School of Nurse Anesthesia, which matured from a start-up to the 3rd ranked School of Nurse Anesthesia in the country.
Dr. Sanders received his medical degree from the University of North Carolina, Chapel Hill in 1985 before completing his residency at Wilford Hall USAF Medical Center. He went on to complete a pediatric anesthesiology fellowship at Northwestern University and additional training in transplant anesthesia at the University of Pittsburgh. Post fellowship training, he joined the Pediatric Maxillofacial Reconstruction Team in Honduras, served in Desert Storm, and was a pediatric and transplant anesthesiologist for the Wilford Hall USAF Medical Center before being discharged as a major in 1992.
Dr. Scouras brings 13 years of experience to her new role as interim division chief. She has worked at Duke Raleigh Hospital since 2010. She joined the Community Division faculty in 2018 and has since been an integral part of the growth of this division. In her new role, Dr. Scouras will lead the division during this period of transition to the Duke Health Integrated Practice and prepare for opportunities of future division growth and success. Dr. Scouras completed medical school and a masters in public health at State University of New York at Buffalo prior to completing an anesthesiology residency at the University of Pittsburgh. She currently serves as president-elect of the Duke Raleigh Hospital medical staff and vice-chief of surgery at Johnston Health, and has served on numerous hospital and practice committees. In 2020, she received her MBA from the University of North Carolina, Wilmington.
On behalf of our department, please join us in thanking Dr. Sanders for his exceptional service and leadership as division chief and wishing him the best in his next chapter of life, and congratulating Dr. Scouras on her new appointment in our department.