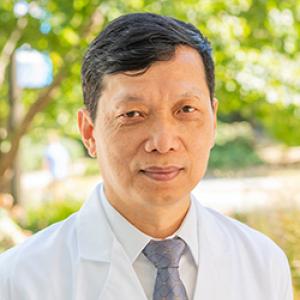 Associate Professor in Anesthesiology
2019 DIG Research Project | "Effect of Neuronal Stimulation in Enhancing Injured Spinal Cord Repair"
Background
Huaxin Sheng, MD, is a scientist within Duke Anesthesiology at Duke University Medical Center who specializes in translational research focused on acute neurological injury and recovery. He has actively led and participated in numerous federal and industrial research projects and published 89 peer reviewed papers, eight scientific reviews and two book chapters. Sheng is a member of the Society for Neuroscience, American Heart Association and International Society of Cerebral Blood Flow and Metabolism. He also serves as a scientific reviewer for the Congressionally Directed Medical Research Program and multiple journals, and is an editorial board member for three scientific journals.
Sheng is originally from Jiangsu, China, where he completed medical school. While teaching human anatomy in North China Coal Medical College, he developed an interest in research and later enrolled in the Neuroscience Program of Hubei Medical University; he focused on exploration of neural tracts entering and exiting the hippocampus and their roles in memory function. Sheng completed residency training in neurosurgery at Tangshan Gongren Hospital, where he focused on caring for patients with traumatic injury and vascular disease. Since joining Duke in 1995, he employed this rich background to conduct translational research focused on these diseases with the goal to enhance functional recovery and restore quality of life.
Research
Sheng's work is centered around advancing discoveries of molecular mechanisms of injury, derived from basic neuroscience research, to animal models of human disease to enable therapeutic interventions to emerge that may be relevant to patient care. He has an established platform of rodent models of CNS disorders, including ischemic, hemorrhagic and traumatic injury. He collaborates closely with other faculty members of Duke Anesthesiology and investigators from other departments and universities.
Spinal cord injury can be catastrophic. Sheng and his colleagues seek to understand the pathological process of injury and define novel therapeutic targets through multiple approaches. His team has established four mouse models of spinal cord injury, including ischemia, contusion, compression, and hemisection. His work has been critical in elucidation of the role of extracellular superoxide dismutase (SOD) in acute CNS injury. This allowed him to then demonstrate efficacy of pharmacologic SOD mimetics in mouse spinal cord injury. SUMO conjugation, a post-translational protein modification, has been characterized by Sheng and his colleagues in cerebral ischemia. The team extended this work to spinal cord injury. SUMO conjugation was dramatically increased in normal mice subjected to transient thoracic aorta clamping. Astrocyte activation was significantly inhibited in SUMO knock out mice, potentially leading to decreased production of growth factors mitigating tissue damage.
Dream Innovation Grants (DIG), made possible through Duke Anesthesiology's DREAM Campaign, support innovative high-risk and potentially high reward investigations. Sheng is grateful to receive this award, which will allow him to apply novel molecular technology to promote recovery from spinal cord injury and obtain sufficient preliminary data to compete for federal funding. DREADD (designer receptors exclusively activated by designer drugs)-based chemogenetic is a powerful method that allows highly-selective neuronal stimulation. DREADD has shown promise as a method to promote neuronal regeneration in experimental stroke and peripheral nerve injury. Sheng and his colleagues will employ this new technology after spinal cord injury and evaluate its effect on axonal regeneration using electrophysiology, histopathology and 3D MRI diffusion tensor image techniques, and its potential as a strategy to improve post-injury neurologic recovery.